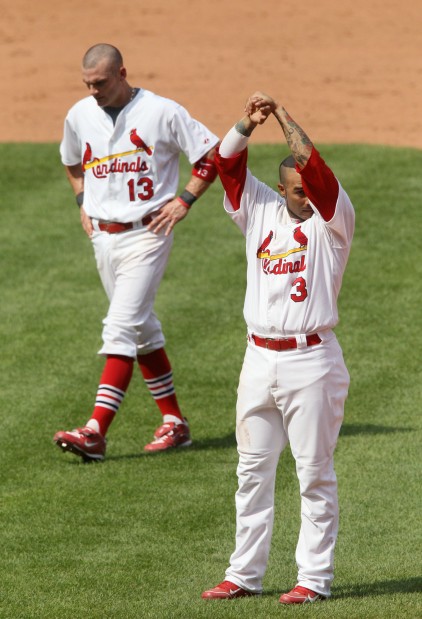 The Padres, Reds, Braves and Phillies are racing toward the National League playoffs.
Those four teams are gathering steam. They got stronger by adding talent and/or by getting key players back from the disabled list.
All four of those teams have staying power – and the Giants are hanging tough as well, thanks to excellent pitching depth.
Meanwhile, the Cardinals lag.
They fell three games back of Cincinnati in the NL Central by losing four consecutive games to division also-rans. They fell to third in the wild-card standings, 2 ½ games behind the Phillies.
Ample time remains, of course, but the trends are ominous for Tony La Russa's team. Whenever this squad plugs one hole, another develops.
Each winning surge is followed by a baffling slump. For a variety of reasons – injuries, inexperience, unexpected individual failure -- the Cards have not been able to sustain their second-half surge.
They are the sixth-best team in the league right now. That is not bad, but it is not nearly good enough for a franchise that expects annual pennant contention.
Meanwhile the top contenders keep getting stronger.
The Braves, for instance, just got slick-hitting Martin Prado back from the disabled list. He got five hits in his first eight at bats.
Atlanta acquired Cubs first baseman Derrek Lee, who has hit like his old self since the All-Star break (.313 with eight doubles, six home runs and 20 RBIs in 24 games.) He will replace the power lost when Chipper Jones suffered a season-ending knee injury.
The Braves also promoted top pitching prospect Mike Minor, a Tom Glavine wannabe. Minor won his Turner Field debut Tuesday night 10-2.
With Lee taking over at first base, Troy Glaus agreed to scrape off his third-base rust during a minor league rehab assignment. He is caught up in the race. So is Rick Ankiel, another former Cardinal.
This team seems destined to send retiring manager Bobby Cox out a winner. They have won 21 games on their final at bat, finding many new heroes along the way.
"We feel like as a team we don't have to panic," rookie outfielder Jason Heyward said. "We know we have to play the whole game all the way through, and we try not to lay down when we're down."
The Braves are 2 ½ games ahead of the Phillies in the NL East. Philadelphia has regained its old juggernaut form, winning 20 of 25 games while getting one injured player after another back into action.
If the defending league champions finally pass the Braves, Atlanta would still have a leg up in the wild-card race.
Where does that leave the Cards? They are scrambling, big time.
They need to remain within arm's reach of the Reds, who rebounded nicely after the Cards swept them in Cincinnati. The Reds have won five consecutive games, getting some help from old friend Jim Edmonds along the way.
With MVP candidate Joey Votto sitting out because of his nagging back injury, Edmonds filled in at first base and helped power Cincinnati's 11-7 victory at Arizona.
The Reds have earned 35 come-from-behind victories this season. Like the Braves and Padres, they project a "this is our year" aura.
"The more you do things, and the more you do them right, and the more you believe it, that's what it's all about," said manager Dusty Baker, who earned a contract extension offer with his good work.
All of this creates a major challenge for the Cards. This team will have to win a LOT of games down the stretch just to keep up.
GM John Mozeliak must add a third baseman to stop the bleeding at that position. Felipe Lopez imploded there.
Either Kyle Lohse or Jeff Suppan will need to become a reliable fifth starter, since the Cards are about out of days off.
Colby Rasmus needs to get well, pull himself together and provide some pop in the No. 5 slot.
Jon Jay needs to adjust to the NL pitching adjustments and continue to provide a spark in the No. 2 slot.
Pitching coach Dave Duncan needs to coax more reliability out of his bullpen, which buckled when Jason Motte went down.
Given the brisk pace of this playoff race, the Cards can longer afford to dawdle.  Are they in or are they out?