Columnist Jeff Gordon's final report card for the 2019 St. Louis Cardinals pitching staff.
JACK FLAHERTY, Starting Pitcher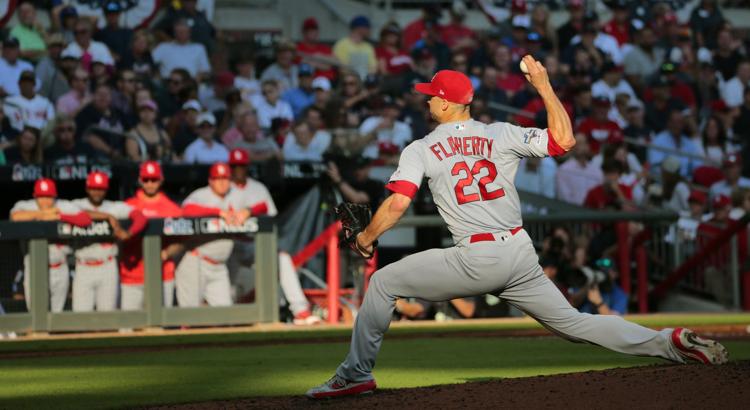 GORDO ON FLAHERTY: He suffered an undeservedly tough ending to a brilliant campaign during the 8-1 loss to the Nationals in Game 3 of the NLCS. Flaherty dominated during the second half of the season, posting a 0.93 earned-run average in his last 16 starts with 130 strikeouts in 106 1/3 innings. Overall he was 11-8 with a 2.75 ERA and 231 strikeouts this season.
Flaherty is the whole package, as promising a young pitcher as the industry has. It's no wonder Bob Gibson loves him.
Grade: A
ADAM WAINWRIGHT, Starting Pitcher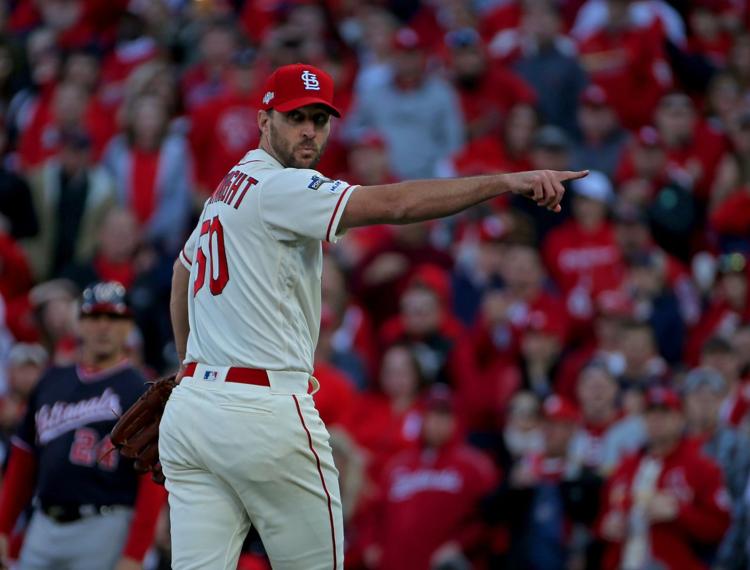 GORDO ON WAINWRIGHT: Did anybody expect him to win 14 games after pitching in just eight games last season due to injuries? Of course not. Wainwright, 38, helped will this team to the division title by going 5-1 with a 2.97 ERA in September. He struggled on the road this season — 5-6 with a 6.22 ERA — but he posted a 1.62 ERA in three postseason appearances overall.
If Wainwright wants to retire on a high note, this was very high. Then again, he pitched so well that trying again could make sense.
Grade: A
JORDAN HICKS, Relief Pitcher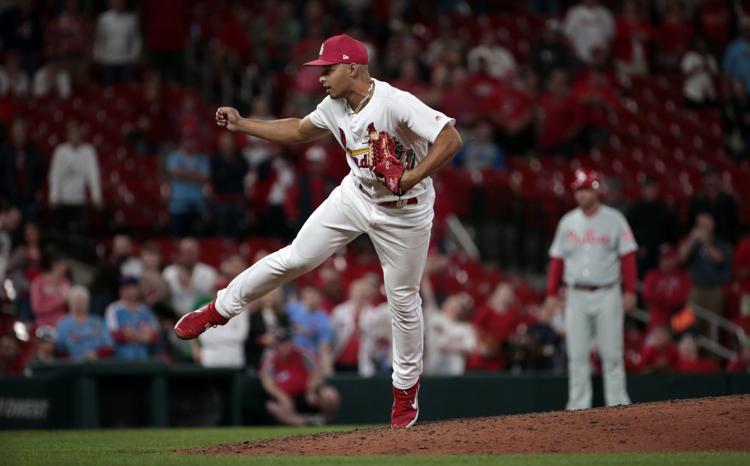 GORDO ON HICKS: He kept pumping gas until his elbow finally gave out. Hicks (2-2, 14 saves in 15 tries, three holds, 3.14 ERA) regularly hit 100 mph on the radar gun until a torn ligament sent him off for Tommy John surgery. After seeing how former Cardinals closer Trevor Rosenthal struggled with his control after elbow repairs, this team must handle Hicks with care during his comeback.
Grade: A
GIOVANNY GALLEGOS, Relief Pitcher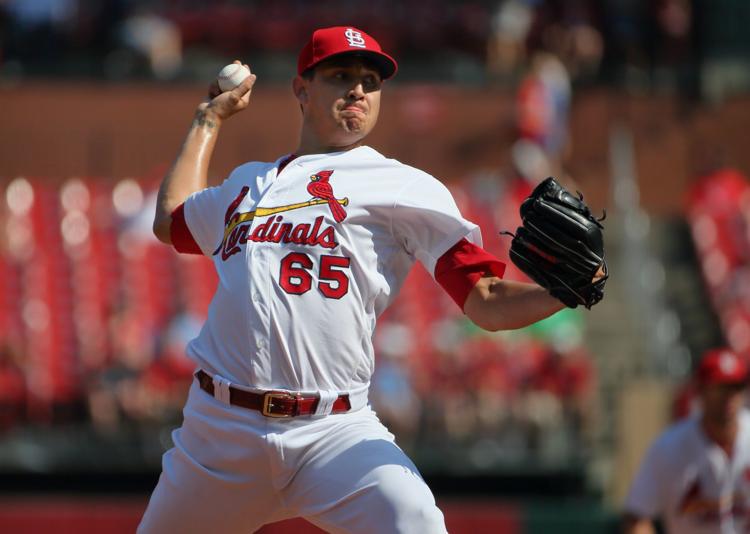 GORDO ON GALLEGOS: He kept the bullpen afloat with stellar middle relief when the group took in water during the season's second half. Gallegos (3-2, one save, 19 holds, 2.31 ERA, .190 batting average against) remained steady through 66 regular season appearances. He allowed just 16 percent of his inherited runners to scored. Gallegos excelled in the postseason, too, by posting a 2.08 ERA in five outings. He became a solid return from the Luke Voit trade.
Grade: A
DAKOTA HUDSON, Starting Pitcher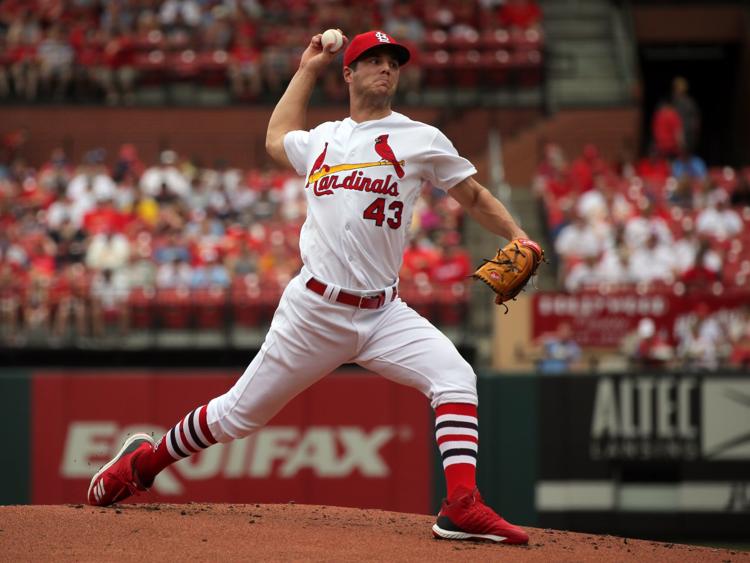 GORDO ON HUDSON: His ending was uglier than Flaherty's finish: Hudson allowed seven runs (four earned) while retiring just one batter in Game 4 of the NLCS. But that's a small smudge on a glittering 2019 record. Hudson finished 16-7 with one save and a 3.35 ERA, and  he played a major role in the division title push. He was 9-3 after the All-Star break with a 3.17 ERA and a .208 batting average against.
Grade: A-Minus
CARLOS MARTINEZ, Relief Pitcher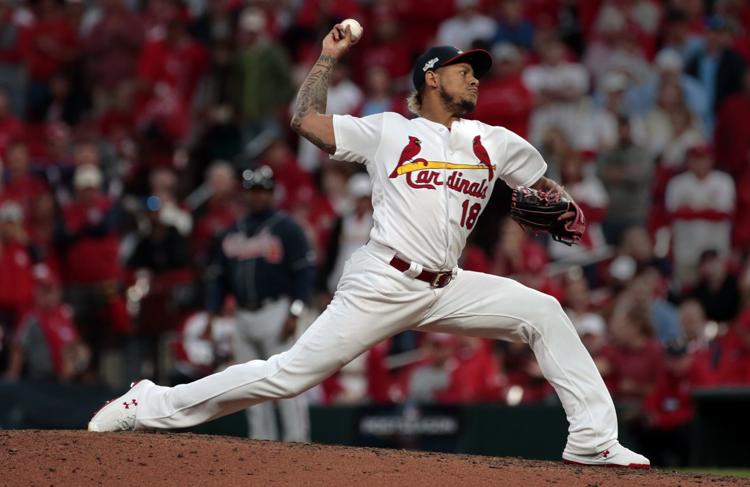 GORDO ON C. MARTINEZ: After Jordan Hicks broke down, Martinez (4-2, 24 saves in 27 tries, 3.17 ERA) filled in admirably as the closer while coming back from shoulder trouble. He was 1-0 with eight saves in eight tries and a 2.31 ERA in September. Was there some adventure involved along the way? Sure, he did allow 24 percent of inherited runners to score. But Martinez usually got the job done — until the NLDS, when he allowed six runs in two games against the Braves
Grade: B-Plus
RYAN HELSLEY, Relief Pitcher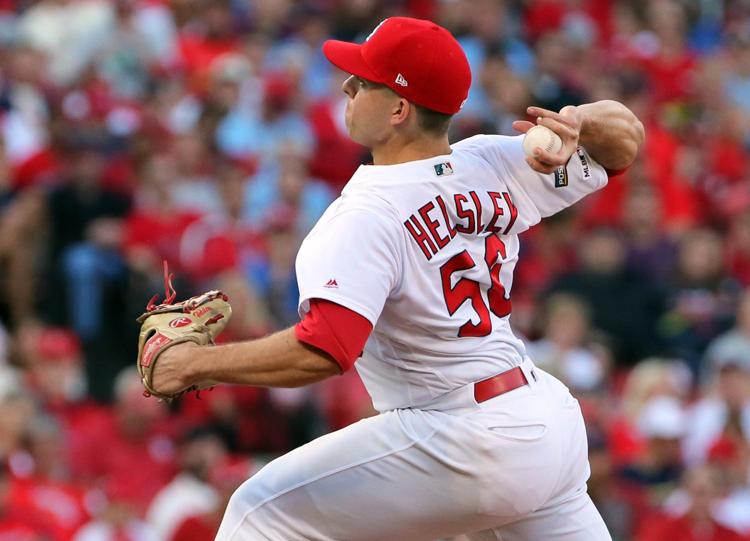 GORDO ON HELSLEY: He was just so-so as a starter and reliever at Triple-A Memphis, going 2-3 with a 4.58 ERA in 17 games. But Helsley recovered from a midseason shoulder impingement and added much-needed bullpen depth at the big league level. He was 2-0 with one hold and a 2.95 ERA in 24 regular season games. Helsley made the playoff roster and allowed just two baserunners while striking out eight batters in 5 1/3 innings. He could bid for a prominent late-inning relief role next season.
Grade: B
TYLER WEBB, Relief Pitcher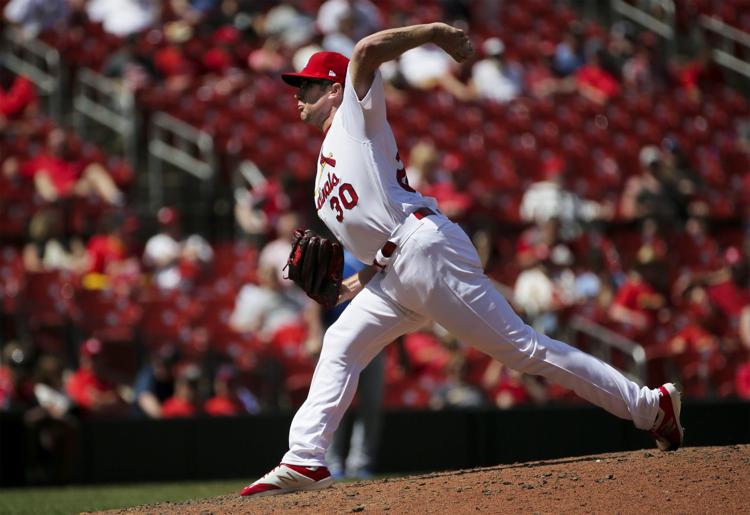 GORDO ON WEBB: He finally pitched his way off the Memphis shuttle and into a lefty specialist role with some extra responsibility. Webb was 2-1 with one save and a 3.76 ERA in 65 games. He held lefthanded batters to a .157 batting average and an on-base plus slugging percentage of .517. On the down side, he allowed runs in two of his five playoff appearances. During the regular season, Webb allowed 33 percent of his inherited runners to score.
Grade: B-Minus
DANIEL PONCE DE LEON, Starter/Reliever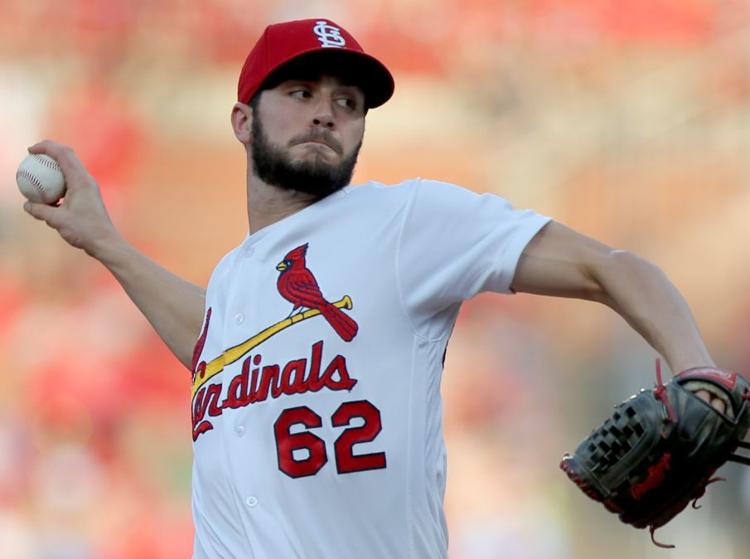 GORDO ON PONCE DE LEON: He rode the Memphis shuttle and did a nice job of filling in as both a starter and reliever for the Cardinals. Ponce de Leon starred at the Triple-A level (8-4, 2.88 ERA in 16 starts) and was 1-2 with a 3.70 ERA in 13 MLB appearances. He will need to cut down on this walks (26 in 48 2/3 innings this year) and develop better secondary stuff to stick in the big league rotation.
Grade: C-Plus
JOHN BREBBIA, Relief Pitcher
GORDO ON BREBBIA: Brebbia was solid overall again this season, going 3-4 with 12 holds and a 3.59 ERA in 66 middle-relief appearances. He allowed 25 percent of his inherited runners to score. Brebbia struggled in September (0-1, 7.36 ERA, .344 batting average against) and during postseason play  (6.00 ERA in five appearances) as wear and tear took its toll.
Grade: C-Plus
JOHN GANT, Relief Pitcher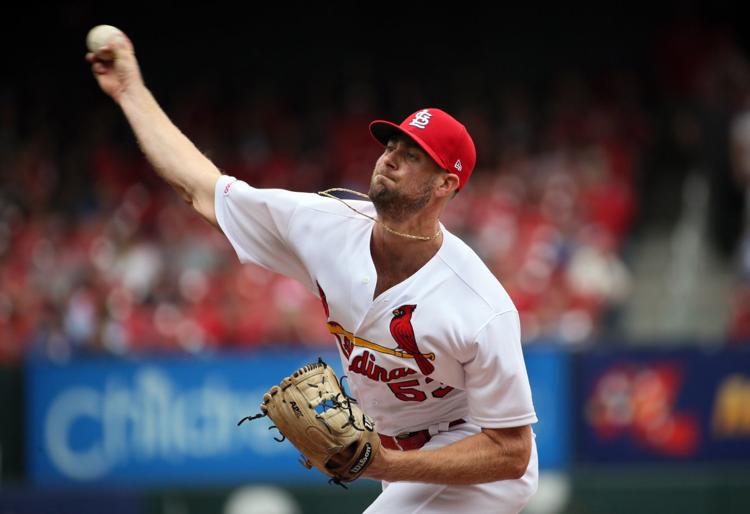 GORDO ON GANT: He was so good in his set-up role that manager Mike Shildt pitched him again and again and again . . . until Gant finally hit a wall. He finished 11-1 overall with three saves, 19 holds and a 3.66 ERA. He was nearly unhittable in April and May. But Gant's ERAs during the last four months soared to 4.00, 4.50, 4.00 and 13.50, so the Cardinals left him off their playoff roster. Overall, he allowed 31 percent of his inherited runners to score.
Grade: C-Plus
GENESIS CABRERA, Relief Pitcher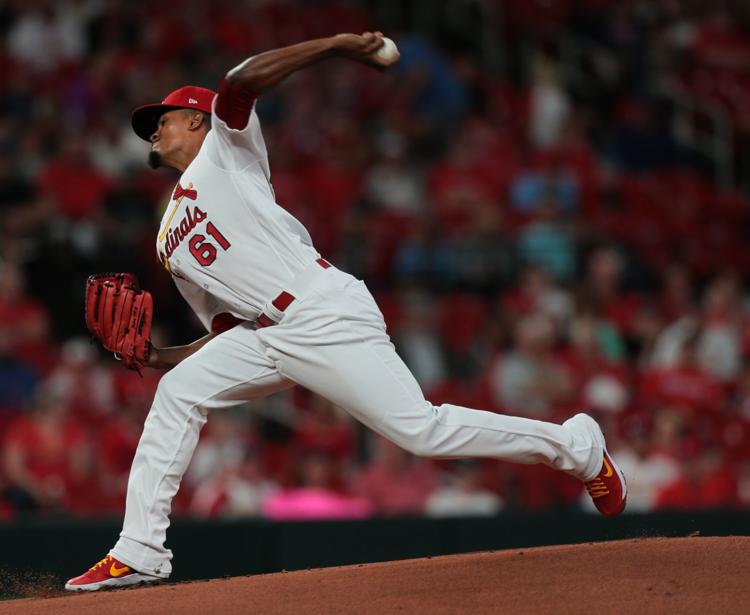 GORDO ON CABRERA: He got rushed into the rotation for two starts earlier in the season with disastrous results — nine runs allowed (six earned) in 8 1/3 innings. Cabrera was 5-6 with a 5.91 ERA in 20 games for Memphis. But by the end of the season, Cabrera (0-2, one save, two holds, 4.87 ERA) added enough polish to become a useful depth lefty. In eight September appearances he allowed three earned runs and struck out 13 batters in 8 2/3 innings. He will be a pitcher of interest in spring training.
Grade: C
MILES MIKOLAS, Starting Pitcher
GORDO ON MIKOLAS: He celebrated his four-year, $68 million contract extension with a mediocre regular season. Mikolas finished 9-14 with a 4.16 ERA and 27 home runs allowed — quite a regression from the numbers (18-4, 2.83 ERA) he posted in 2018. He struggled on the road this season, going 4-8 with 5.40 ERA in 17 starts.
But Mikolas was better overall in September, going 1-1 with a 3.34 ERA in five starts. Then was 1-1 with a 1.50 ERA in three playoff games, including two starts.
Grade: C-Minus
ANDREW MILLER, Relief Pitcher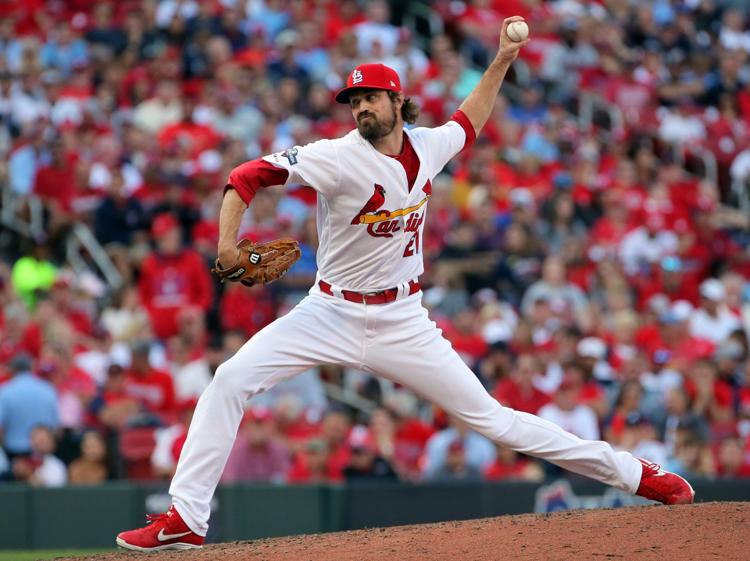 GORDO ON MILLER: Miller (5-6, 28 holds, 4.45 ERA, 27 percent of inherited runners scored) produced an up-and-down first season in the STL. He earned six saves, but blew five opportunities. Miller allowed 10 runs (nine earned) on 12 hits and three walks in 10 September innings. Then he was better in the playoffs, allowing no runs on two walks and one hit in five innings over six appearances. Where was that form all season?
Grade: C-Minus
JUNIOR FERNANDEZ, Relief Pitcher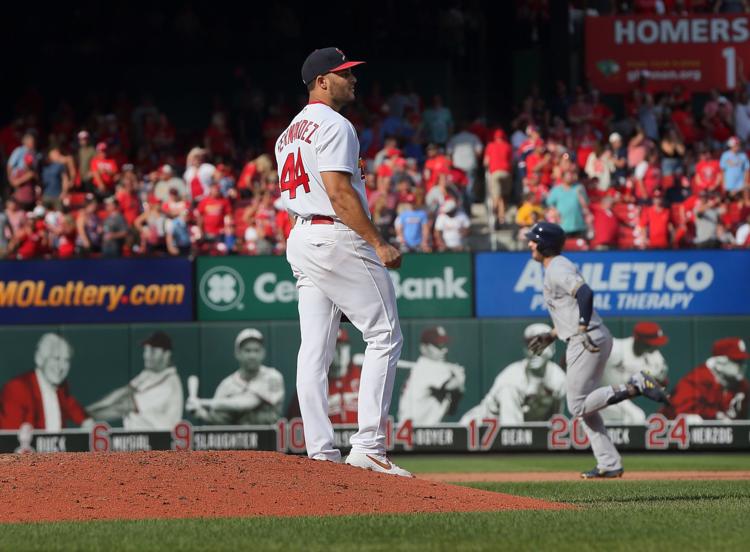 GORDO ON FERNANDEZ: He was the one of the organization's bright spots, starring at Palm Beach (four saves, 1.54 ERA), Springfield (1-1, five saves, 1.55 ERA) and Memphis (2-1, two saves, 1.48 ERA) and rising all the way to the majors. But Fernandez (5.40 ERA in 13 outings) was not quite ready for high-leverage work for the Cardinals, as he proved while blowing three saves in September. He may suffer Ryan Braun nightmares all winter.
Grade: C-Minus
MICHAEL WACHA, Starting Pitcher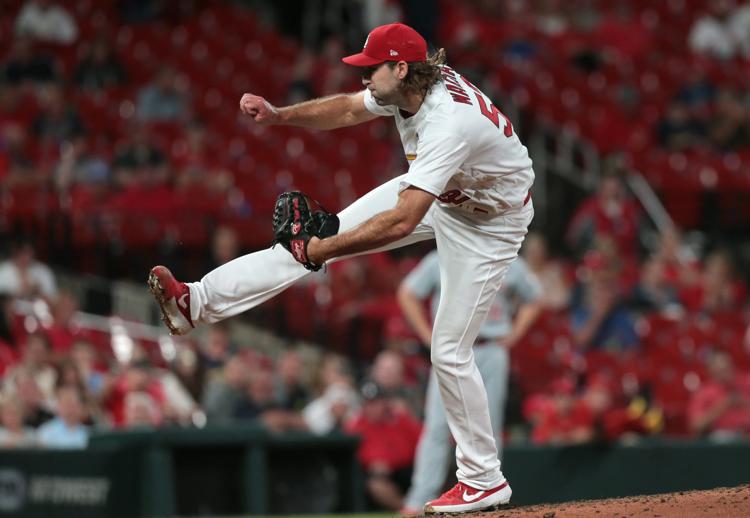 GORDO ON WACHA: He struggled as the No. 5 starter until his shoulder finally gave out again, knocking him out of postseason play. Wacha finished 6-7 with a 4.76 ERA in 29 games, including 24 starts. He allowed 26 homers in just 126 2/3 innings. Opponents hit .290 against him with a .865 on-base plus percentage. He worked more than five innings just once since June while trying to soldier on. If this was the end of his Cardinals career, it ended unceremoniously.
Grade: D
DOMINIC LEONE, Relief Pitcher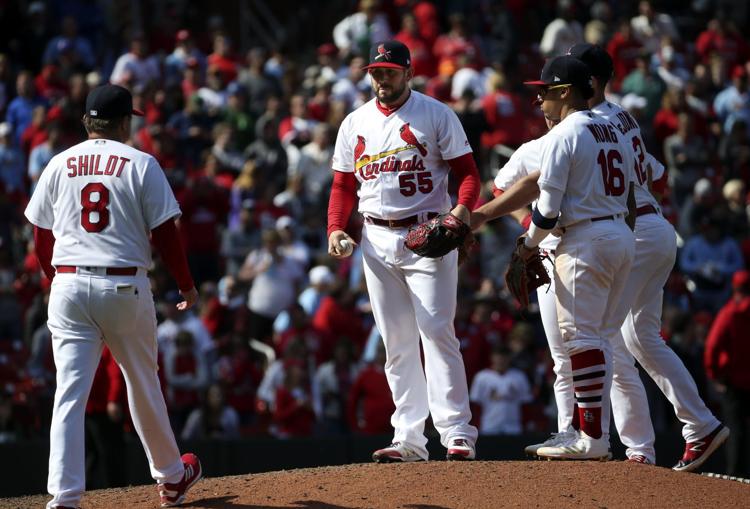 GORDO ON LEONE: The Cardinals hoped he could shoulder some of the high-leverage relief load this season. Instead he pitched his way onto the Memphis shuttle. Leone (1-0, one save, 5.53 ERA, nine homers allowed in 40 2/3 innings) posted sub-replacement level metrics. He had a 2.77 ERA in his last 15 outings this season, but by then he had pitched himself to the back of the relief line.
Grade: D
MIKE MAYERS, Relief Pitcher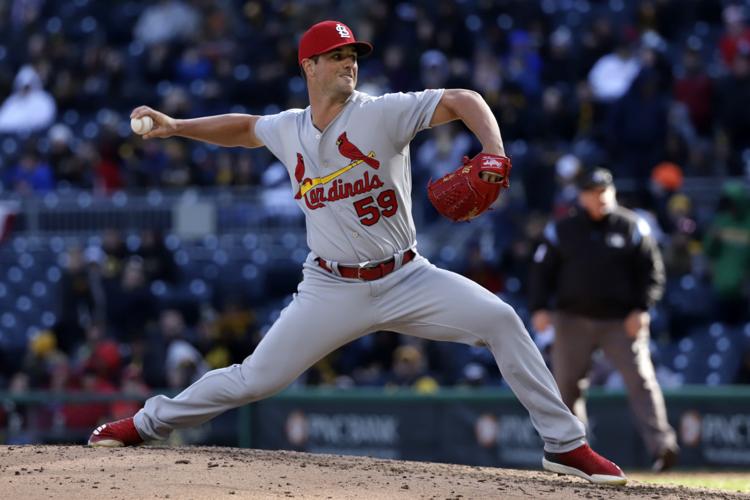 GORDO ON MAYERS: He pitched his way off of the 40-man roster, then regained full strength and pitched his way back onto it with a strong showing (six saves, 3.15 ERA in 20 games) back at Memphis. But Mayers (0-1, 6.63 ERA) never gained traction at the big league level this season and was relegated to mop-up duty at season's end.
GRADE: D
LUKE GREGERSON, Relief Pitcher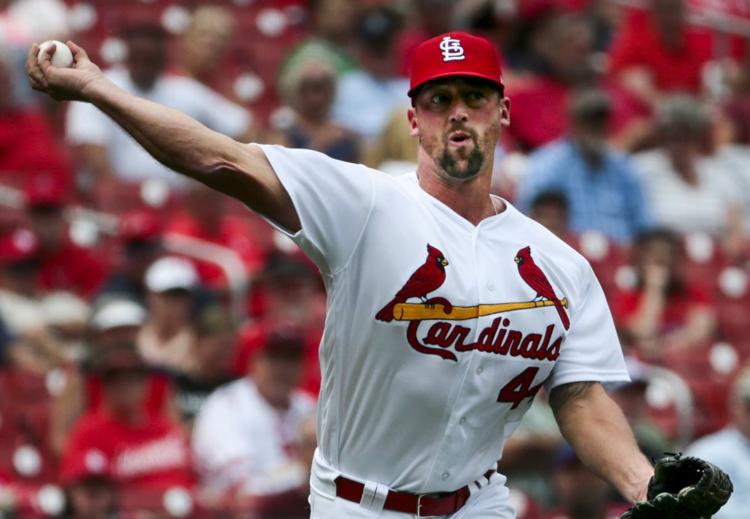 GORDO ON GREGERSON: 
He kept the training staff busy during his mostly unsuccessful return to the Cardinals organization. Gregerson finally got healthy enough to give it one more try this season . . . and it didn't go well. In six relief outings he posted a 7.94 ERA -- while allowing 11 hits in 5 1/3 — before hitting the waiver wire.
Grade: F
ALEX REYES, Starter/Reliever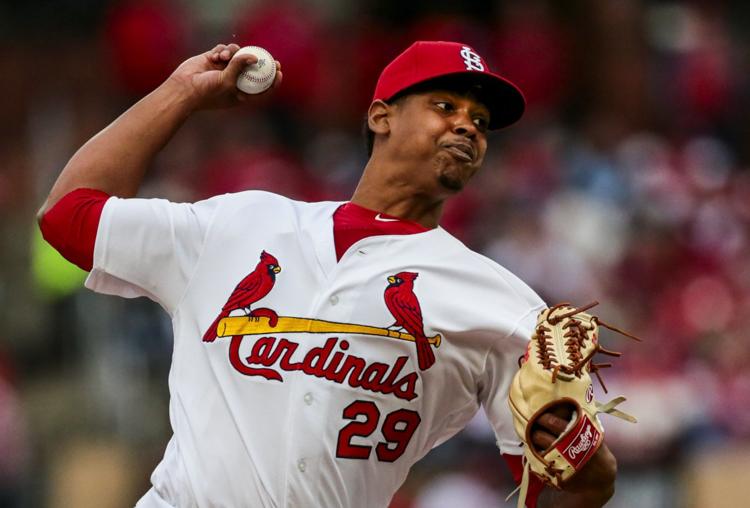 GORDO ON REYES: Yes, we believe he's in one piece as you read this. No, he is not the organization's Next New Thing. One injury after another derailed his career. Reyes appeared in four games back in April, walking six batters and allowing five earned runs in three innings. He may yet develop into a top-of-the-rotation starting pitcher or a late-inning reliever, but nobody is counting on either.
Grade: Incomplete
COMING WEDNESDAY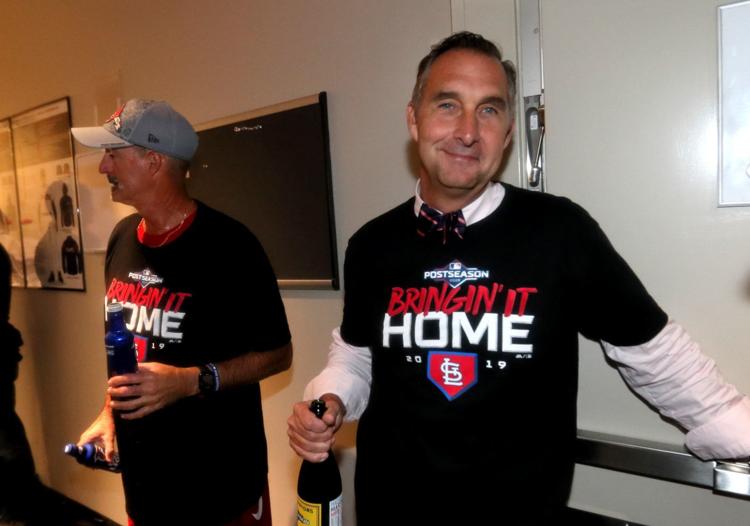 Grading management
On Wednesday, longtime Post-Dispatch and STLtoday.com columnist Jeff Gordon hands down the report cards for Cardinals ownership, front office and field staff.