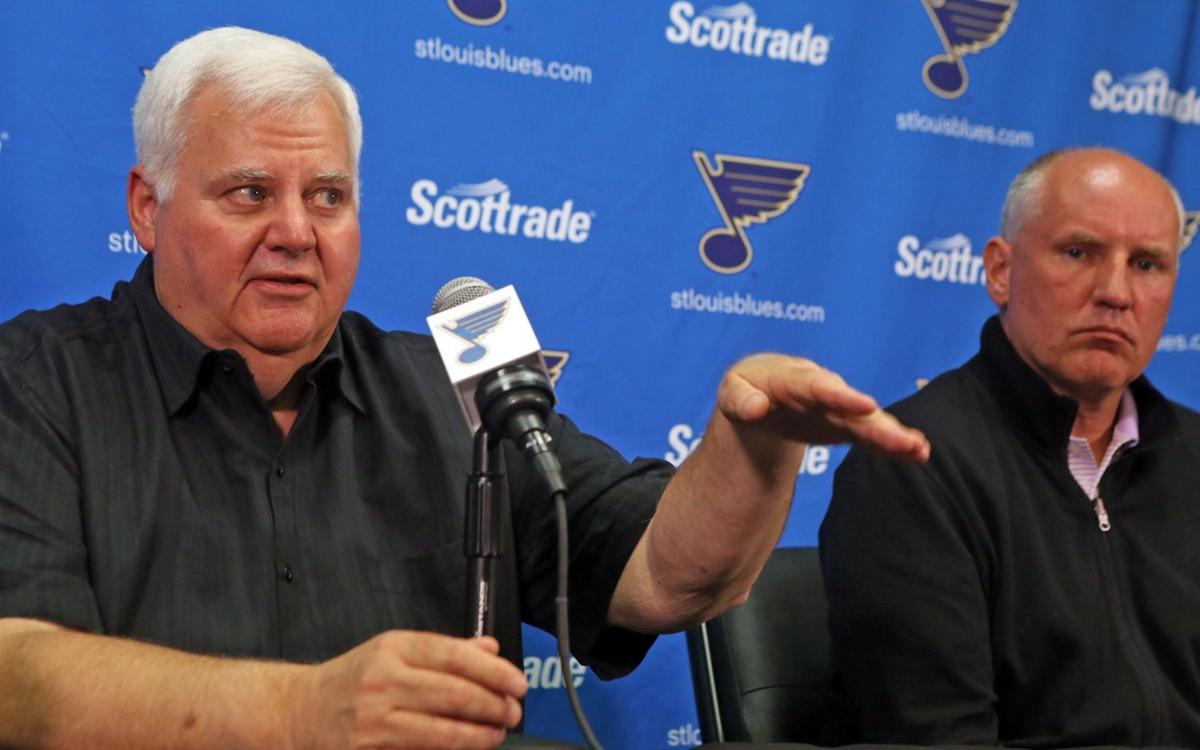 Brace yourself for the Reckless Era of Blues hockey.
The first takeaway from this week's repackaging of Ken Hitchcock was this: Blues goaltenders better be ready to make some saves early on next season.
General manager Doug Armstrong wants to see new energy in the lineup. Hitchcock agreed that the Blues should step up and look to create counter-attack rushes.
So for a while, anyway, the goaltenders will see some 2-on-1 rushes and clean breakaways coming their way. "Skilled and careful" will be out and reckless will be in.
Presumably those goaltenders will be Jake Allen and Brian Elliott, but you never know as this franchise heads toward another summer of change. The second takeaway from the presentation was that more players than usual could be in play for possible trades this summer.
Here are some more thoughts on the State of the Blues:
• This was a very good hockey team this season, but it did not become great. Hitchcock said the team failed in the postseason the way it did during a few dozen games against some of the NHL's elite. This was not so much a tactical problem as a failure to compete and persevere -- which is why a lot of us believed a coaching change was needed. Either a team responds whole-heartedly to the man in charge or it doesn't. Sort-of responding doesn't cut it when the games get really big.
• Puck possession didn't pay off against Minnesota because the Wild largely kept the Blues on the perimeter of what Hitchcock dubbed the "half-court offense." The Blues cycled and cycled and cycled without getting anywhere. Hockey is a sport of adjustments. The top teams have figured out how to maintain defensive balance in their zone while under duress. They remain disciplined while denying passing and shooting lanes and patiently awaiting their break.
• The Blues have the talent to attack the way, say, Tampa Bay attacks. They have the skill to roll three lines and their Top 4 defensemen can move the puck and jump into the play. They can play with pace, too, because quickness and anticipation are often more valuable than straight-line skating speed. But that go-go style can leave goaltenders exposed, as Our Town's Ben Bishop saw while allowing five goals in three of his last four starts.
• This team was notably different from the 2013-14 Blues playoff failure. Gone from the '14 squad were starting goaltender Ryan Miller, regular defensemen Roman Polak and Jordan Leopold, spare defenseman Ian Cole, plus forwards Vladimir Sobotka, Maxim Lapierre, Derek Roy, Brenden Morrow and Adam Cracknell. Gone from the 2012-13 team were goaltender Jaroslav Halak (displaced as the starter that spring) and scoring line forwards Andy McDonald, David Perron and Chris Stewart.
• This is probably the last spring Blues fans will get to blame everything on venerable blue liner Barret Jackman. Armstrong expects Robert Bortuzzo and Petteri Lindbohm to have regular defensive roles next season, so there will be little incentive to offer Jackman a free agent deal. Short-timer Zbynek Michalek figures to fall into the same category as Armstrong focuses on signing restricted free agent Vladimir Tarasenko.
• After integrating Paul Stastny, Jori Lehtera and Dmitrij Jaskin into scoring line roles this season, the transition should continue with prospects Robby Fabbri and Ty Rattie getting their chance next season. Fabbri, like Jaden Schwartz, is a small, skilled forward who is dogged on the puck.
• Beyond that, we could see further subtraction of long-time Blues. Many teams would bid on T. J. Oshie if he hit the trade market and Patrik Berglund could draw interest as well, given his size/skill combination. Don't be surprised if something bigger happens, given the need to create a fresh vibe by this fall.