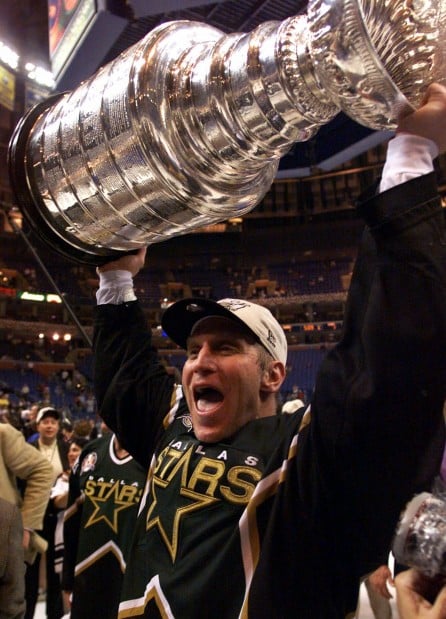 Former Blues great Brett Hull won a Stanley Cup playing for Ken Hitchcock in Dallas. So he is a big fan of the man replacing Davis Payne as coach.
Here are a few assessments Hull made during a visit to "Afternoon Mayhem" on KLSG 1380:
"I came in kind of a free wheeler, I kind of played my own game. Within the system, I had a theory on what I had to do to get open and create some offense. When I got to Dallas, there was no ad-libbing. We had a game plan, there was a certain way we played and you were going to do it come hell or high water. It was a big adjustment for me. But when you see (Mike) Modano and you see (Joe) Nieuwendyk and (Jari) Lehtonen and (Sergei) Zubov play under that umbrella, it doesn't take you long to figure out you're going to do it and enjoy it and enjoy winning. That's what happened.
"He is a fantastic hockey coach. The St. Louis Blues players are going to be prepared to win every night. He is meticulous with X's and O's and a game plan to challenge and beat your opponent every night. I don't want to say (he is a) taskmaster, but there is no nonsense with Ken. You're going to play, you're going to play hard and you're going to play within his system. If you do, you're going to have a lot of success. And if you don't, you're probably going to try to have a lot of success on another team.
"I'm not so sure the game has changed all that much from '99. I do agree that the game is bigger and it's faster. I don't think the style that we played in '99 would be that far different than what he is going to put in. A lot of puck support, a lot of puck possession, don't turn it over. That fundamental theory is no turnovers means they don't have the puck, which means they don't get chances against. That's the most important thing. Cut down the chances against, in his mind, and you're going to have a chance to win every night. I don't know if he is going to open it up a little, but when we played, there wasn't a lot of freedom to use the middle of the ice because that's where he thought all the turnovers are.
"He's very good at getting his message across. He is going to put a lot of responsibility on his assistant coaches to convey his message so that he is not so overwhelming to the players and always being the guy. The assistant coaches, it's going to be very important for them -- as I think it is for every coach and every assistant coach -– to buffer the players and the head coach. You don't want to keep pounding your message through the coach all the time. You have to use your assistant coaches. His message will be heard loud and clear. He's a good communicator and I think the players will like him.
"With Ken, (the power play) is going to be pure and simple, you just get back to basics. He is going to put his best players out there, he's going to get them to get the puck, to put it in, retrieve it, get the puck to the blue line and shoot pucks and shoot pucks at the net. You get pucks at the net, from rebounds, from deflections,  goal-mouth scrambles, that's how you score goals with Ken Hitchcock. And then broken plays off of those things, that's where you let your skill take over. I think that's what every power play that struggles should do. Just get back to basics, shoot the puck and good things happen.
"He's a very intelligent man. He's easy to talk to with a myriad of subjects. He's a Civil War buff, he's a big golfing buff. There is not a subject you can't talk to him about. He's very engaging. He's a very nice guy away from the game. When he's on the bench and he's preparing, he is very serious, very intense. He wants to win."