Quick Hits: Gordo on STL sports
Check out the hot topics from columnist Jeff Gordon's weekly chats with fans of the Cards and Blues, Mizzou and SLU. 
WHAT 'MO' WAS REALLY SAYING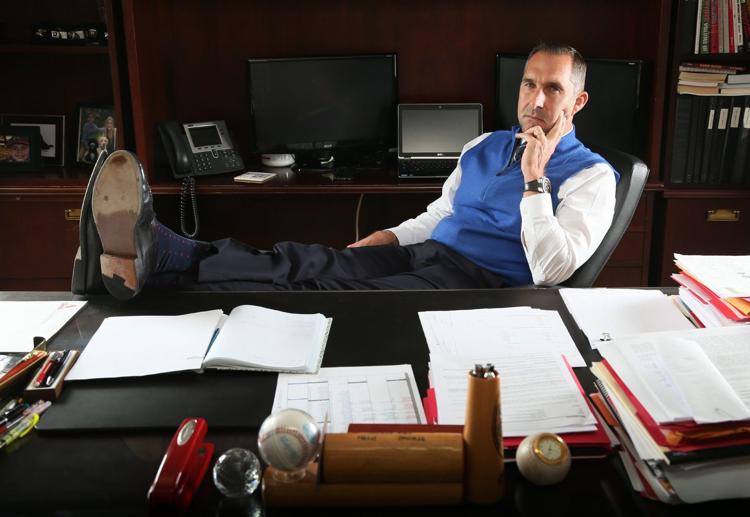 QUESTION: Can you decipher Mo's recent remarks to Commish Hummel, when he said it would "complicate things" if the Cardinals make any more moves to add players? This is an extreme example, but if Bryce rolls out of bed tomorrow and declares "what I really want to do is play for the Cardinals," would 'Mo' say, "Thanks, but no thanks. We're set."
GORDO: Well, it depends on what Bryce was willing to play for. If he is willing to take five fewer years and $150 million less to play here, then perhaps Mozeliak would be motivated to eat the Dexter Fowler money. But that's not the real world.
Obviously Mozeliak was discussing the sorts of additions (reliever, starting pitcher, reliever) the Cardinals had been looking at. Since Jedd Gyorko and Jose Martinez are still here, the Cardinals don't have at-bats to offer. And while I believe there is certainly room for another proven reliever, Mozeliak is pointing to the big pile currently in place and saying he wants to sort that before making any other adds.
Despite the marketplace offering all sorts of enticing bargains, it appears the Cardinals won't make any more moves until circumstances force the front office into action.
---
To a follow-up comment (there were many) insisting Mo's comments amounted to a "cop-out," Gordo replied:
By this point, the Cardinals know what the market is for any player they could offer. That market isn't likely to change until teams start suffering injuries. Maybe the market could shift if there is a flurry of signings elsewhere. Will Mozeliak turn off his phone for two weeks? Of course not, but after months of chatting with other teams he knows where everybody stands. Give the guy credit for being honest.
BUT ... DOESN'T THE BULLPEN STILL NEED A FIX?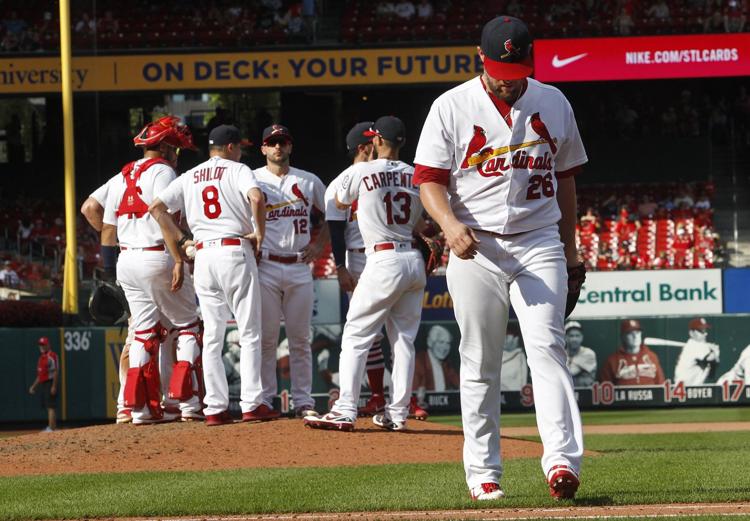 QUESTION: The only change to a mediocre bullpen second half of last season was the loss of Norris and addition of Miller. Why do the Cardinals expect better results from the bullpen? It is not like Norris was the only issue in the second half.
GORDO: Several young pitchers could factor into that, including some that didn't pitch in the 'pen last year (Alex Reyes, Genesis Cabrera, Ryan Helsley) and some that didn't pitch a full season (Dakota Hudson, Daniel Poncedeleon). And there is still hope that, say, Dominic Leone could get healthy and do what he did for Toronto in 2017.
That said, as I've noted several times, adding one more proven reliever would have been prudent.
---
Follow-up: Never quite understood why the Cards let Zach Duke leave in free agency. He seemed like a good lefty for the 'pen when he was healthy — surely better than Cecil. Now the Reds just picked him up.
GORDO: The Cardinals have let lots of useful relievers walk in recent years and that has come back to cost them dearly. That has been a major front-office shortcoming, letting guys walk while believing they can save a few bucks on the replacement. Even Bud Norris — are we sure he couldn't help this team in some capacity? He kept this team alive until finally wearing down last year.
To another question about the Cardinals roster, Gordo replied: 
Like it or not, this team now has a set lineup in the field and an overcrowded starting rotation. There is certainly room in the bullpen for a really good reliever like Craig Kimbrel, but the Cardinals choose not to spend on that. If their relief corps falters, they will be open to criticism for failing to lock that down.
ALSO: ABOUT THAT ROTATION ...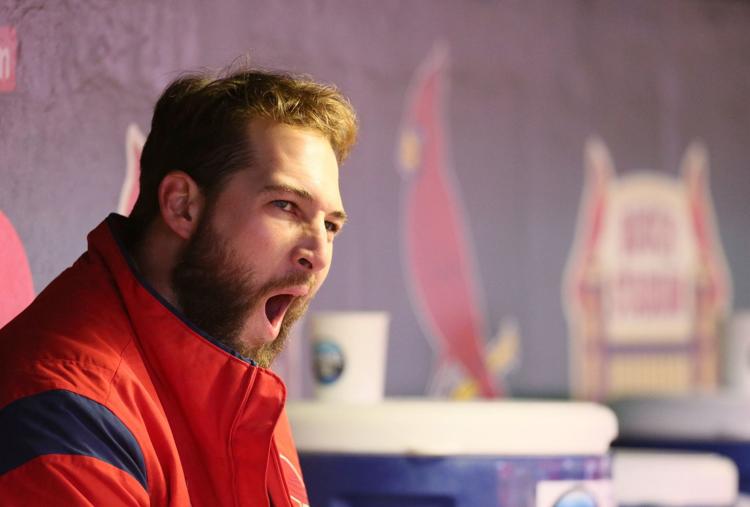 COMMENT: 'Mo' says he's basically done for the offseason. Here's a clue: Your proposed starting pitchers are all question marks, with the exception of Mikolas and Flaherty — and they aren't a guarantee.
GORDO: Most pitchers in every rotation are question marks. Injuries are common and performance fluctuates. However, the Cardinals rotation outperformed most rotations last season despite suffering massive injury hits. Given the upside of about a half-dozen candidates, expecting good starting pitching this season is reasonable. For the life of me I cannot understand why so many people whine about the Cardinals starting pitching.
NO HOT SEAT FOR 'MO'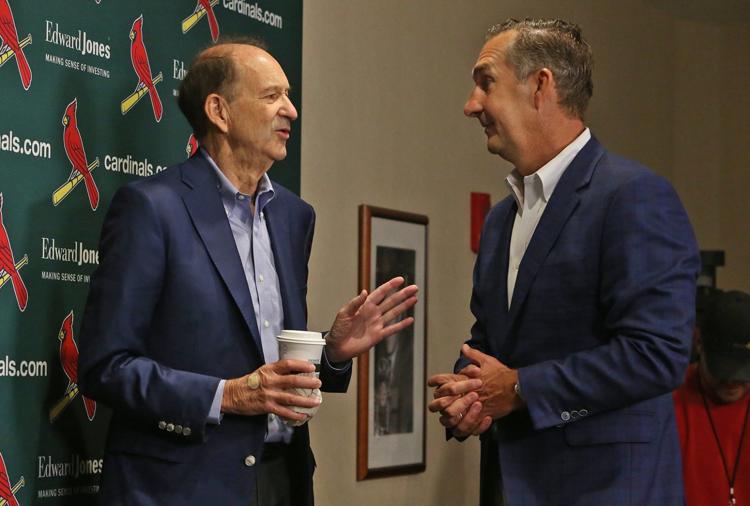 QUESTION: If the Cardinals miss the postseason again, realistically what would happen to Mozeliak?
GORDO: He would continue going about his business, unless he and Bill DeWitt Jr. develop a major philosophical difference. I don't believe he is going anywhere.
Let's not forget that DeWitt is involved in very major personnel decisions. He and Mozeliak work in concert. If the Cardinals are a true disappointment this season (let's say .500 or worse), and there were no mitigating circumstances (devastating injuries), the I would expect big changes to the roster, the field staff and other members of the baseball operation.
REALITY CHECK ON DEWITT AND THE FREE-AGENT DANCE
QUESTION: There was obvious fit for both Harper and Machado, and the Cardinals didn't put much emphasis on signing either. Arenado's impending FA has fans excited, but the Cardinals rank in the bottom 5 for highest contract given, and that was Matt Holliday. Will the Cards ever be the aggressor on notable free agents or will they continue to go for short-term trades, and bounce-back candidates?
GORDO: Under this ownership, I do not envision the Cardinals outspending the rest of MLB for the highest-end free agents. I believe they will continue bidding for star players like David Price, but I do not believe they will become undisciplined. They have helped set the current industry tone and I do not expect DeWitt and Co. to suddenly go rogue like Mike Shanahan and Jack Quinn did with the Blues back in the day. ... Their philosophy always will be: Develop your own players, trade for upgrades from your surplus and only use free agency to fill in the blanks.
---
To a follow-up comment on whether an elite free agent such as Harper would want to play in St. Louis, Gordo replied:
I believe Bryce Harper would play here if the Cardinals topped the bidding. I just refuse to believe the Cardinals will ever top the bidding for a player of that caliber. Such contracts are usually bad business, and DeWitt has eaten about all the bad contract he can stomach.
And to another reader's claim that DeWitt and Co. "lie to the fans" about how aggressive they'll be in the free-agent market, Gordo replied:
Year after year I hear DeWitt and Mozeliak say the same thing. Their goal is to contend for the playoffs every year. And that's pretty much what they have done, despite massive injuries, some colossal player failures and even the death of their top hitting prospect since Albert Pujols. I don't know what fans are hearing when these guys talk, but I don't hear them promise to spend "stupid" money, as the Phillies owner did. Nor do I hear anybody promising a parade on Market Street.
TRADE TALK AND THE BLUES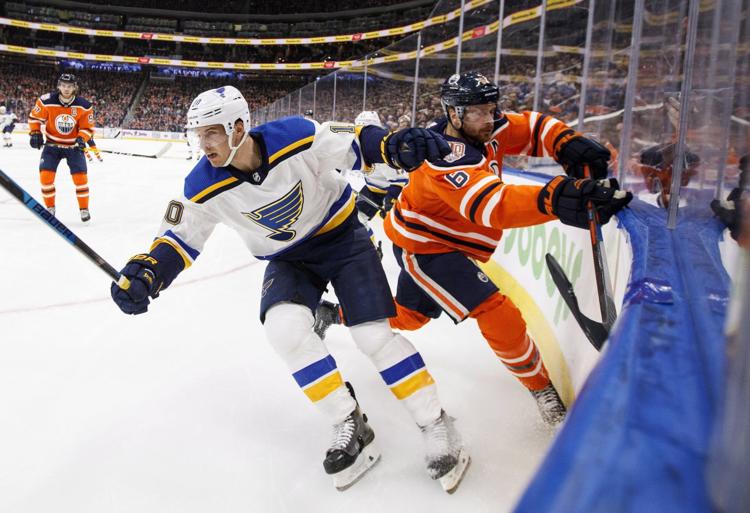 COMMENT: Can we put to bed the trade talks for the Blues? Any hockey trade would be someone from the core, and those generally don't happen at the deadline but more so the offseason. If the Blues do fall out of contention, then Schenn may be moved, but not in a "hockey trade." There is no sense in blowing it up when the return would not be what the Blues wanted.
GORDO: I agree that the most likely trade deadline outcome is some housecleaning moves to add a few draft picks and reduce some clutter. You never know about trades, however. I suppose the Florida-Pittsburgh deal looks like a bailout by the Panthers, since they added three picks. But Derick Brassard is a pretty good player who, for whatever reason, simply did not click with the Penguins.
And I could see a trade the sends Brayden Schenn to Boston for a good young forward or two with NHL experience. That would not be a strict Blues bailout, but rather changing up the nucleus while making a long-term adjustment to projected payroll.
---
Follow-up: Maybe it's time for some Ron Caron-like "meat on the burner" type of wheeling and dealing. The Blues aren't going to contend for anything other than perhaps the last playoff spot. Shake it up, keep some of the core, but let's try to reconfigure the team. Pietrangelo to Columbus for Panarin, and throw crazy money at him to stay with Tarasenko. Try something!
GORDO: Panarin has made it very clear that St. Louis is not on his target list. He is looking for a big city on the coast or maybe Florida. The signal on this front came before the season, something like this: "If Artemi doesn't want to be in Columbus, why would he want go to St. Louis?"
WHAT COULD HAPPEN WITH MIZZOU'S APPEAL?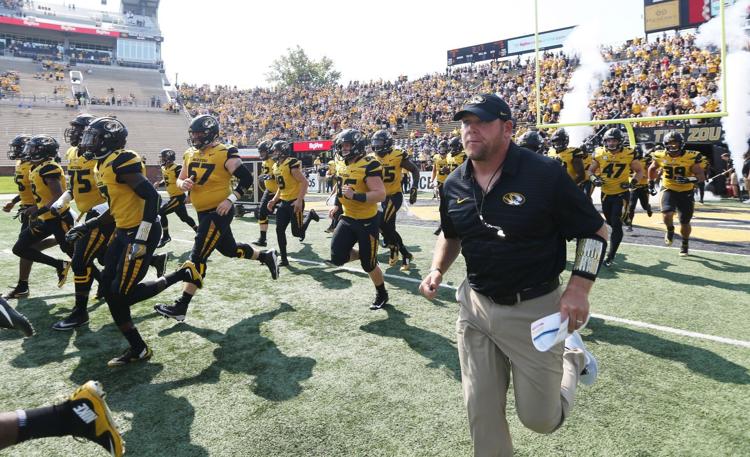 QUESTION: Realistically, what do you envision coming out of Mizzou's appeal of the NCAA sanctions?
GORDO: I believe there is a chance the postseason ban goes by the wayside for the football team. The current regime has done everything right while handling the scenario. If this is the standard the NCAA wants to set -- hammering programs that cooperate completely after all the guilty parties were replaced -- then we're going to see fewer schools cooperating with the NCAA.
TAPPING THE BRAKES ON A 'GOLDY' EXTENSION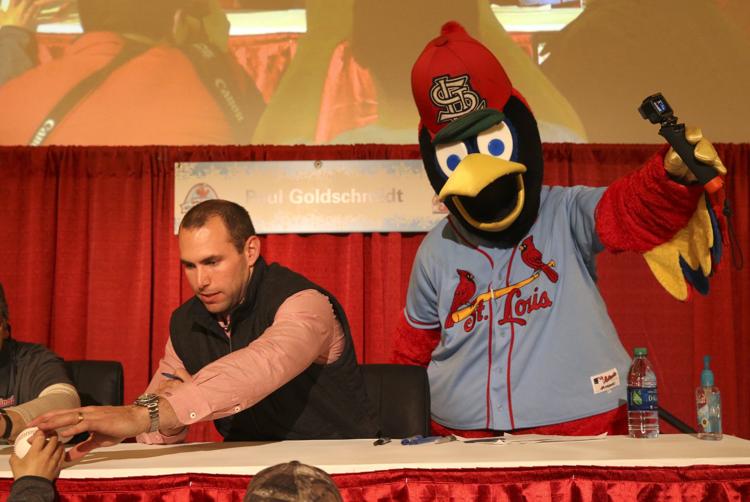 COMMENT: Goldschmidt had trouble hitting the fastball the first part of last year, and then apparently found his way. I would not want to offer an extended contract until he proves he can hit the fastball. What about you?
GORDO: The Cardinals want to make sure he is aging well, just as Goldschmidt wants to make sure that he likes playing for the Cardinals. But if I'm him and I am seeing how tough the market is for free agents, I might be more inclined to sign an extension that also addresses the potential of a work stoppage.
---
Follow-up: What do you hear about an extension for Goldschmidt? Twitter rumors are that a 5-year approximately $140 million extension is in the works.
GORDO: For the reasons I just described, Goldschmidt should think long and hard about taking the money instead of risking it in the marketplace. As for the Cardinals, a five-year extension should yield three good years anyway. DeWitt and Co. must take the best guess as to how well Goldschmidt will age.
IF MOLINA GOES DOWN, THEN WHAT?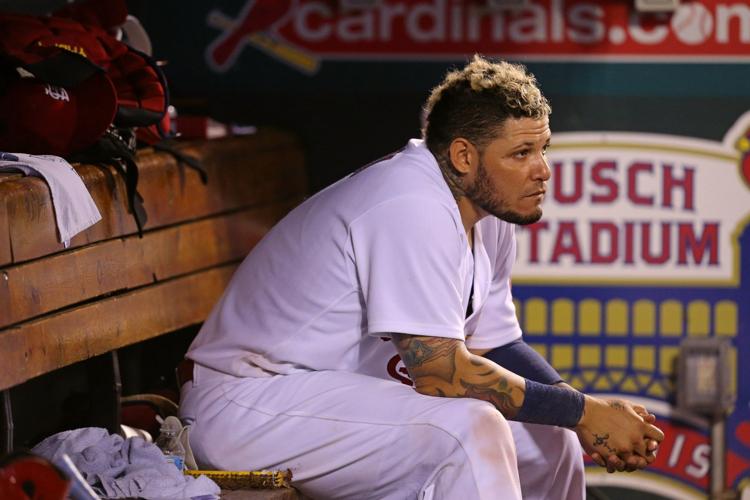 QUESTION: Don't agree with Mo's comments on adding more players. With a 36-year-old catcher coming off surgery and a 4A backup catcher and a prospect that needs a full year at AAA, wouldn't it be a good idea to sign one of the many catchers out there for a year? Possibly a LH-batting catcher for pinch-hitting? This area is being overlooked, and if Yadi were to go down the Cards would certainly miss the playoffs.
GORDO: Free agents didn't want to come here because Molina plays every day. Perhaps the Cardinals could have waited out the market and signed a guy who still wants to play regularly but had no other choice than the Cardinals. But such a player may not enjoy batting 12 times a month if Molina stays healthy. If the backup catcher doesn't cheerfully mesh with Molina, the coaches and the staff, then that is a huge problem for this team. Pena doesn't hit much, but he fits the culture and that is a huge consideration for this team.
If Molina gets hurt for a lengthy period, then Andrew Knizner is the guy. He fast-forwards his development as the heir-apparent. If Molina is eradicated and Knizner fails horribly, then the Cardinals will trade for a stopgap guy.
WHAT IF WAINO SCUFFLES?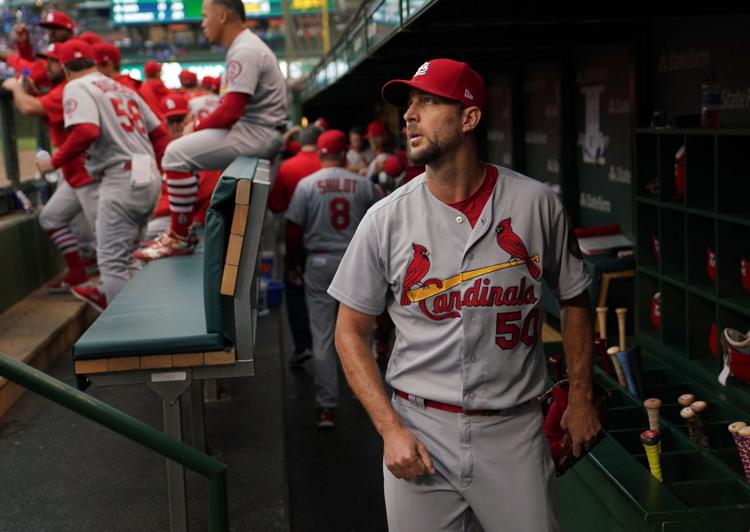 QUESTION: Along with the "five No. 1 starters," the Cardinals have also promoted their major-league-ready pitching depth. Should that lead fans to believe that if a guy like Waino scuffles out of the gate, the leash will be very short; i.e., he won't get 10 starts to turn it around?
GORDO: Given the organization's depth, Adam Wainwright will not stay in the rotation into May if he gets wracked start after start in April. Bringing him back for one more spin was a no-brainer since several of the young starting pitchers could use more minor league polish. Why put extra pressure on them? At the very least, Wainwright buys them more time.
EVALUATING CUONZO MARTIN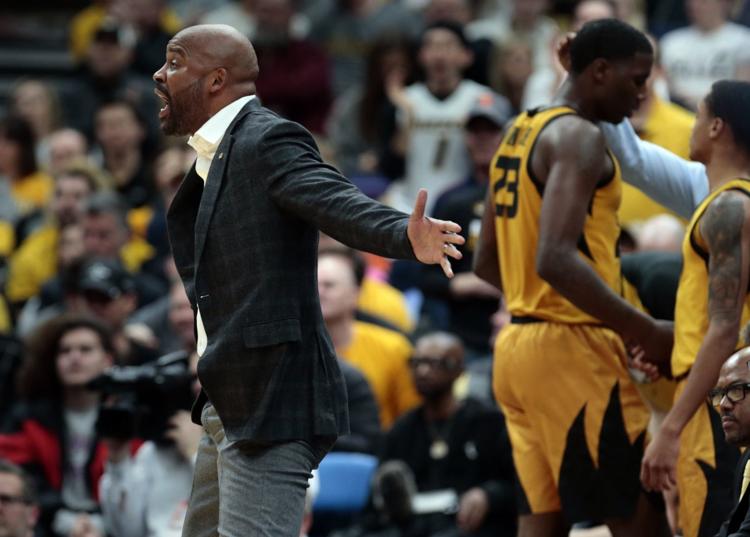 QUESTION: I thought Coach Martin would be able to "coach up" the Tigers more. You have a situation where people are regressing (i.e., Puryear). What's your assessment of his coaching this year?
GORDO: Puryear has regressed, but Geist and Tilmon have taken steps forward. Mark Smith is way better than he was at Illinois. Martin is also getting mileage out of freshmen (Pickett, Pinson, Watson). Nikko is also better in his limited role and even walk-on Ronnie Suggs has helped here and there. Losing Jontay Porter obviously derailed this season. K.J. Santos might have helped but for the chronic foot injury that shelved him for weeks at a time.
Martin's challenge is to win some games this season while developing his underclassmen, and recruiting impact guys who don't suffer season-eradicating injuries.
BLUES GIVING UP ON FABBRI?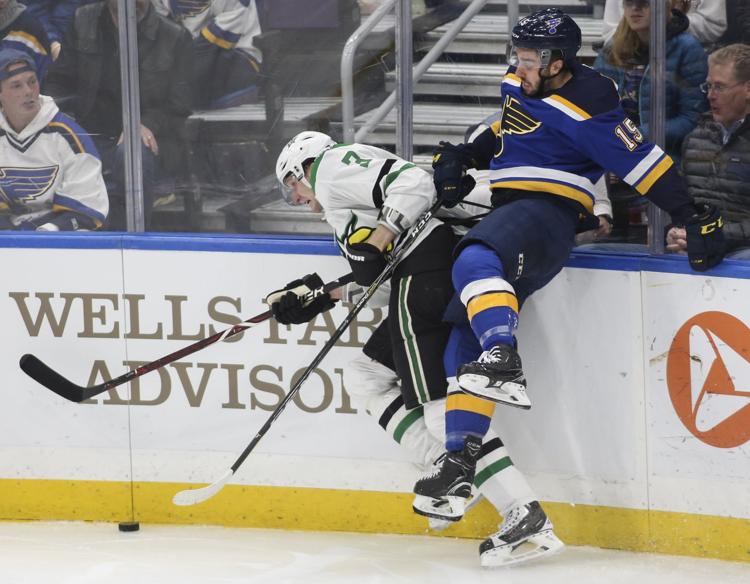 QUESTION: What is the Robby Fabbri's mood these days? He's had a tough time coming back from two major knee surgeries, the shoulder injury and being a healthy scratch. Hope the Blues aren't giving up on him.
GORDO: The coaching staff is trying to keep him from getting down. Right now Berube likes the effort he gets from the AHL soldiers filling in (Nolan, then MacEachern) so there hasn't even been work for him on the fourth line. The long-term and short-term needs of the franchise often collide — and Fabbri is right at that contact point.
MORE HATED: BIDWILL OR KROENKE?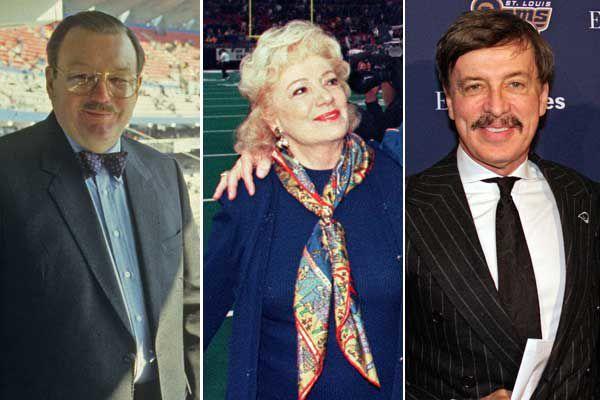 QUESTION: In which instance was the owner more hated by STL fans: The football Cardinals and Bill Bidwill, or Stan Kroenke and the Rams?
GORDO: Kroenke is more hated. He has all the money in the world. He didn't need to move the team and jilt his home state to pay his bills.
Bidwill had the football team and that was pretty much it. He couldn't get his new stadium, he didn't mix well with the old money in St. Louis, he was just kind of a odd-but-likable guy . . . so he was more of a hapless, frustrating figure than a hated one.
---
Follow-up: The Raiders need a home for 2019. Wouldn't bringing them to STL be a good opportunity for us to remind the league what a great football town this is? Especially knowing we wouldn't keep them.
GORDO: It would give us all another entertainment option for one year, but it would do nothing to help the city get another team. The ship has sailed -- and the only way it comes back is if another billionaire buys another team and insists on sticking it here.
TRIMMING THE 40-MAN ROSTER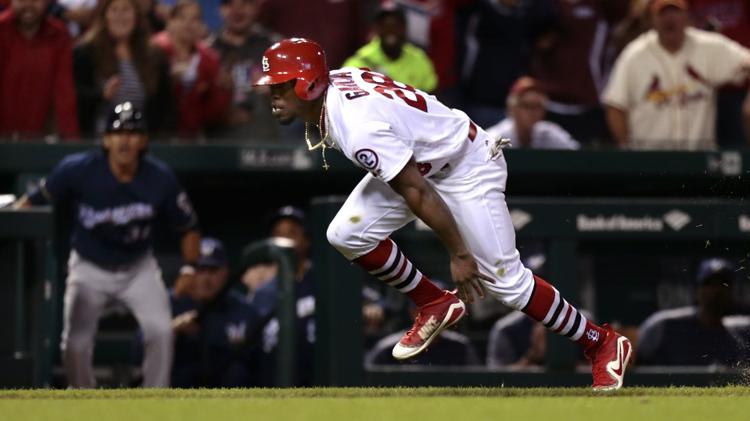 QUESTION: If the Cards did sign somebody, they would have to DFA somebody. Who is currently on the 40th-man hot seat?
GORDO: You can look at the spare infielders (Edmundo Sosa, Ramon Urias), spare outfielders (Lane Thomas, Justin Williams, Adolis Garcia) and lefthanded relievers (Chasen Shreve, Tyler Webb) as some of the more vulnerable. Luke Gregerson was last seen with a fork in his arm, so there is another possibility.
CLOCK TICKING ON OVERPAID VETERANS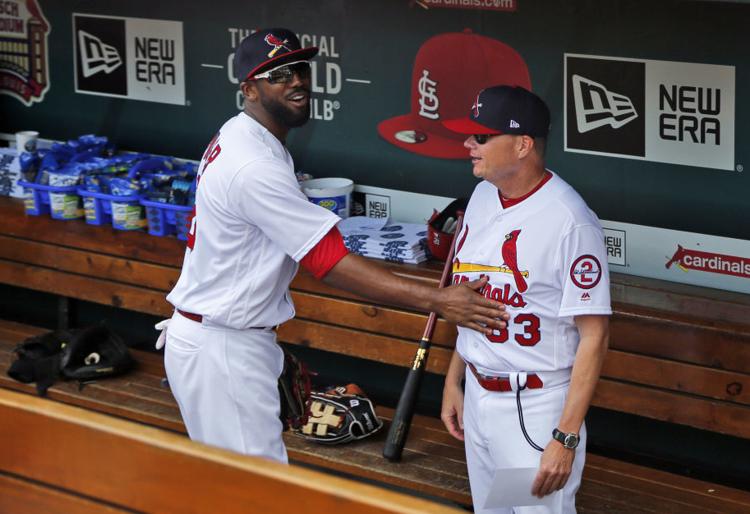 QUESTION: Fowler's first year here he hit less than .250 for his first 4 months. Last year he hit .180 for the season. Given his performance history here, how long does Shildt play him if he repeats.
GORDO: He better have the swing in tune quickly, given all the outfield options at Shildt's disposal. How he is swinging the bat this spring will be more important than batting average. And, of course, how the team is playing early in the season will increase or decrease managerial patience. If Fowler is still the worst position player in baseball, I doubt he sees regular duty for more than a few weeks.
---
Follow-up: Most Cardinals fans would be happy with the addition of a lefty reliever who can give them 70 innings with a 3.26 ERA and a 1.2 WHIP, a 4:1 K/BB ratio and only giving up 7 HR for the year. That was Brett Cecil in '17 ... so there is hope for a rebound. 
GORDO: Sure, there is hope. But it's safe to say that Mozeliak and Co. are not counting on that sort of comeback. He will either pitch well or move on with the Cardinals eating his remaining contract dollars. I will say this about repeatedly missing the playoffs: Management will be far more willing to move on from failed veteran this season. Enough is enough.
DEWITT'S BOTTOM LINE
COMMENT: The Cardinals seem to have determined that they can maintain fan interest by competing for the second wild-card spot, even if they fall short most of the time. Their top priority seems to be maximizing profits, which requires doing "just enough" — because that is what they consistently do.
GORDO: Remaining consistently competitive is very difficult. That's why the Cardinals are about the only team that actually achieves that standard. Few teams even try to do that any more. Would the Cardinals be better off tanking multiple seasons while trying to build a juggernaut? Fans argue for that, but DeWitt rejects the concept — in part because he likes drawing 3 million fans every season.