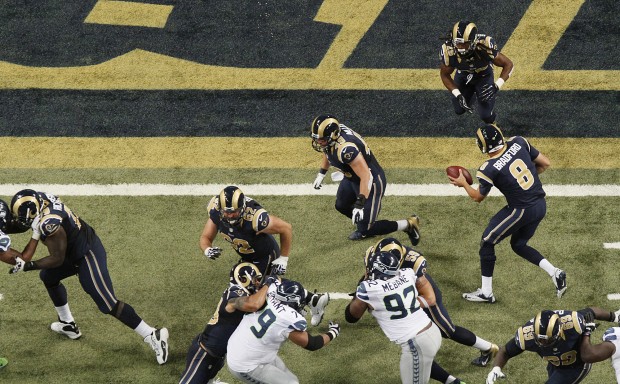 Here are the grades for the St. Louis Rams after their ugly 19-13 victory over the Seattle Seahawks Sunday after the Edward Jones Dome.
QUARTERBACK: Sam Bradford and receiver Brandon Gibson were NOT on the same page for his red zone interception. "I tried to put it back shoulder," Bradford said. "I thought the guy was on top but his eyes were back there the whole time." So Sam took responsibility for that gaffe. And he did miss a couple of quick outside passes to Danny Amendola. Otherwise Bradford did a nice job managing the game and converting enough big third downs to keep the Rams moving. He stepped up in the pocket nicely and made some big throws down the middle. Considering what Seattle's defense did to Aaron Rodgers Monday night, Bradford's ability to scramble out of some trouble was notable. His 63.3 passer rating doesn't shine, but the looks very good to a team that finished 2-14 last season.
RUNNING BACK: Steven Jackson broke off a 23-yard run. Otherwise he gained just 22 yards on 17 carries. He didn't have much room to work with, but he banged out a few timely first downs and rambled for 12 important yards on a screen pass. Speedy rookie Daryl Richardson (six carries, 16 yards) proved that he, too, needs blocking to succeed. Post-camp addition Terrance Ganaway dressed for the first time, giving the Rams a second power running back as insurance. That change bumped superfluous change-of-pace back Isaiah Pead to the inactive list. But once again Jackson and Richardson did all the work, often without much help.
RECEIVERS: Veteran receiver Steven Smith moved to the inactive list as the Rams used all their younger targets: Chris Givens, Austin Pettis and Brian Quick. The kids were all right – especially Givens, who caught a 52-yard bomb from Bradford. Amendola did his usual thing, catching six passes for 55 yards and scoring the touchdown on the fake punt play.
TIGHT ENDS: The Rams threw the ball to Lance Kendricks twice. One was on a screen play the Seahawks blew up. The other was for a big 26-yard gain after he got behind the defense. Once again we will state the obvious: He needs to become a bigger part of the offense.
OFFENSIVE LINE: Bradford only absorbed two sacks, so this makeshift group deserves considerable credit for that. Gaining 286 yards of total offense is usually nothing to celebrate, but the Seahawks worked over the Packers but good Monday night. Many of expected a sack party in this game. On the other hand, the Rams seldom cleared any running room. Those 2.8 yards per carry won't get it done most weeks. But a victory is a victory.
DEFENSIVE LINE: Defensive ends Robert Quinn and Eugene Sims earned critical sacks. Defensive end William Hayes and defensive tackle Kellen Heard delivered big tackles for losses. But the Rams struggled to contain rookie Seahawks quarterback Russell Wilson early in the game and they allowed Seattle to gouge them for big rushing chunks later in the game. It's hard to win a game allowing 5.3 yards per carry. In the end, though, the Rams found a way to allow only 13 points.
LINEBACKERS: Outside linebacker Rocky McIntosh held onto his easy interception and middle linebacker James Laurinaitis got credit for eight tackles. Otherwise this unit had a tough day. The Seattle running backs Marshawn Lynch and Robert Turbin repeatedly got to the second level. Some of it was great blocking, some of it was poor tackling. If Seattle had a better passing game, the Rams would have paid for that. But they didn't.
SECONDARY: Rookie cornerback Trumaine Johnson made a huge interception and Bradley Fletcher held on to his right-place-right-time pick to clinch the victory. After failing to stop the Seahawks on their first offensive series of the game – as Wilson extended passing plays with his feet -- the defensive backs toughened up. "We were able to settle down and play some football," cornerback Cortland Finnegan said. Rookie cornerback Janoris Jenkins forced an interception with a big blitz hit on Wilson and cornerback Finnegan had eight tackles – due, in part, to all the missed tackles by the defensive front seven. On the other hand, the Rams need much better run support from their safeties.
SPECIAL TEAMS: Given all the success, it is easy to forgive that end-around kickoff play that went badly. Punter/holder Johnny Hekker threw a touchdown pass on a fake field goal attempt. "We practiced it so many tines," Hekker said. "You just stand up and hope they're not going to rush me and hit me during the throw." Josh Hull recovered Seattle's onside kick attempt to start the second half. Rookie place kicker Greg Zuerlein crushed field goals from 58, 48, 60 and 24 yards. Greg the Leg might be the team's MVP to this point of the season. Any time the Rams cross midfield, they have a chance to get points. That changes everything for this team.
COACHING: This was a daunting match-up for the Rams. Their offensive line folded up in Chicago last Sunday and faced a ferocious front seven in this game. Jeff Fisher and offensive coordinator Brian Schottenheimer kept the restrictor plate on the offense and let the defense and special teams decide the game. But they also took some shots down the field – and the successful fake field goal was the game changer. Getting this team to 2-2 is quite an accomplishment, all things considered.
Sam Bradford vs. other quarterbacks
Choose up to two quarterbacks from the lists below to compare with Sam Bradford.
Week by week performance
Choose a stat to see how the quarterbacks above have performed over the course of the season.