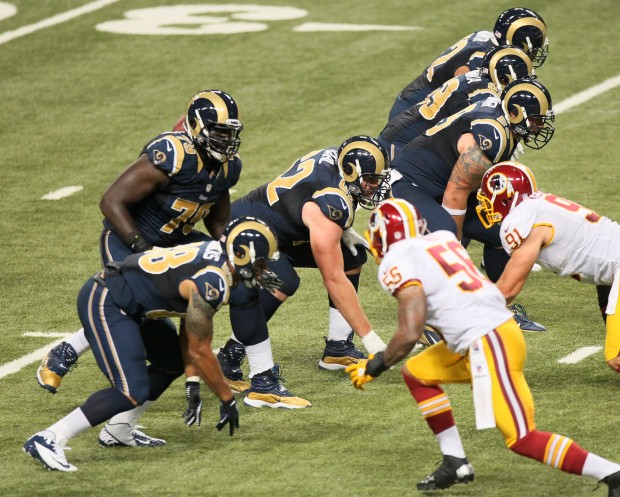 Here are the grades for the St. Louis Rams after their 31-28 victory over the Washington Redskins at the Edward Jones Dome.
QUARTERBACK: Sam Bradford threw one bad interception in the end zone. "I saw (Steve) Smith at the back line and I just kind of locked in on him," Bradford said. "I didn't see (London) Fletcher getting back there. But that mishap did not deter him. He just kept coming, completing 26 of 35 passes for 310 yards and three touchdowns. His pocket awareness was much improved. He moved around to make plays. Bradford spit up a fumble on one of the two sacks he suffered but the Rams got the ball back. There is nothing wrong with targeting Danny Amendola 16 times when you complete 15 of those passes, but the Rams will need to spread the ball around a little bitter.
RUNNING BACK: Steven Jackson gained 58 yards on nine carries. He seemed to score a TD, too, although the replacement officials didn't agree. His subsequent unsportsmanlike conduct penalty, deserved or not, removed the option of a fourth-and-inches bid. After Jackson departed the game with a groin muscle strain, rookie Daryl Richardson did an awesome job . . . right up until he fumbled the ball away as the Rams were poised to run out the clock. Richardson rushed the ball 15 times for 83 yards and caught two passes for 19 more. He felt much relief after his defensive teammates picked him up after his fumble.
RECEIVERS: Amendola handed the Redskins their first touchdown by fumbling moments into the game. Then he spent the rest of the game making up for that disaster, catching 15 passes for 160 yards and a TD. Brandon Gibson caught one touchdown pass and could have had another by getting his feet down more definitively in the back of the end zone. Smith (three catches, 39 yards) made a couple of key grabs, but the team didn't use rookies Chris Givens (two targets) and Brian Quick (one target) much. It would be nice to see the team use their speed and size respectively.
TIGHT ENDS: Our Town's Matthew Mulligan slipped into the back of the end zone unattended on a well-conceived and well-executed play-action pass. That was the sort touchdown play this team could never pull off last season. Mulligan also had a big 13-yard catch and Lance Kendricks had two catches for 25 yards. It would be nice to see the TEs become more prominent in the passing game.
OFFENSIVE LINE: Once again the team had to shuffle its personnel. Quinn Ojinnaka came back from the street to start at left guard for the injured Rok Watkins. Left tackle Rodger Saffold went down with a knee injury and Wayne Hunter replaced him. When Hunter went down, waiver claim Ty Nsekhe stepped in. Through it all, the makeshift unit held up well despite suffering the occasional penalty call. Bradford had time to throw (suffering just two sacks) and the Rams averaged 5.6 yards rushing. The Rams piled up 452 offensive yards and moved the ball when they had to move it to complete the comeback victory.
DEFENSIVE LINE: This was a hit-or-miss game for the unit, but it definitely toughened up after the Redskins jumped ahead 21-6. Washington got some big chunks on the ground, averaging 6.1 yards per carry. Redskins quarterback Robert Griffin III got loose for 82 yards on scrambles and designed runs. But the Rams stiffened late in the game and got big stops. Defensive end Robert Quinn had a big sack and back-up DE William Hayes had a couple of notable plays.
LINEBACKERS: Weak side linebacker Jo-Lonn Dunbar spent a lot of time chasing RGIII. He won some races and lost some. He finished with seven tackles, including one that dumped Griffin for a four-yard loss. Strong side linebacker Rocky McIntosh could have made life easier by hanging on to a potential key interception. Middle linebacker James Laurinaitis was busy, earning eight tackles, including one for a loss. The Rams won't be happy with the rushing yardage they allowed, but, again, they made the stops when they had to.
SECONDARY: On one hand, rookie cornerback Janoris Jenkins got burned for a big touchdown bomb. On the other hand, cornerback Cortland Finnegan got a timely interception. Finnegan also punished and agitated the Redskins all afternoon. Safety Craig Dahl remains a liability in pass coverage, but Rams defensive backs rallied to the ball very well. They prevented yards after catch when the game was on the line.
SPECIAL TEAMS: Excellent kick coverage, a blocked punt, excellent punting by Johnny Hekker (48.7 yards average, including a critical 66-yard bomb) and three more Greg Zuerlein field goals added up to a great performance. The invaluable Amendola chipped in a 22-yard punt return and gained additional yardage by taking a horse-collar tackle.
COACHING: The Rams fell behind 21-6 and rallied for an emotional victory amid brutally incompetent officiating. Such comebacks were scarce under his predecessors, Steve Spagnuolo and Scott Linehan. Fans wanted Fisher to be more aggressive with his officiating challenges, but otherwise there could be few complaints. As Chris Long observed after the game, "We have the personality of our head coach: resilient, confident."