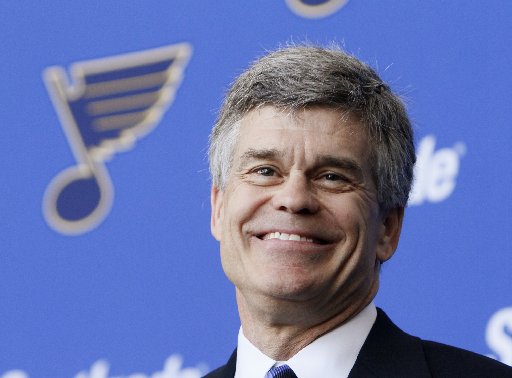 Many Blues owners have tried to build a winning and profitable operation over the years.
Some owners fell a bit short, others failed horribly. Now it is Tom Stillman's turn to take the helm of this star-crossed franchise.
Can his group succeed where previous Blues ownership groups failed?
Stillman really, really wanted this opportunity. As NHL commissioner Gary Bettman noted, Stillman has been in "dogged pursuit" of ownership control for the past two seasons.
His passion for hockey was evident during his introductory news conference Thursday at Scottrade Center, with many active players, Blues alumni and local dignitaries in attendance.
"We come to this with a real love of the game of hockey and a special passion for Blues hockey," Stillman said. "Most of the members of our group are lifelong Blues fans, everyone has season tickets or suites or both, at least three of us still play on a regular basis."
Stillman is brimming with confidence, but he understands there is a lot of work to do. Controlling the Blues is a great honor for this diehard hockey fan, but it is also an enormous challenge.
"Our two priorities are to continue putting an elite team on the ice and, two, to get the financial house in order," Stillman said.
If you are a hockey fan and/or you own a local business, he is eager for your help on the latter front.
"We do intend to win a Stanley Cup for the city of St. Louis," Stillman said. "To accomplish that, we need to put the Blues on sound financial footing.
"Increasing revenue and operating in an efficient manner — we're focusing on those two fronts first."
The new ownership group has put more cash into the operation, which was a critical first step toward financial success. Stillman assembled a "Who's Who" list of wealthy local investors willing to bankroll hockey in this market.
"The financial stability . . . is much better," Bettman said at the news conference. "The franchise is less leveraged, more liquid. It has more equity in it."
Stillman's group can see additional positives as it gets to work:
• General manager Doug Armstrong, coach Ken Hitchcock and the other Blues executives and coaches provide strong leadership for the hockey operation.
• This is a highly competitive and marketable team, led by a strong group of young veterans like David Backes, Alex Pietrangelo and T.J. Oshie.
• The franchise has near-term and long-term flexibility with its payroll. There is no more "dead money" on the books.
• Top prospects like Jaden Schwartz and Vladimir Tarasenko offer the near-term potential for additional help.
• The 109-point season and playoff victory over San Jose energized the fan base and provided competitive and marketing momentum for seasons to come.
• The reconfigured ownership groups gives the Blues access to most of the financial movers and shakers in greater St. Louis.
"The future is bright, bright, bright," Bettman gushed.
Blues fans have heard that before. They rallied behind Mike Shanahan. They loved the 10-digit resources of Bill and Nancy Laurie. They wanted to believe in Dave Checketts and his track record of sports success.
They all meant well and they all fell short. But if Stillman and his fellow investors stay the course and help the hockey operation finish the job it started, maybe, just maybe, the Cup dream can finally come true.