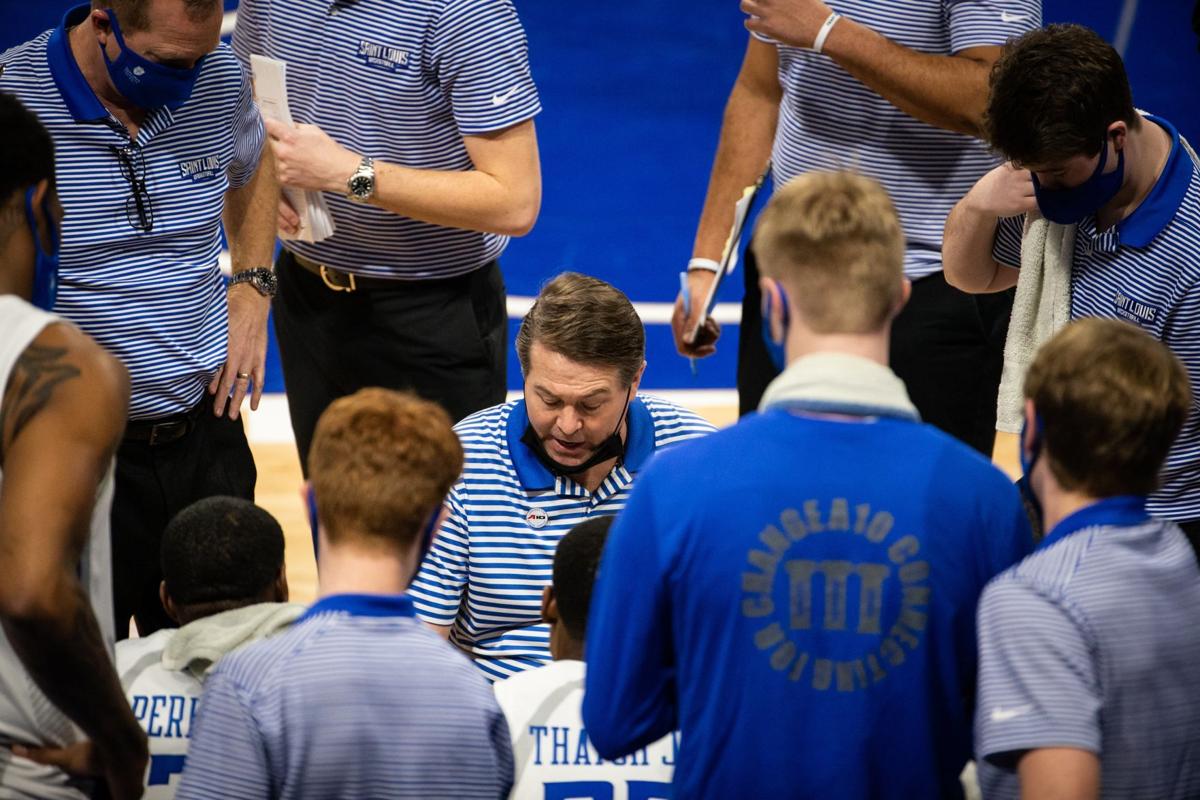 While Baylor and Gonzaga are cruising along at 30,000 feet this season, every other college basketball team is either striving to gain altitude or fighting not to lose it.
Every other team is feeling the must-win urgency, whether they are trying to secure a high seed (like Illinois), just reach the bracket (like SLU) or hold their standing as a mid-bracket entry (like Mizzou).
This sets up a significant Tuesday night of basketball in our region.
Illinois has an interesting game at Michigan State. Sparty rallied past Indiana in its last game while joining other sputtering bluebloods in making a late push toward the Big Dance.
The Illini rode their seven-game winning streak onto the No. 2 line in most bracket projections. Winning this game, then dispatching hapless Nebraska at home Thursday would give the Illini additional momentum heading into their season-ending gauntlet: at No. 23 Wisconsin, at No. 3 Michigan and at No. 4 Ohio State. Whew!
But in the hypercompetitive Big Ten, the Illini can't look too far ahead. They almost fell in their trap game against Northwestern last week.
At the other end of the spectrum, the COVID-crushed Billikens still harbor NCAA Tournament dreams – but they have zero margin for error.
USA Today's latest bracket projection has SLU in the outside looking in. ESPN's Joe Lunardi has the Billikens on the backside of the bubble in the "Next Four Out" list.
CBS Sports slid SLU into the First Four bracket as a No. 12 seed after bumping VCU. Here is how CBS bracketologist Jerry Palm assessed them:
Saint Louis looked pretty bad this weekend also, losing at Dayton 76-53, giving the Flyers a sweep of the season series. The Billikens lost at home to Dayton on Jan. 26 in its first game back after a 34-day COVID pause. SLU has only played 15 games, so it has not had much of a chance to build up its resume. They have dropped into First Four game in the projected bracket.
Winning at VCU would help their cause. But VCU leads the Atlantic 10 and the Rams are coming off of an inexplicable 79-76 overtime loss to conference also-ran George Mason.
So we're guessing the Rams will come ready to bounce back against SLU. At-large berths will be hard to come by in the A-10 and VCU feels the same urgency the Billikens do.
Then there is the Ole Miss-Missouri game. The Rebels climbed onto the NCAA Tournament bubble by surging through the middle of their Southeastern Conference schedule.
But their 66-56 loss at home to arch-rival Mississippi State Saturday stung. Ole Miss star Devontae Shuler went 1-for-15 from the field in that game – and 0-for-6 from three-point range.
Coach Kermit Davis challenged Shuler to pull himself together.
"I thought Devontae had great looks," Davis said. "First half, he had point-blank shots. One for fifteen, that disappoints me, but what really disappoints me is his defending. He let it affect the other end. Mississippi State did a good job, but I thought he had some really good looks. He had some really good looks from three. He had some great looks right around the rim, point-blank range, didn't make them.
"We didn't really have anybody else pick it up. None of our guys had elite energy."
Expect to see the Rebels play with energy in Boone County. The Tigers will need to match that (and then some) while trying to put their untimely three-game losing streak behind them.
Missouri stabilized in the No. 5/No. 6 seed range by winning at South Carolina. Now the Tigers must rebuild momentum and prove they aren't trending the wrong way at the wrong time.
Here's what folks are writing about college basketball:
John Gasaway, ESPN.com: "When Duke lost at home to North Carolina at the beginning of February, conventional wisdom held that the Blue Devils were finished. Any true believers who thought otherwise were then further tested when Mike Krzyzewski's team proceeded to lose its next game, at Notre Dame. Duke hasn't lost since. The Blue Devils have posted victories at NC State, at Wake Forest and, most crucially, at home against Virginia and now Syracuse. This sudden turn of fortune for what was previously a 7-8 team has brought Coach K's program at least within shouting distance of a 25th consecutive NCAA tournament bid. To be sure, Duke is by no means there yet, at least not if Joe Lunardi is correct. (Joe Lunardi is very often correct.) Still, the 11-8 Blue Devils have clearly improved their position with the victories over the Cavaliers and the Orange. Where once Duke's name was entirely absent from the discussion, now the team graces a good many 'next four out' and even 'first four out' lists. During this four-game streak of winning basketball, the Blue Devils have played 152 of their 160 minutes without Jalen Johnson on the floor. A projected 2021 lottery pick, Johnson announced his decision to opt out of the rest of the season after playing eight minutes against the Wolfpack. This coincidence in timing between Johnson's change in status and Duke's even more dramatic change in status moved Syracuse coach Jim Boeheim to state that the Blue Devils were playing better without the freshman. We can never know what Duke would have looked like with Johnson these past three games, but what we do know is that the 7-8 version of Duke was significantly better on a per-possession basis than its record implied."
Paul Myerberg, USA Today: "Saturday's 82-78 win against Vanderbilt moved Alabama to 18-5 overall and 13-1 in the SEC. This dominance of the conference — the Tide went into Saturday up three games on second-place Arkansas — has come against a very strong SEC, even as the national perception of the league has suffered for the Wildcats' 7-13 record. According to the NCAA's NET rankings, the SEC is the second-best conference in the country behind the Big Ten. The league has seven teams in the top 56 of the rankings, a key metric used by the NCAA Tournament selection committee. The latest ISA TODAY Sports bracketology has six SEC teams in the field of 68, with the Crimson Tide as a No. 2 seed. That would match Alabama's highest seeding in its tournament history, reached in 1987 and 2002."
Mike Lopresti, NCAA.com: "Kentucky has already scratched its next game against Texas A&M because of Aggie COVID concerns. If [John] Calipari doesn't make any late schedule additions, the Wildcats have only Florida and Mississippi left to hone their new momentum for a run in the SEC tournament. But keep winning, and they'll be the 10-13 team that nobody wants to play in Nashville."
Jeff Borzello, ESPN.com: "Illinois put on a show offensively on Saturday in its 31-point road win at Minnesota, the Fighting Illini's best offensive performance since a road win at Penn State back in December. They scored 1.27 points per possession, shot 57.7% from 2, shot 50% from 3 -- and perhaps most impressively, had 27 assists on 37 made field goals. Their offense is rolling right now. Ayo Dosunmu. Dosunmu continued his chase for the Wooden Award, finishing with 19 points, 10 rebounds and 10 assists for his second triple-double in Illinois' past four games. Dosunmu wasn't great against Northwestern on Tuesday, but he was exceptional when it mattered. He had five points in the first 35-plus minutes but scored eight points in the next three minutes -- including a deep 3 from distance that helped the Fighting Illini escape with their seventh straight win."
Gary Parrish, CBSSports.com: "Luke Garza enrolled at Iowa in the summer of 2017 as a sub-100 prospect in a three-player recruiting class that ranked ninth in the Big Ten and 57th nationally. Based on those facts alone, there was little reason to think he'd ever be the star of a national-championship contender. And yet here we are. Garza and fellow Class of 2017 signee Connor McCaffery are both starting for an Iowa team that improved to 17-6 overall, and 11-5 in the Big Ten, with Sunday's 74-68 victory over Penn State. And it was in that win that Garza passed Roy Marble to become the all-time leading scorer in Iowa basketball history. Garza got 23 points Sunday. So he now has 2,126 points in his four-year college career. That's amazing."
Riley Gates, 247 Sports: "The Shockers are one of the hottest teams in all of college basketball right now. Of course, the five-point win over No. 6 Houston brought some attention to the program, but it also marked five straight wins for Wichita State, improving its record to 13-4 and 9-2 in league play. Being at the top of the American Athletic Conference, some might be shocked to see the Shockers on the bubble, but there's just not a lot to be said about Wichita State's nonconference wins this year. The Shockers need to finish strong against SMU, Tulane and Temple to leave no doubt in the committee's mind."
"Even when they were playing bad, I believed in them. Even when individuals were so bad that it was scary, I believed in them. I don't care about the record. I don't even know what the record is. All I want to know is that we're getting better . . . And you know what, this young group of inexperienced kids need us to be that way. But hold them accountable. You have to hold them accountable, or you're not coaching."
Kentucky coach John Calipari, on his resurgent team.