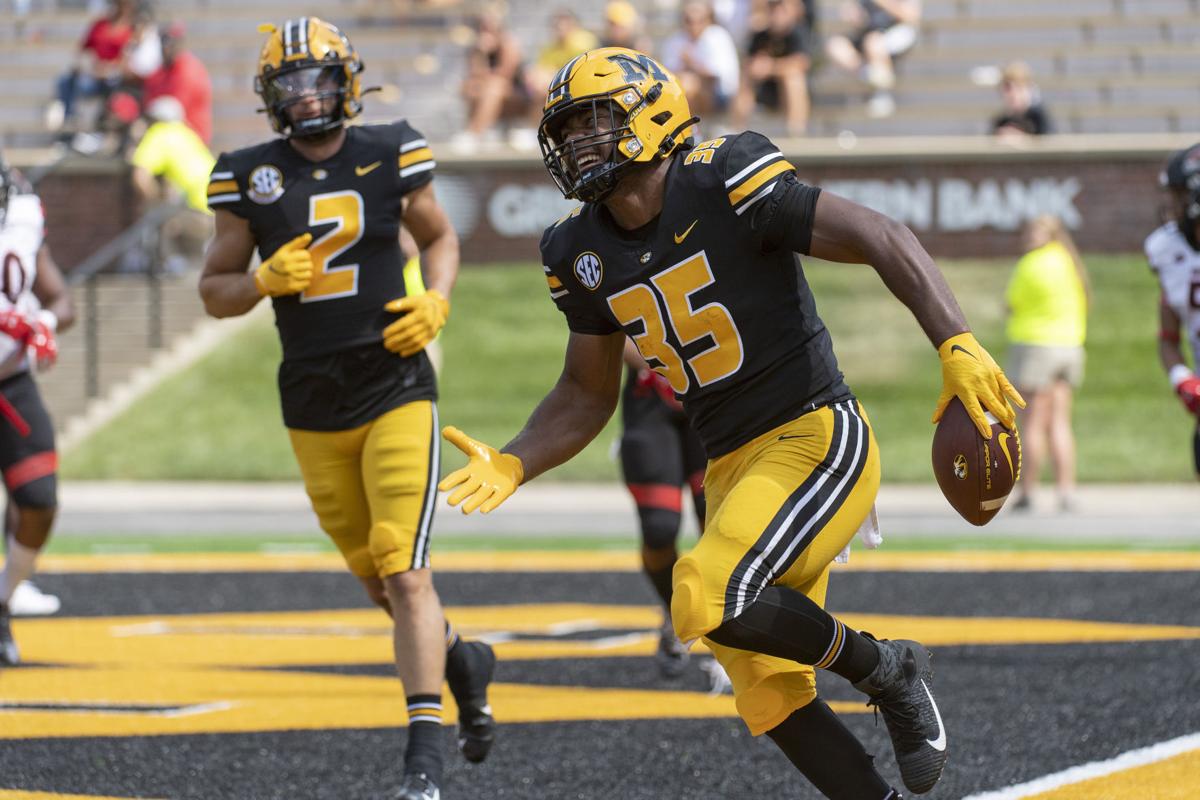 OK, so maybe flying to New England to play a late-morning game at Boston College was high on Eli Drinkwitz's to-do list after getting the job at Missouri.
But the Tigers have a chance to bolster their bowl resume, gain some exposure on ESPN 2, score another non-conference victory for the Southeastern Conference and add to the misery of the Atlantic Coast Conference on Saturday.
Writing for ESPN.com. Andrea Adelson had this take on the ACC:
As it stands, the ACC has a losing record against Power 5 nonconference opponents, and it also has multiple losses to MAC teams and a loss to an FCS program. Florida State is off to its worst start since 1976; Miami got drubbed at home; Pittsburgh had a letdown loss to Western Michigan after a big road win against Tennessee. North Carolina, a preseason top-10 team, has rebounded after an opening loss to Virginia Tech, but the Tar Heels will need some help to even get to Charlotte.
Clemson has been the standard bearer in the ACC, propping up the rest of the league as its lone playoff representative since 2015. With Clemson and nearly everyone else in the league struggling, this could end up being a season the ACC would like to forget.
But this game will present a stiff challenge for the Tigers. Boston College is 3-0. CBS Sports ranks the Eagles 35th in its power rankings. ESPN's Power Index has them at No. 42 and headed for an 8-4 finish.
They lost starting quarterback Phil Jurkovec for the season, but they have an experienced back-up Dennis Grosel filling in. So the Eagles could still put together a very nice season.
ESPN has Missouri down at No. 65 with a projected 6-6 finish. CBSSports.com has the Tigers ranked No. 52. So they have some work to do to gain respect this season and this game offers that opportunity.
For the record, Pete Fiutak at College Football News likes the Tigers to win this game by seven:
It helps that Boston College played Colgate, UMass, and Temple.
On the one hand, BC got its tune-ups in, and that includes a game without Jurkovec. On the other, it hasn't faced a QB like Connor Bazelak or a back like Tyler Badie.
The Tiger offense will be too balance and the pass rush will be too good – the D will overcome its issues with pressure.
Or so Drinkwitz hopes. It's still early, but this game could prove pivotal for Mizzou.
Here is what folks are writing about college football:
Dan Wetzel, Yahoo! Sports: "The Razorbacks have passionate fans, a beautiful campus and incredible facilities. Pittman appears to be an excellent coach. What it lacks is either a massive in-state recruiting base or centralized location within the SEC footprint. It simply has to find players elsewhere. A decent portion of Texas — and certainly the Dallas-Fort Worth Metroplex . . .  is within driving distance, at least compared to Florida, Atlanta, New Orleans and other SEC recruiting hot beds. None of this is new. Every Arkansas coach has focused on the Lone Star State (the current roster has 26 Texans). It's why the A&M game is always played in Arlington. Nothing can help recruiting in Texas like what Arkansas did two weeks ago in beating the University of Texas. It turns heads. Now nothing can help more than following it up by beating Texas A&M, with a bunch of local Texas high school recruits such as Jackson Arnold watching. Arkansas' path upward will get more challenging when Texas and Oklahoma join the SEC — the possibility of sharing a four-team "pod" with those two and the Aggies is daunting. It's what makes Saturday's game perhaps more than a game." 
Pete Fiutak, College Football News: "Florida came within an uninspired two-point conversion play call from taking that unquestioned best team in college football into overtime. And yet the rankings still think Cincinnati is better because it beat a meh Indiana. They still think Clemson is better despite almost losing to Georgia Tech. They still think Oklahoma is better, even though it did everything possible to give away the Tulane game and was whatever against a whatever Nebraska. They still think Notre Dame is better, even though it needed overtime to survive an apparently miserable Florida State, struggled against a Toledo team that just got pantsed by a horrible Colorado State, and needed a late score to survive Purdue. But for some bizarre reason – and the College Football Playoff committee is a major offender at this – it's ingrained in all pollsters to punish a loss to a great team and reward any sort of a win over a mediocre one. Florida almost beat the No. 1 team in college football. It should've been acknowledged for that."
Dennis Dodd, CBSSports.com: "The Big Ten is suddenly fun. By fun, we mean there's variety. Ohio State isn't necessarily dominating the conference like it has the past four years. The latest College Football Power Rankings have blessed the conference with six spots this week, placing almost half the league among the nation's hottest teams. After a stirring win over Auburn at home, Penn State might be the best team in the league ... if the best team isn't Iowa and its stifling defense. The Buckeyes rebounded from that Oregon loss (though not many were interested in seeing it). After a bye week, Wisconsin remains in the middle of the pack. The two biggest surprises might be Michigan and Michigan State. Jim Harbaugh's program finally has a quarterback. Well, so far at least, Cade McNamara has performed quite well. Sophomore Blake Corum is second in the Big Ten in rushing. Meanwhile, Mel Tucker has the Spartans at 3-0 and way ahead of schedule after an impressive win at Miami in the sweltering heat. With so many teams finding so much success in the Big Ten, it has reached SEC levels of relevance with at least one game every week to focus on through November."
Mike Farrell, Rivals.com: "This season has already been full of upsets, but there are a few teams we might have counted out too soon? How about Wisconsin? The Badgers have Notre Dame and Michigan the next two weeks and could be right back in the national picture with wins against those teams. And how about North Carolina? The loss to Virginia Tech wasn't a great one, but if a few ACC teams (NC State, Pitt) can get ranked before the Tar Heels play them, and then they defeat Notre Dame they could be back in the thick of things. I'd say Iowa State as well, if the Cyclones get some help like UNC needs, because they'd have a chance to likely play Oklahoma twice. But right now I think the Big 12 is the Sooners or no one. But let's be real: A one-loss team right now will make a run, it just depends on who it is."
Brandon Marcello, 247 Sports: "Notre Dame (3-0) is undefeated but for how much longer? The Irish escaped Tallahassee with an overtime win against Florida State and has yet to look impressive on offense, with victories against Toledo (a comeback win in the final 69 seconds) and Purdue. The real test is this week against No. 18 Wisconsin, which is coming off a bye week, in Chicago. The offensive line is struggling more than expected and the receivers are not helping Wisconsin transfer quarterback Jack Coan. They dropped six passes last week in the two-touchdown win against the Boilermakers. Notre Dame is too inconsistent to be a championship player this fall."
Andrea Adelson, ESPN.com: "Let's get one thing straight right off the top: Miami and Florida State are not the championship programs we all remember from decades past. Or in the case of Florida State, from eight years ago. These are two programs that have more recently finished with losing records in the same season (2019) than as AP top-10 teams (2000). But watching Miami lose at home to Michigan State 38-17 and Florida State fall at Wake Forest 35-14 last Saturday still felt jarring. Florida State is 0-3 for the first time since 1976; Miami is 1-2 after starting the season ranked No. 14. Only one other team (Georgia Tech) from the ACC has a losing record, reinforcing the sad state of affairs for two of college football's most iconic programs, especially compared to in-state rival Florida, which nearly upset No. 1 Alabama. Florida State and Miami stand in radically different positions as programs. The Seminoles entered the season coming off of three straight losing years and are in the middle of a massive rebuild, so expectations were not nearly as high as they were in Miami. But both teams have been plagued by the same on-field issues, ranking in the bottom four in the ACC in scoring offense, scoring defense, total offense, total defense, third-down conversions, penalties and turnover margin. Florida State is also the only ACC school that does not have one player with at least 100 yards receiving on the season. Pitt and Virginia each have five. With Diaz now in charge of the defense again, Miami has one of the worst tackling teams in the country."
"I think there's four things that we can amp up on on the practice field that can make us perform better. I think that's our physicality that comes into our blocking and tackling. I think it's our ability to catch the football, the ability to protect it or take it away. And that's our ability to be efficient in the red zone on both sides. I think those are four real, measurable things that we can just put a major point of emphasis on this week and adjust our playing time to people who can win in those four different situations."
Miami coach Manny Diaz, on why his team stinks.