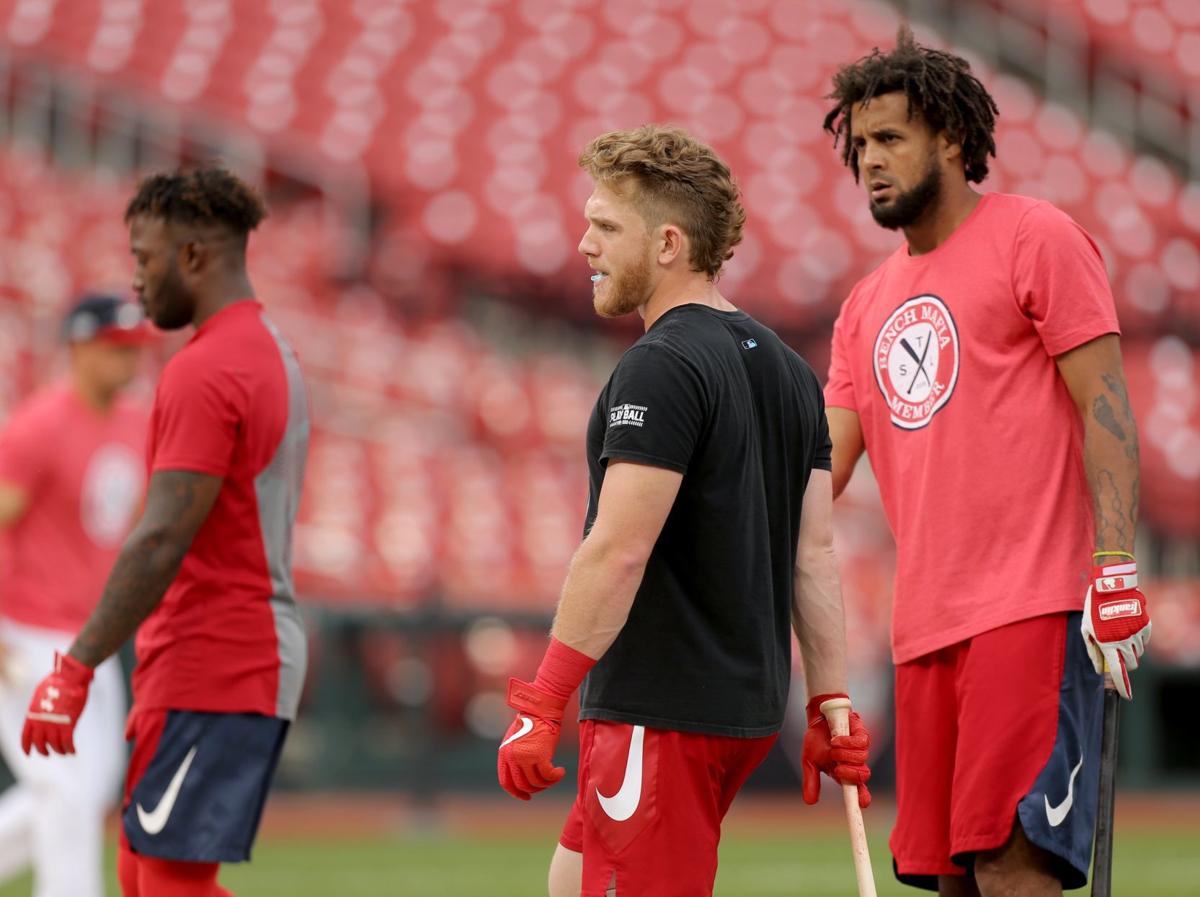 Suddenly the Cardinals have the full attention of their peer franchises.
The acquisition of lefthanded pitching prospect Matthew Liberatore means one of three things:
• The Cardinals simply upgraded their long-term pitching supply by adding an elite prospect while dealing away Jose Martinez and Randy Arozarena from their outfield pile. If that was the full motivation, that was a nice bit of asset management since neither Martinez nor Arozarena were assured of much work here this season, and you can never have enough pitching.
• Or maybe the offloading of both Martinez and Arozarena was meant to clear space for Marcell Ozuna to return after testing free agency. In that scenario, Lane Thomas could still push Harrison Bader in center field and Tyler O'Neill and Dylan Carlson could still develop behind Dexter Fowler in right field. And the Cardinals will have a stronger pitching pipeline, too.
• Or maybe the big goal with adding Liberatore was to create a three-way trade that could pry Nolan Arenado out of Colorado. The Rockies would want elite young pitching in such a deal and the deal with Tampa Bay put the Cardinals in a much better position to do so.
Based on past practices, Tipsheet guesses that the Cardinals will take the middle option. That would be the sort of sensible move John Mozeliak is known for.
Tipsheet has downplayed the whole Arenado thing this winter, believing that Colorado wouldn't be stupid enough to take back Carpenter's contract and the Cardinals would not spend what it took to simply eat Matt's money one way or another.
But, believe it or not, we could be totally wrong about this. Once in a great while the Cardinals actually do something out of character and make the Doubting Tipsheets look silly.
In case the Cardinals intend to keep Liberatore, here is how ESPN's David Schoenfield assessed him:
The Rays drafted Liberatore 16th overall in 2018 out of Mountain Ridge High School in Glendale, Arizona. At the time, it was surprising he fell that far as he was in the mix earlier that spring for the top overall pick, and the Reds tried to cut a deal with him with the fifth pick. Keith Law called him the best lefty in the draft -- college or high school -- and wrote that "landing a player of this caliber at a pick that begins the second half of the first round is kind of unbelievable. He's projectable with a four-pitch mix already, primarily fastball-curve-change, has a great delivery from the windup and very good feel for pitching for a teenager."
In his first full professional season, Liberatore threw just 78 innings for Bowling Green in the Midwest League. The Rays held him back in extended spring training to manage his innings, he missed a couple of weeks in August with back tightness, and he pitched more than four innings just twice after June 28. The scouting report remains similar to his draft report, with the caveat that he hasn't pitched much, so the usual concerns about durability remain unanswered. Still, as a polished lefty who should start the season in high A, he could reach the majors in 2021 if he's on a fast track or, more likely, 2022.
Of course, this does nothing to solve the Cardinals' lineup issues. They were just 10th in the National League in runs scored in 2019 and now the outfield depth has been purged -- not that the outfield was that great, ranking 20th in the majors in wOBA (and that was with free agent Marcell Ozuna). Harrison Bader had a OPS+ of 78, you have no idea what Dexter Fowler will do in 2020, and Tyler O'Neill's swing-and-miss issues (he has 110 strikeouts and just 17 walks in his major league career) limit his upside. Prospect Dylan Carlson is just about major league ready, Tommy Edman may see a lot of innings out there, which means more of Matt Carpenter at third base, coming off a rough .226/.334/.392 season.
TALKIN' BASEBALL
Here is what folks are writing about Our National Pastime:
Ben Pickman, SI.com: "The Cardinals have just three players signed beyond 2021, giving them the financial flexibility needed to take on most or all of the seven years and $234 million remaining on Arenado's contract. The one potential road block is their commitment to aging third baseman Matt Carpenter, who is under contract for two more years and $39 million, with a vesting option for 2022. In acquiring Liberatore, there is also speculation the Cardinals are setting up a deal with the Red Sox in exchange for MVP outfielder Mookie Betts. Betts has been the topic of trade rumors throughout the offseason, with the Dodgers often floated as another possible destination."
Ken Rosenthal, The Athletic: "On July 29, 2002, the Cardinals acquired a disgruntled third baseman who, upon hearing the news of the trade, told Peter Gammons, then with ESPN, 'I felt as if I've died and gone to heaven.' The third baseman was Scott Rolen, a forerunner of Arenado's due to his offensive and defensive prowess. And if the Cardinals somehow landed Arenado, would anyone be surprised to hear him say the same thing? Just last offseason, first baseman Paul Goldschmidt — Arenado's teammate with Team USA in the 2017 World Baseball Classic — experienced his own St. Louis awakening, arriving in a trade from the Diamondbacks. Back in 2009, so did Arenado's future teammate with the Rockies, Matt Holliday, arriving in a trade from the A's. Rolen, Goldschmidt and Holliday all signed long term with the Cardinals; Arenado already is under contract for seven more years. A trade would be complicated . . . but the Cardinals are among the teams interested. Who do you think they would rather have, Arenado or free-agent outfielder Marcell Ozuna? The Rangers are another team pursuing Arenado, who fits them for all the same reasons as Anthony Rendon, to whom they offered $192 million. Arenado would be the heir to Adrián Beltré, a centerpiece for the team's new ballpark. Todd Frazier also is on the Rangers' wish list, and he would make sense as a first baseman and DH even if the team acquired Rendon."
Dayn Perry, CBSSports.com: "Were this either of the prior two winters, we wouldn't think much of Josh Donaldson's ongoing availability. Those offseasons of course unfolded at such a glacial pace that it suggested malice aforethought. The current one, though, has been far more active, with most of the major names pairing with new employers fairly early. However, the free agent third baseman Donaldson at this writing remains unsigned. The trade market likely has something to do with that, what with those Nolan Arenado and Kris Bryant rumors a-swirling. Also playing a role is the possibility that teams are hesitant to commit nine figures -- Donaldson's likely going rate -- to a player who not long ago turned 34. Really, though, teams with near- to mid-term designs on contention shouldn't be balking over committing to Donaldson. That's because, age aside, he's shown sustainable skills with the bat and the glove, and he figures to be major difference-maker in 2020 and probably beyond . . . Last season, Donaldson in his first and thus far only campaign with the Braves batted .259/.379/.521, which was good for an OPS+of 127. He also smacked 37 home runs and 33 doubles in 155 games. Yes, SunTrust Park is a hitter's Eden, and the 2019 regular season baseball was indeed a jumpy one. Even so, Donaldson stood out among his peers for his quality of contact."
MEGAPHONE
"In a pursuit of upgrading our lineup against lefthanded pitching and upgrading from the right side, he's someone that really fits us well in that regard, and (we) believe the numbers he put up last year are not as representative of who he is as a hitter and believe he's closer to what we saw the two prior years. Beyond that, by all accounts, wonderful teammate, wonderful leadership in the clubhouse. Really could bring a group together, and that was something that was important as we were looking for ways to round up our club here."
• Rays general manager Erik Neander, to reporters on the value of Jose Martinez.