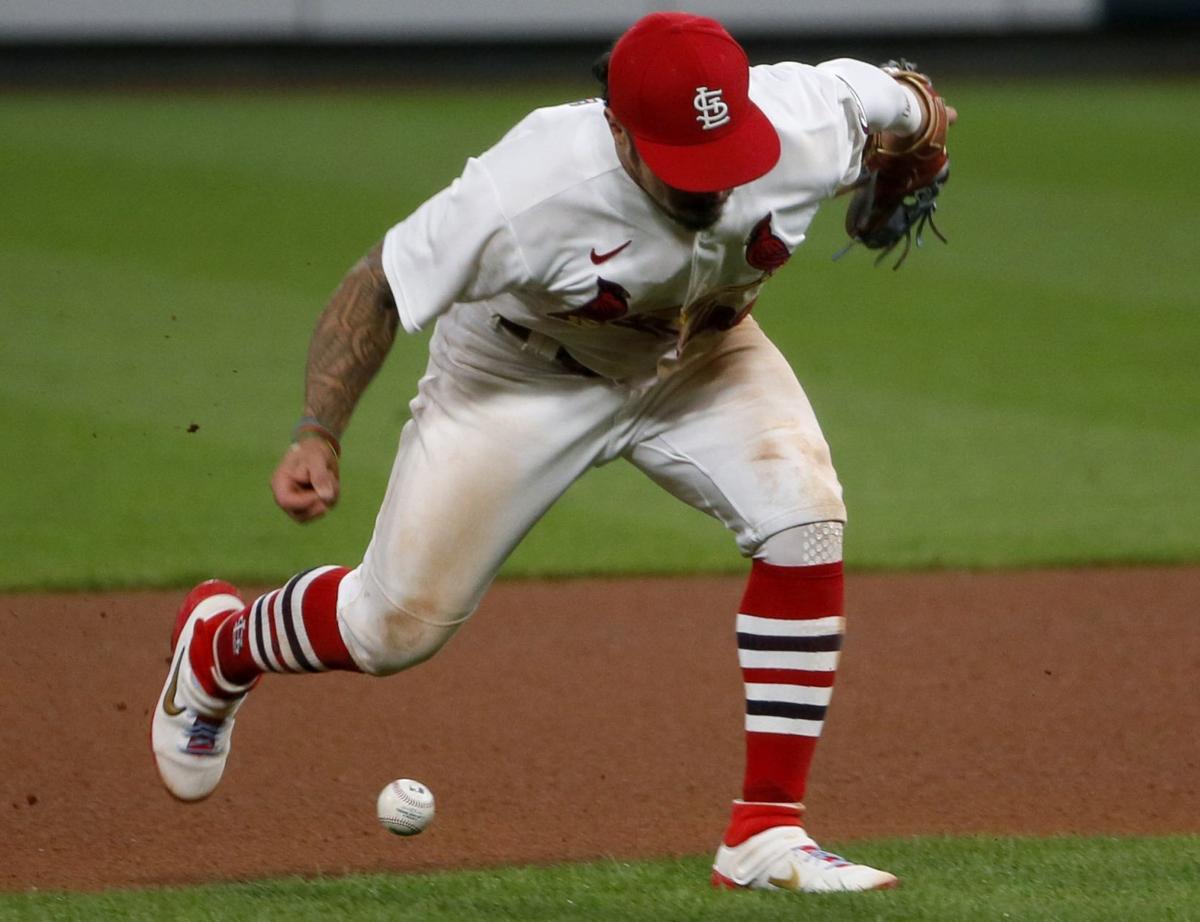 Former Cardinals second baseman Kolten Wong is a mid-tier free agent, widely viewed as somewhere in the No. 20 to No. 40 range in the crowded marketplace.
And that marketplace will become even more crowded when teams unload more players rather than go to arbitration with them.
Tipsheet remained in Wong's corner this season despite his surprising lack of power until the very end. This Cardinals team was built on pitching and defense and Wong won another Gold Glove.
But how do independent analysts view Wong? Pretty favorably as you can see from this sampler:
Kiley McDaniel, ESPN.com: "It was surprising and a sign of things to come when Wong and Hand had their affordable one-year club options declined last week. Wong's was for $12.5 million (with a $1 million buyout the Cardinals have paid) and he has basically been a 3-win player for the past three seasons when the dollar-per-WAR on the free-agent market is around $9-10 million per win. Wong is now 30 and his expected offensive numbers were down in 2020, but he's an elite defender and every-day player with a track record. Second basemen also typically get underpaid relative to other positions for various reasons, so I'd expect Wong to get something close to those option terms once the market shakes out and clubs get more certainty around 2021 league revenues, thus raising payrolls a bit. Think of the buyout as a cheap way for the Cardinals to buy time, with an expectation they'll basically end up paying out the option (or close to it) in some way."
Jay Jaffe, FanGraphs: "Wong . . .  was the Cardinal in the coal mine as far as the pandemic-related economic impact on players with reasonably-sized options is concerned. While he did not have a great year with the bat (.265/.350/.326, 91 wRC+), he played strong enough defense (3.8 UZR, 6 DRS) to win his second straight Gold Glove . . .  While he had his ups and downs in St. Louis due to injuries and inconsistent offensive performances, he's averaged 3.8 WAR per 600 PA since the start of 2017, and merits a multiyear deal."
Michael Baumann, The Ringer: "As a second baseman, Wong doesn't represent the same kind of defensive value as a shortstop or center fielder, but he's an outstanding defender and just a year removed from hitting .285/.361/.423 with 24 stolen bases and grabbing a few down-ballot MVP votes. He won't be a fit everywhere, but on a team with an opening at second and a deep lineup that doesn't necessarily need him to hit, he could be a tempting target."
R.J. Anderson, CBSSports.com: "Wong is a doubles-and-walks hitter who seldom whiffs and who frequently wears out the middle of the field. He's an above-average baserunner (and has been an effective basestealer historically) thanks to his intelligence more so than his speed. Wong is also a quality defender at the keystone, and he might have the best flip game in the majors. The Cardinals might be banking on landing similar production for less money; they might end up doing worse. Possible fits: Rockies, Athletics, Cleveland."
Collin Whitechurch and Ginny Searle, Baseball Prospectus: "There isn't a strong track record of second basemen maintaining their production into their 30s, and while Wong received down-ballot MVP votes in 2019, it's unlikely he ever reaches that level of production again. We're already seeing his speed dip, as his stolen base success rate took a hit in 2020 and his sprint speed, per Statcast, dropped from the 67th percentile to the 44th percentile. Wong doesn't hit the ball hard and hits the ball on the ground more than half the time. It's not a great precursor to continued success."
Here is what folks are writing about the rest of the marketplace:
Bob Nightengale, USA Today: "The Cleveland Indians, severely strapped for money, are informing teams that they intend to trade All-Star shortstop Francisco Lindor by opening day, according to two rival executives . . . Cleveland shopped Lindor last winter, and were in serious negotiations with the Los Angeles Dodgers in a deal that involved shortstop Corey Seager, but decided to hang onto him when the Dodgers declined to increase their offer. Now, Cleveland may have no choice with Lindor expected to earn about $20 million in salary arbitration for the 2021 season, and will be eligible for free agency after the season. The New York Mets would likely be a strong suitor for Lindor with billionaire Steve Cohen becoming the Mets' new owner. Lindor not only is one of the top shortstops in the game, but one of baseball's most charismatic players and would be a star attraction in New York."
Connor Grossman, SI.com: "More turbulence between Nolan Arenado and the Rockies is not a bold prediction. Water is wet. The sun is hot. But this winter the two parties finally make a clean break and Colorado deals the star third baseman ... to the White Sox. There's already plenty of weirdness going on in Chicago with Tony La Russa's return, so why not deal some valuable young players in exchange for a bona fide star? (Who could opt out of his massive deal after 2021, but after a lackluster season it's hard to know what will play out.)"
Jeff Passan, ESPN.com: "The Rockies find themselves in a position of their own making with Arenado. He's coming off the roughest offensive season of his career, and while 2021 should afford players opportunities to show that pandemic baseball may well represent an outlier, no team is going to give up anything substantive for Arenado at this juncture. Over the next six years, Arenado, 29, is owed $199 million. That's a lot of money for a player coming off a great year. For someone who isn't -- and someone with an opt-out after '21, which he's unlikely to take but still brings risk -- it's a nonstarter."
Michael Baumann, The Ringer: "With no Gerrit Cole, Anthony Rendon, or Stephen Strasburg this year, [J.T.] Realmuto is the most likely player to take home a nine-figure contract. That's not only because he's the best player on the market, but because there's simply no other way to get a catcher with Realmuto's two-way prowess. The demands on a catcher are so vast that most MLB teams—even good ones—are willing to endure severe compromises in order to get one who does something well. For example: The Rays made it to Game 6 of the World Series while toting Mike Zunino's .147 batting average because he's an exceptional defender and can hit for power on those rare occasions he makes contact. There are no compromises with Realmuto, and there's no equivalent player on the trade market. Then there's the fact that Realmuto stands to leave a team that ought to be highly motivated to keep him. The Phillies waited too long to lock Realmuto up, and now face the prospect of losing one of their best all-around players. Their competitors, including the newly Axe Cap'd up Mets, know this, and could leverage that into a bidding war."
Mike Axisa, CBSSports.com: "As good as he's been -- and he's been great – Josh Hader has been a little worse with each passing season in his career. It is no secret the Brewers listened to trade offers last offseason and the same will undoubtedly be true this offseason, now that Hader is a year closer to free agency and getting more expensive through arbitration. The fact no team claimed Brad Hand and his $10 million club option last week doesn't bode well for Hader's trade value in this market -- why trade prospects for Hader when Hand was available for just cash? -- but I'm certain teams will have interest."
Buster Olney, ESPN.com: "Of all the players in baseball, [George] Springer might have lost the most money to the current context within the game. Because the Astros manipulated his service time, he missed free agency last fall, when he might've gotten a deal in the range of $150 million to $200 million, given the feeding frenzy that evolved, and now the market has been downsized by the coronavirus. But Springer is 31 years old, he's an exceptional athlete who can play center field now and will be a good corner outfielder for years to come and he's proven in the postseason. As a UConn product, he'd be a natural target for the Mets and Red Sox, and might well get offers of five or six years as teams look to spread out his salaries."
Mark Feinsand, MLB.com: "[Marcell] Ozuna's 2020 numbers were better than those of George Springer, who is a year older than Ozuna. But unlike Springer, who plays a strong center field (or right field), Ozuna's defense is considered suspect, leaving him as the consensus No. 2 outfielder on the free-agent market. He could be viewed as a DH in the making, which could impact his market value. With no qualifying offer to weigh him down this offseason, Ozuna should have an easier time finding the multiyear deal that evaded him a year ago."
"There's been a lot of news saying that we might not get along. Hopefully, we can get along and continue to do what the ultimate goal is -- to try to win a championship on the South Side. I'm just ready to pick his brain and learn the knowledge. ... Just try to have fun with it, if he allows that."
Chicago White Sox shortstop Tim Anderson, on playing for Tony La Russa.