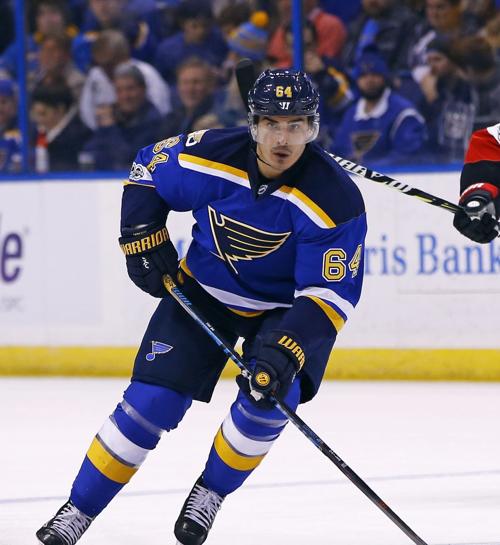 The Blues replaced inert center Jori Lehtera with scorer Brayden Schenn this summer. The Dallas Stars have loaded up, adding goaltender Ben Bishop, winger Alexander Radulov, center Martin Hanzal and defenseman Marc Methot.
The Calgary Flames hit the restart button on goal, added Mike Smith, and bolstered an already strong defensive corps by obtaining Travis Hamonic.
And the Colorado Avalanche? Still stricken by a severe case of Kroenkeitis, that also-ran team added reclamation project Nail Yakupov, who failed for the Blues last season after washing out with the Edmonton Oilers.
"Nail is a young, skilled winger who will add depth to our lineup," beleaguered Avalanche general manager Joe Sakic said in a news release. "We look forward to seeing him at training camp."
Really? Have you seen him play lately? Do the Avalanche bother to scout other NHL teams?
Yakupov, a former first overall pick, got every chance to revive his career in St. Louis and managed to produce just three goals and six assists in 40 games.
His agent, Hall of Famer Igor Larionov, made the media rounds Wednesday and tried to portray Yakupov as a victim of circumstances.
As a rookie, Yakupov responded well to Oilers coach Ralph Krueger. He scored 17 goals and added 14 assists with a minus-4 rating in 48 games in the lockout shortened 2012-13 season.
"Ralph knew right away, he told me right away, he said 'I like his speed, I like his hunger, I like his nose for the goal,'" Larionov explained during an interview on Sportsnet 590 The FAN in Toronto. "He knew what to expect. He knows how to find the key to the player."
Alas, Krueger got the short haircut and no other coach has been able to coax much from Yakupov. Overall he has scored just 53 goals with a minus-91 rating in 292 NHL games.
"I don't want to blame anybody after Ralph, but I guess sometimes the player (can get) confused," Larionov said. "Nail was making some mistakes, some turnovers, it's normal. Everybody makes mistakes, especially young players. Krueger had patience and was kind of learning through the process of every game."
At least Yakupov could end up as a trivia answer this season. He joins Nathan MacKinnon and former Blues defenseman Erik Johnson as former first overall picks on Colorado's roster.
Like that is going to do the 'Lanche much good.
MYSTERIES OF THE UNIVERSE
Questions to ponder while the Milwaukee Brewers start believing they could really win the National League Central:
TALKING BASEBALL
Here is what folks are writing about Our National Pastime:
Tom Verducci, SI.com: "The ball is livelier. Period. There is no way to explain the sudden (since the second half of 2015) and extreme jump in home runs without addressing the ball itself. My theory: the balls might have the same components, but they are manufactured better and tighter, falling within the lowest end of the allowable size and weight restrictions. (Most people don't know official MLB balls are not one size; they have a leeway as much as a quarter of an ounce and a quarter of an inch in diameter.) Tighter baseballs with tighter seams have less drag. Less drag means more carry. More carry means more home runs. That's what we're seeing."
David Schoenfield, ESPN.com: "The Dodgers have now won 22 of their past 26 games, and (Alex) Wood's emergence as a strong No. 2 behind (Clayton) Kershaw leads me to this question: Could this be the best team in Los Angeles Dodgers history? Their current run differential of plus-154 would be the second highest in National League history at the All-Star break, behind only the 1944 Cardinals, and they're on pace for 107 wins."
Jeff Passan, Yahoo! Sports: "Of all the ways to celebrate his second consecutive All-Star Game selection, Kenley Jansen, the Los Angeles Dodgers' closer, chose to eviscerate the people who on average pay more than $30 a ticket to watch him pitch. As noble and well-intentioned as his rant against Dodgers fans for not voting third baseman Justin Turner and shortstop Corey Seager into starting spots may have been, it reeked of ignorance, smacked of pettiness and reminded of the tone-deaf bubble in which so many ballplayers live . . . Right. It's the fans' fault that for the fourth consecutive year, SportsNet LA, the regional sports network that broadcasts Dodgers games, is blacked out in the homes of millions across the Los Angeles metro area because of a carriage dispute stemming from the $8 billion-plus local-TV deal the Dodgers signed. It's the fans' fault that the easiest, most direct way for a team to urge them to rock the All-Star vote is stuck in the middle of a corporate tug of war with both sides' hands bloodied beyond recognition – and neither willing to budge. It's the fans' fault that even though it's obvious they want to see the Dodgers – the games that have been publicly broadcast got nearly five times the audience of the blacked-out ones  – neither the team nor the provider will make the necessary concessions to remedy this embarrassment."
Michael Baumann, The Ringer: "Relievers are failed starters, as the saying goes, and they're not necessarily particularly interesting failed starters. Wade Davis was aggressively boring as a starting pitcher before he became one of the best closers in the game. Dellin Betances poked around a few top-100 prospect lists, but he posted a 6.39 ERA in 16 Triple-A starts in 2012. Even Mariano Rivera was once a 25-year-old rookie starter with a 5.51 ERA and a K/BB ratio below two. Brandon Morrow, though, is a fascinating failed starter. He is a 32-year-old on his fourth big league organization, with about 150 major league innings on his CV since 2013, all with a worse-than-average ERA+ and strikeout rate. But in 13 innings in 2017, Morrow's struck out 15 against one walk. On Tuesday night, he allowed his first runs of the season after 11 straight scoreless appearances to start his Dodgers career. The Dodgers have year after year watched their bullpen turn to ash in October, resulting in managers Don Mattingly and Dave Roberts suddenly losing trust in every pitcher except Clayton Kershaw and Kenley Jansen. But even they know better than to get excited about 13 innings of solid first-half relief pitching, because it's way too early to tell if Morrow's 2017 numbers are for real, let alone whether they can translate into an effective playoff performance."
Manny Randhawa, Sports on Earth: "The baseball world has spent the past month without its brightest star. But even in his absence due to a thumb injury, Mike Trout has demonstrated just how valuable he is. Without playing in a game since he suffered an ulnar collateral ligament tear in his left thumb while sliding into second base on May 28, the Angels superstar remains the leader in wins above replacement among full-time center fielders. As of Sunday, Trout's 3.3 fWAR stood well ahead of the next closest center fielders, the Rockies' Charlie Blackmon (voted as the National League's starting center fielder in the All-Star Game) and the Royals' Lorenzo Cain, each of whom had an fWAR of 2.4. Blackmon entered Sunday having played in 81 games. Cain had played in 78. Trout was injured in his 47th game. Per Baseball Reference WAR, Trout's 3.4 mark also leads Cain's (2.8) by a substantial margin. Looking at either WAR calculation, the gap between Trout and every other full-time center fielder halfway through the season is remarkable given the fact that he's missed a third of the 2017 campaign."