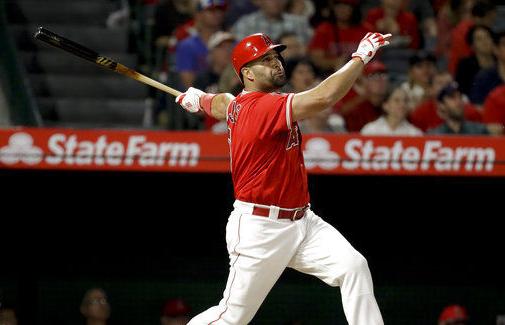 The Cardinals have dished out a few questionable contracts in recent seasons.
The team paid porcine infielder Jhonny Peralta to go away and get a head start on retirement. The Cardinals are still paying pitcher Mike Leake $6 million this season, $5 million next season and $4 million in 2020 to pitch for the Seattle Mariners.
Those salary subsidies are the remnants of the unfortunate five-year, $80 million contract Leake signed before the 2016 season.
While Bill DeWitt Jr. hates having dead money on his payrolls, it beats paying moribund players to lose games for his team. And in his last two starts for Seattle, Leake got savaged for 13 runs on 19 hits in just 9 1/3 innings while doing his pitch-to-contact thing.
"I was giving them too many pitches to hit in the middle of the plate," Leake told reporters after absorbing a 10-4 beating Monday to the White Sox in Chicago. "Some games are going to be that way, and unfortunately, today was that way."
Yeah, well, that sounds familiar to Cardinal Nation.
But the Cardinals have dodged some bad-contract bullets, too. While writing for ESPN.com, Dan Szymborski ranked the 15 worst contracts in baseball.
Chicago Cubs outfielder Jason Heyward landed fifth on that list and Los Angeles Angels first baseman-DH Albert Pujols came in second -- behind only Detroit Tigers slugger Miguel Cabrera.
The Cardinals pushed hard to sign and keep Pujols, then Heyward when they reached free agency . . . and came away pleased with their rejection.
Heyward will make  $21.5 million this season, $20 million in 2019, $21 million in 2020 and 2021, $22 million in 2022 and 2023. He can opt out of that contract, but why would he?
These days he is a No. 8 hitter for the Small Bears.
I think we have to accept at this point that Heyward's offensive rebound just isn't coming, at least to the extent that it makes this contract look like a good value the rest of the way. Heyward has a .673 OPS and a 77 OPS+ with the Cubs, and while he's a legitimate elite defensive player in right field, there's only so much value you can squeeze out of any corner outfielder who hits like a below-average shortstop. Heyward will probably continue to eke out 1-2 WAR years as long as he's a top-ranked defender, but that's not enough considering how much is remaining on the contract.
The Pujols contract gets worse as Albert ages. He makes $27 million this season, then $28 million in 2019, $29 million in 2020 and $30 million in 2021. He will also collect a $3 million bonus for reaching the 3,000th career hit milestone.
Pujols drops to second on this list this year. That's only because one player had a worse year than he did when determining his future projections. ZiPS projects Pujols to be replacement level for the rest of his career, and the best outcome (for anything beyond Pujols' bottom line) is that Albert gets his 3,000th hit and agrees with the Angels on a settlement offer so that he can retire before the 2001-2010 Pujols fades completely from our memories.
As for Cabrera, he wins top prize by collecting $30 million from this season through 2021, then $32 million in 2022 and 2023 and an $8 million buyout on a $30 million club option for 2024. Ouch.
MYSTERIES OF THE UNIVERSE
Questions to ponder while Tommy Pham gets back to outperforming higher-paid Cardinals outfielders:
TALKIN' BASEBALL
Here is what folks are writing about Our National Pastime:
David Schoenfield, ESPN.com: "The Angels beat the Astros 2-0 in a terrific series opener of what should be a very interesting early season series between the two leading contenders in the AL West. Stating it like that probably creates a false equivalency between the teams, because the Astros are the defending champs and may be even better this season. Still, it's a good matchup. Tyler Skaggs outdueled Gerrit Cole by tossing seven scoreless innings. Cole took his first loss with the Astros. Nevertheless, it was another dominant outing for the former Pirate: two runs, four hits, eight strikeouts over seven innings. His ERA actually went up -- from 0.96 to 1.29. That drops him to fourth in the American League, behind teammates Charlie Morton and Justin Verlander, as well as Oakland's Sean Manaea . . . The work the Astros have done with veteran starters continues to be amazing, whether credit goes to organizational processes, cutting-edge analytics or, especially, the work of pitching coach Brent Strom. In addition to Cole, consider Morton's rise from a low-rotation finesse starter for the Pirates to a fire-balling ace in Houston. Morton throws harder than he ever has, and last season, at age 33, he struck out 37 more batters than he ever had before. This season, he has been even better."
Jorge L. Ortiz, USA Today: "It took more than three weeks and a masterful performance by one of the game's up-and-coming pitchers for the Red Sox to come to grips with a baseball reality: You don't play .900 baseball and average 6.5 runs a game at this level, not for that long a stretch. Sean Manaea's no-hitter Saturday kept Boston from becoming just the sixth team since 1900 to win 18 of its first 20 games, and the Athletics limited the visitors to one run over the final two games of the weekend to hand them their first back-to-back losses of the year. Yet, after opening the season with a franchise-best 17-2 mark, the Red Sox maintain a sublime run differential (plus-64) that's nearly 40 runs better than their nearest competitor."
Tim Brown, Yahoo! Sports: "A week ago (Clayton) Kershaw had been sitting on the Dodgers' bench, thinking about athletes who impress him. Dirk Nowitzki was one. LeBron James was one. Max Scherzer was another. Something about the way Scherzer goes about it, gets after it, pitches practically with tears rolling off his face, chasing every pitch like it was his last. Scherzer would say the same for Kershaw, given how their careers have paralleled."
Ben Lindbergh, The Ringer: "Although the game's average fastball speed has increased in every full season for which we have automated pitch-tracking data, with four-seamer speed rising from 91.8 mph in 2008 to 93.6 last season, teams have increasingly come to see the benefits of mixing in more slow stuff when a pitcher's arsenal supports it. The Yankees, most famously, have taken fastball avoidance to the extreme, led by Masahiro Tanaka, whose 'off-speed' stuff has become his standard speed. But the Yankees and Corbin are just the latest, greatest exemplars of a league-wide trend away from certain types of fastballs (especially sinkers). The graph below lumps together four-seamers, sinkers, and cutters as 'hard' pitches, and sliders, curves, changeups, and splitters as 'off-speed' pitches. It reveals a subtle but steady decline in the former over the past decade."
MEGAPHONE
"There will be a sense of nostalgia, just walking in there. I'm going to try and find the spot in the weight room I was sitting at when J-Hey was making his speech while it was raining outside. Sit down there and take everything in and think back -- what was going on in my mind, where we were as a team, all those emotions that we rode. It's all going to come back."
Chicago Cubs shortstop Addison Russell, to ESPN.com, on returning to Cleveland, the site of his team's World Series glory.