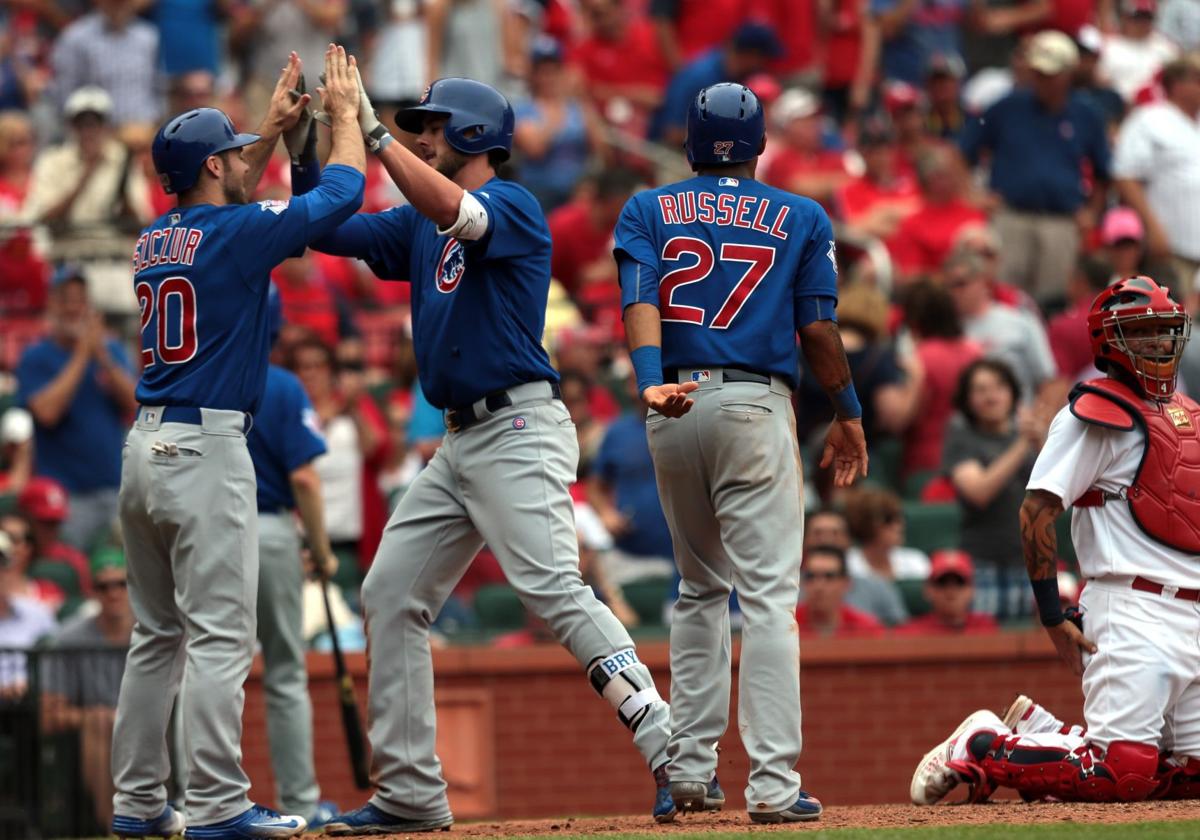 The Atlanta Braves are loaded with talent deep into their farm system, yet they have a hole at third base after losing Josh Donaldson to free agency.
The defending World Series champion Washington Nationals also have a need there after losing Anthony Rendon in the market.
The Texas Rangers made a push for Rendon and Donaldson and came up with Todd Frazier instead. So that team is still looking for another big bat.
Meanwhile, the Chicago Cubs are shopping third baseman Kris Bryant, who has two contract years left after losing his arbitration fight with the club.
So the opportunity is obvious for Cubs baseball czar Theo Epstein: Get the Nationals, Braves and Rangers into a bidding war for Bryant and move him this spring, before his scenario becomes a team distraction.
Or how about this: Swap Bryant for Colorado Rockies third baseman Nolan Arenado? That would be quite the gut punch for fans around here who are keeping their Arenado candles lit.
Once a team comes to loggerheads with a talent this significant, it either must broker peace or move on. Since peace does not seem to be an option here, the Cubs need to move on – or Bryant's temporary status will remain one of the team's regular talking points.
That would not be optimal for rookie manager David Ross, who will be trying to refocus the club after its perplexing fade last season.
With the Mookie Betts trade to the Los Angeles Dodgers likely to go through one way or another, Bryant is a prime target for teams seeking offense.
"The activity of our offseason isn't indicative of how much we've been on the phone and have been working," Cubs general manager Jed Hoyer recently told reporters. "The major free-agent market just wrapped up. There's been a lot of activity. I expect that up to and into spring training, that's going to continue. The trade market will continue to be an active place well into February."
"This is obviously likely to be one of our less active offseasons. We've had some incredibly active ones. That said, the offseason is not over. For the Cubs, things probably got pushed back a little bit. We're probably at a different place in the offseason, calendar-wise, than we normally would have been. We're not necessarily finished making moves going into spring training."
TALKIN' BASEBALL
Here is what folks are writing about Our National Pastime:
Michael Baumann, The Ringer: "Ditching Betts is the greatest folly in Boston sports since the last time Brad Marchand was allowed out in public. But the diminutive outfielder is not the only Boston star on the move: David Price has also found himself rolled into the package deal. The Price-Betts package gives L.A. the best offensive one-two punch in the game with Betts and Cody Bellinger, and offers a ready-made replacement for departed veteran lefthanders Rich Hill and Hyun-Jin Ryu. But Price's addition to this deal isn't a case of a trade snowballing during negotiations, like the Louisiana Purchase, which came about after the fledgling United States expressed interest in purchasing only the city of New Orleans. (Though considering the cost of the Louisiana Territory, we'd probably be speaking French in the Midwest right now if Red Sox owner John Henry had been president in 1803.) Price wasn't on the market so much as 'Price and his $32 million salary' was on the market. And that's more than a little disconcerting . . . the Red Sox won three consecutive division titles in Price's first three years in Boston, capped by a 2018 title run in which Price started and won the clinching games of both the ALCS and World Series. And even though Price has struggled with injuries to his wrist and elbow, forcing him to miss large chunks of the 2017 and 2019 seasons, he's pitched well when healthy. Since joining the Red Sox, he has made 98 regular-season starts and five more relief appearances, for a total of 588 innings. He's struck out 24.9 percent of opponents while walking just 6.4 percent, and allowed an ERA of 3.84 . . . As so-called "bad contracts" go, this is not Albert Pujols or Mike Hampton or Price's former teammate James Shields. Every team in baseball, without exception, would be better off with Price on the roster than without, including the Dodgers and Red Sox."
Tom Verducci, SI.com: "As Bart Giamatti famously once said, this game is designed to break your heart, though the ardent fan in him meant the playing of the game on the field. It applies to the business side, too, if not more so. But don't kid yourself. This always has been true. The luxury tax is just the mechanism of today that teams wield to remind us how foolish we can be. More than a century before the Red Sox traded Betts, they traded (Tris) Speaker, the only Red Sox player better than Betts through age 26, at least as ranked by WAR. The problem? A salary dispute. In 1916 Boston president Joe Lannin wanted to cut Speaker's salary from $18,000 to $9,000–that after Speaker hit .322 (down from .338) for the 1915 world champions. Speaker held out in spring training. Rather than pay him, Lannin traded him to Cleveland."
Mike Axisa, CBSSports.com: "The Cardinals really should have made an aggressive push to acquire Betts. He fits their needs very well. There was no good reason not to get involved. (Note: 'He's expensive' is not a good reason.) St. Louis already has a few too many 30-somethings making big bucks on the roster. I'm not sure they'll pile a near $40 million per season contract for Betts on top of their existing commitments at this point. A trade was their best chance to add Mookie."
"It's a fair question. I think everyone is going to have to draw their own conclusions. I hope over time and the demonstration of the talent of this team and the players and the careers that are being had -- we have some of the best players in the entire sport all together on the same team -- I hope over time it's proven that it wasn't. But I understand the question. ... Unfortunately we opened that door as a group, and that question may never be answered. We may never know."
• Former Astros manager A.J.. Hinch, on the MLB Network, on whether Houston's championship was tainted by the sign-stealing scandal.