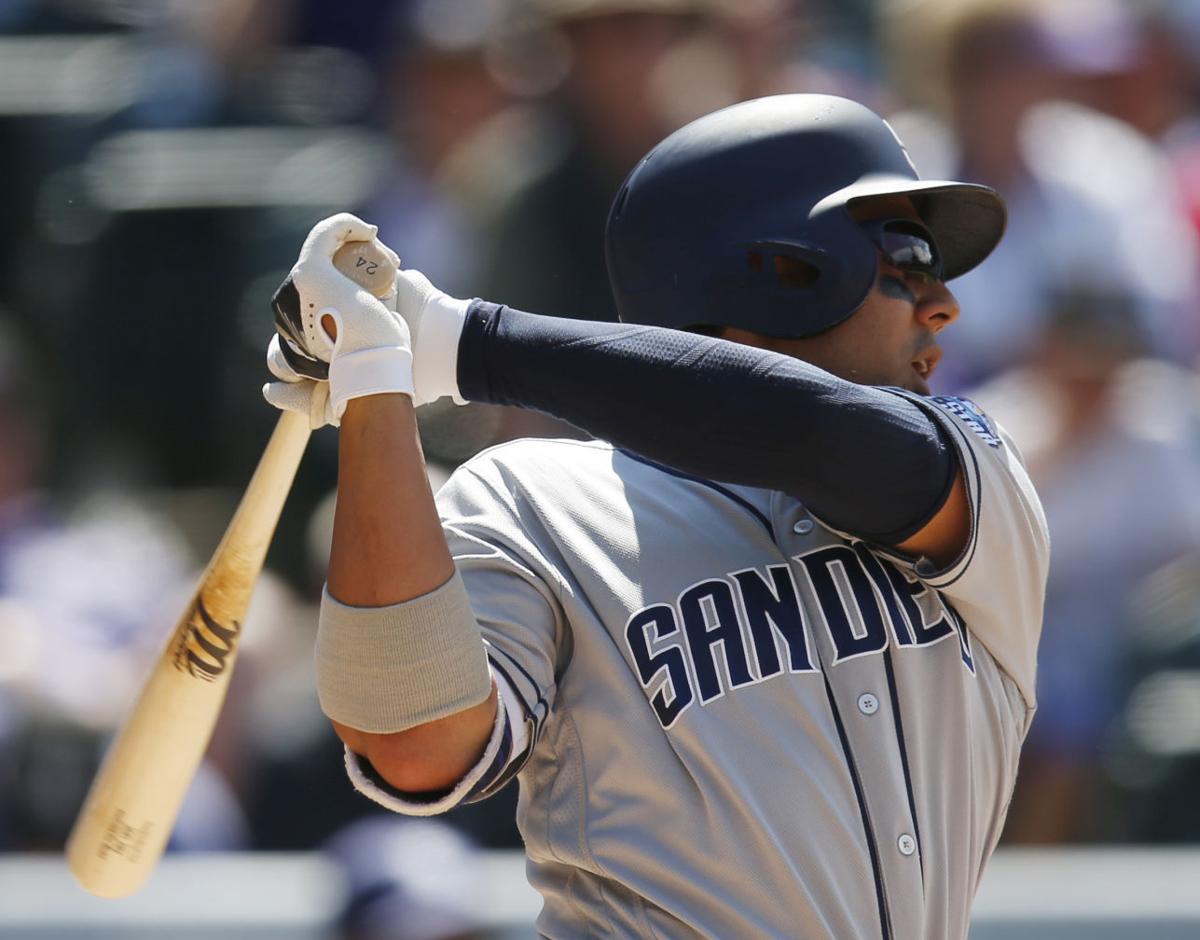 Back in the day, an annoying Jon Jay Troll kept popping up on our live chats to denigrate the affable Cardinals outfielder.
Day after day, week after week, month after month the Jon Jay Troll insisted that the Cardinals only kept the outfielder around because he was the clubhouse DJ.
After all, Jay did not hit for power or steal bases. Opposing baserunners could run on his weak outfield arm.
It's certainly true Jay was popular with teammates and management. But he was also a winning ballplayer who could hit for a good average in a part-time role and track fly balls at all three outfield posts.
That's why he has reached the 10-year milestone in his career. He kept landing jobs as a fourth or fifth outfielder, including this year's assignment with the Arizona Diamondbacks.
Jay is the classic veteran player who fits in, accepts whatever role the team has for him, and helps set a tone with his preparation and professionalism. Cohorts like Daniel Descalso and Skip Schumaker did the same, extending their career long past their time in the STL.
"When you look at the history of this game and the names who have played and to be able to play for 10 years, the numbers are against you, so to reach that number is a huge accomplishment," Jay told ESPN.com "This is going to be the first individual accomplishment I'm very, very proud of. Winning the World Series is all about the team. Going to the playoffs is all about the team. But this is personal, and I will definitely cherish this."
The maximum pension he earned will be a solid reward as well.
ESPN.com collected glowing endorsements of Jay from some of the top managers of this era:
Tony La Russa: "When you try to explain what an outstanding player he is, well, those are words. But when you accumulate 10 years of major league experience, that's a credential that not many guys reach. Another point -- and I'm not taking a cheap shot -- but if we're not careful in this current environment of disrespecting scouts and coaches and teaching and how important the mental qualities are -- how does your heart beat, how tough are you. People that are using formulas tend to disrespect and don't find uses for guys like Jon. Those guys are invaluable to a roster. Jon has one of the highest baseball IQs of any player I've had on a team. He brings it to all phases of the game. And once he got past a few years in the game, he became one of the leaders in the clubhouse, and that was one of the real strengths of our Cardinals teams. Having a voice in the clubhouse has everything to do with respect and trust and how sincere you are about embracing the team's objectives. Everybody makes it a point to be accountable to everyone else. If you're going about your business every day and getting ready to come off the bench, and when you play, you play with intensity -- you don't sit around hoping someone gets hurt or someone plays poorly -- that's when you gain that respect and trust. It doesn't have to do with how many at-bats you get or how many innings you pitch. It has everything to do with earning the respect and trust of your teammates."
Bruce Bochy: "From the opposing side, he's just a solid major league player. There's not one tool that stands out, but he does everything well. He can play anywhere in the outfield. He's a tough out at the plate. He's hit around .300 so many times. He can bunt. He runs the bases well. He's a solid addition to any team. If he didn't start, he was so valuable off the bench as a pinch hitter or any way you wanted to use him. I didn't like him up there against us. He rarely would strike out, and he put the ball in play. You couldn't shift on him because he goes the other way so well. Without a doubt, guys like that are so important to a ball club. I'm very happy for him to reach 10 years."
Joe Maddon: "He's not going to put up glamorous numbers. He's not the fastest runner. He's not going to be the guy you want to be your centerpiece to build a team around. He's better served on really good teams because he's that piece that helps get you over the top."
Here is what folks are writing about Our National Pastime:
Bob Nightengale, USA Today: "Major League Baseball, in the aftermath of the COVID-19 outbreaks on the Miami Marlins and St. Louis Cardinals, sent severe, revised protocol measures to all clubs Wednesday, threatening to suspend a player or staff member for the remainder of the season for repeated or flagrant violations. MLB, which is dealing with scheduling havoc caused by 33 members of Marlins and Cardinals testing positive for COVID-19, is hiring officials to monitor clubhouses and team hotels to assure there are no violations . . . MLB made it clear in the memo it will not tolerate reckless activity, or there will be severe punishment . . . In the new protocols, MLB is requiring everyone to always wear masks when not on the field, while also severely limiting all interaction among players, coaches and staff members."
Jay Jaffe, FanGraphs: "The list of things that haven't gone according to plan in 2020 is long enough to reach to the moon and back, and to that, we can add the return of Shohei Ohtani to competitive pitching. After more than a year spent recovering from Tommy John surgery, the 26-year-old wonder's reacquaintance with the mound was hotly anticipated, but after two brief and miserable outings, he's injured, and Angels manager Joe Maddon said on Tuesday that he doesn't expect to see Ohtani pitch again this year . . . Things were looking up, particularly given that in his July 26 start against the A's, Ohtani failed to retire any of the six hitters he faced, yielding three hits, three walks, and five runs. Though he dialed his fastball as high as 97.1 mph in the second inning on Sunday, he labored and grew visibly frustrated while walking the bases loaded on 26 pitches. He went to two strikes on six consecutive hitters, squandering 0-2 counts twice before striking out Kyle Tucker and Jack Mayfield. By the time he walked both Dustin Garneau and Springer, he had thrown 42 pitches in the inning — a ridiculously high number in any context, let alone one for a pitcher in his second start back from surgery. His three fastballs to (George) Springer in the second inning failed to break 90 mph."
Mike Axisa, CBSSports.com: "Had the season started on time in March, Yankees slugger Aaron Judge would not have been on the Opening Day roster. He was still dealing with a rib injury in spring training that dated back to last September. In fact, Judge was not given a clean bill of health until right before summer camp. He would have missed most of the first half. The shutdown gave Judge time to heal and allowed him to avoid missing any regular season games. Through nine games, Judge was 11 for 35 (.314) with six home runs -- he has twice as many homers as singles -- though his five game homer streak was snapped Monday night. Five of the six homers have given the Yankees the lead, including this go-ahead eighth inning blast Sunday."
Emma Baccallieri, SI.com: "A sub-1.00 ERA. This one might sound historic. But we saw two players do this just last year! Jack Flaherty's second half, 0.77 ERA in 82 innings pitched, and Hyun Jin Ryu's first half, 0.96 ERA in 84 innings pitched.) We saw Chris Sale do it in 2018, Jake Arrieta and Clayton Kershaw do it in 2015, and Kris Medlen do it in 2012. It's a delight to watch. Given the circumstances, it should be much more so if we see it this season. But as a statistical threshold to hit... it's actually more common than it might sound."
"I'm not locked in yet. I'm still trying to find it. That's the daily grind of baseball, searching for that locked in feeling. Locked in for me is if I'm going 5 for 5 every night. I still got out a couple times, chased a couple pitches. So there's some times where I'm not really locked in."
Aaron Judge, to reporters Sunday.
Be the first to know
Get local news delivered to your inbox!