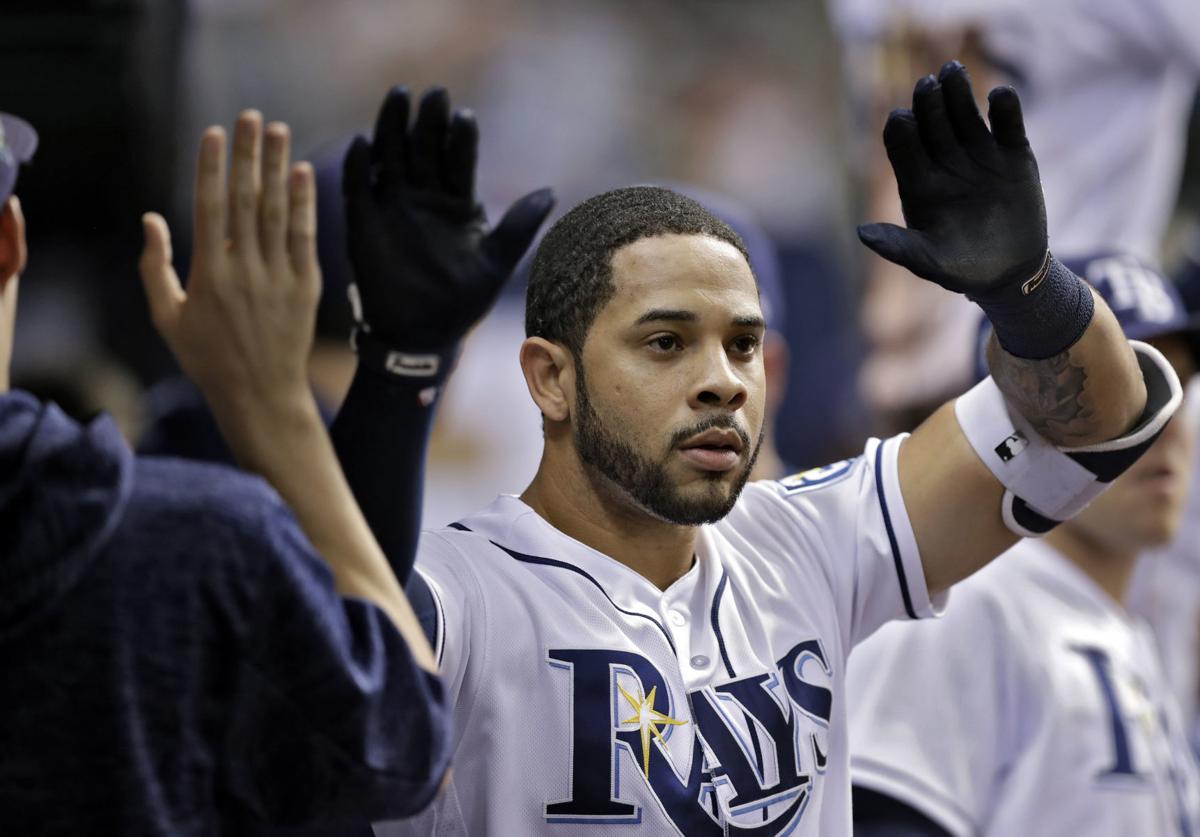 Former Cardinals outfielder Tommy Pham will finally make some real money at the age of 32. And that's why he is changing places again.
He is headed into salary arbitration after hitting .273 with 33 doubles, 21 homers, 68 RBIs, 25 stolen bases and an on-base percentage of .369 last season. Those numbers should earn him better than $8 million next season.
The Tampa Bay Rays don't want to pay that, so the team sent him and multi-position prospect Jake Cronenworth to the San Diego Padres for outfielder Hunter Renfroe and second base prospect Xavier Edwards.
Pham was a driving force for the surprising Rays last season, so Tampa Bay pitcher Blake Snell was furious over the trade. Snell took to Twitch to complain with colorful language we can't repeat here.
"We gave Pham up for Renfroe and a damn (stiff) prospect?" Snell said.
Later, Snell said "I'm not trying to belittle a minor leaguer. It's just super-rude toward that guy. That kid didn't deserve me calling him a (stiff), let's be honest ... Tommy's the man, bro. It's just hella stupid."
Well, that's not as stupid as the Cardinals trading him to the Rays for outfielder Justin Williams, pitchers Genesis Cabrera and Roel Ramirez and international slot money.
Cabrera has a lively arm and could add some depth to the Cardinals staff if he can harness it. Williams is in the pile of candidates vying to fill the huge hole Pham's departure created in the outfield here. Ramirez spent the bulk of last season in middle relief in Double-A Springfield.
All in all, that was a dismal return for such a high-impact player. 
As for Pham, Tipsheet is guessing that he's fine with this move. He may not hit a lot of homers in San Diego, but the move gets him close to his home in Las Vegas and puts him on an ambitious team in a beautiful work setting.
As ESPN's Jeff Passan noted:
The Padres, who had the fifth-lowest on-base percentage in the majors last season, already have acquired outfielder Trent Grisham and second baseman Jurickson Profar in trades this winter and are expected to continue dealing to alleviate an outfield glut as the winter meetings approach this week, sources said . . . 
After a frustrating 2019 in which they finished 70-92 and were in last place in the National League West, the Padres fired manager Andy Green, hired the well-thought-of Jayce Tingler and have taken an aggressive tack to reflect owner Ron Fowler's mandate to win next season.
TALKIN' BASEBALL
Here are what folks are writing about the Hot Stove League:
Katherine Acquavella, CBSSports.com: "The St. Louis Cardinals are the latest club to express interest in the lefty. The Cards join a long list of potential bidders that include the Twins, Reds, White Sox and Braves. The Yankees, Padres, Angels and Phillies have also been cited as clubs in the mix for the longtime Giant . . . one MLB executive has predicted Bumgarner will sign before the Winter Meetings start on Monday. Since Zack Wheeler signed with the Phillies for a five-year, $118 million contract on Wednesday, Bumgarner's market has been picking up steam . . . Bumgarner is also expected to land a deal worth at least $100 million. While the 30-year-old is in the second half of career, and no longer in his prime, he did re-establish himself as a workhorse in 2019 for the San Francisco Giants. Bumgarner would make any rotation stronger, and if he were to go to the Cardinals, he'd pitch alongside Jack Flaherty, Miles Mikolas and Dakota Hudson. Veteran Adam Wainwright will also be a factor in St. Louis' rotation, as the club re-signed the right-hander to a one-year, $5 million deal in November."
Jeff Passan, ESPN.com: "The New York Yankees have made signing right-hander Gerrit Cole their clear offseason priority and have ownership-level approval to offer him a record-setting deal, sources familiar with their plans told ESPN. The Yankees' fondness for the 29-year-old Cole, whose fantastic 2019 season with the Houston Astros set him up to smash David Price's record contract for a pitcher of $217 million, was only reinforced during a meeting with him earlier this week, sources said. New York and the Los Angeles Angels, a team similarly smitten with Cole and in even greater need of pitching than the Yankees, are preparing for a bidding war that executives expect will reach well beyond $250 million, according to sources. The Los Angeles Dodgers' interest in Cole is acute as well, though they are also considering bids for right-hander Stephen Strasburg and third baseman Anthony Rendon, sources said. While the expectation going into the offseason was that negotiations with Cole could stretch into January, the clear willingness of teams to engage in high-year, high-dollar deals could ratchet up the timetable, according to sources. Cole's agent, Scott Boras, has yet to solicit offers, but the teams' recognition of Cole's value and understanding of multiple motivated buyers could have an expeditious effect, sources said. The Yankees' willingness to play in that financial range signals a shift from recent years, in which they have avoided big-money free-agent signings. Their last nine-figure commitment to a free agent was to pitcher Masahiro Tanaka, on whom they spent $175 million in January 2014 -- he is entering the final year of his deal."
Tom Verducci, SI.com: "When the Astros acquired Gerrit Cole, they took away his two-seamer and turned him into a four-seam monster. Their metrics showed the two-seamer just wasn't a good enough pitch for Cole and that he had the velocity and spin to live off his four-seamer. Cole listened and he watched. The Astros sat him down in front of video that backed up the data. He stopped throwing the two-seam fastball, and all he did was become one of the best pitchers in baseball. He soon will be the highest paid pitcher in baseball because of the change. (PitchCast does mistakenly register two-seamers from Cole sometimes, confusing his four-seamer for a two-seamer when it runs and is low.) Now Zack Wheeler might benefit from the same kind of change in pitch repertoire. I'm curious what new Phillies pitching coach Bryan Price will do with Philadelphia's new $118 million pitcher. Do they leave him alone? Or do they take the approach the Astros did with Cole and help him get to the next level? The first thing Price should do is ask Wheeler why he throws his two-seamer 29 percent of the time. That's way too often for something that is a below average pitch."
MEGAPHONE
"We really can only afford to have one of those two guys. They're huge numbers. We already have a really large payroll to begin with."
Washington Nationals owner Mark Lerner, to NBC Sports Washington on Strasburg and Rendon.