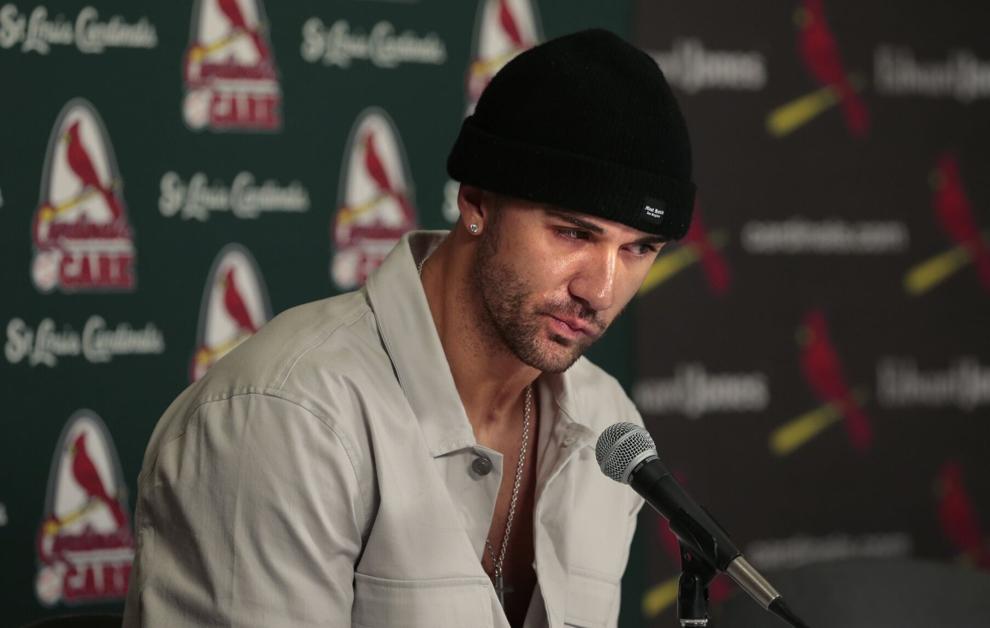 At this moment, the Miami Marlins seem prepared to move starting pitcher Pablo Lopez and his remaining two years of team control.
The Marlins are looking for young cost-controlled hitters and the Cardinals have a pile of those they are still trying to sort. Lopez seems like a natural fit for St. Louis, given his heady approach to pitching, so some of the top baseball insiders keep making the Lopez-to-the-Cardinals trade connection.
It totally makes sense. At this moment, though, the Cardinals don't see a compelling starting pitching need.
Jack Flaherty says he feels great after recovering from still another injury-ruined season. He knows that a big 2023 campaign could earn him crazy dollars in free agency. He is tired of being hurt and he is eager to win.
Jordan Montgomery is in his pitching prime. He, too, faces a golden opportunity to earn massive long-term dollars after his final arbitration year.
Miles Mikolas gobbled up 202 1/3 innings after finally regaining full strength and he appears to have additional mileage left.
Steven Matz is a year removed from a 14-7 season. By suffering a significant knee injury last season and returning as a reliever, he saved wear-and-tear on his balky shoulder.
Dakota Hudson comes to spring training as the No. 6 starter after pitching the third-most innings for the Cardinals last season. He is further removed from surgical repairs. A normal winter of training and the pitch clock should make him more effective.
The Cardinals are thin after those six. Eternal prospect Matthew Liberatore has yet to produce consistent success at the Triple-A level, much less the majors. Drew VerHagen remains a project after undergoing repairs and a mindset makeover.
Finesse lefty Connor Thomas was awesome in the Arizona Fall League, but his larger sample at Triple-A last season was unimpressive.
Top prospects Gordon Graceffo and Michael McGreevy shot up the organizational depth chart last season, but their quickest path to the majors would appear to as depth relievers ala Zack Thompson in '22.
So it's not hard to imagine the Cardinals trading for starting pitching help again this year.  
But until they lose starts to injury – which is inevitable – the Cardinals don't appear highly motivated to add a seventh starting pitcher to the rotation. Also, they still must sort their young hitters to see who they want to keep and who they are willing to trade.
Other teams covet Lars Nootbaar, which should tell the Cardinals to hang onto him and see how he plays out this season. Tyler O'Neill's trade value has diminished after his injury-ruined season, so now is not the time to market him.
Can Dylan Carlson do consistent damage from the left side of the plate after last season's regression? Right now he is a trade-low candidate.
Will Jordan Walker's rapid progression land him in the big leagues sooner than later?
Can Juan Yepez quit pulling off the ball while trying to establish himself as a power hitter?
Can Nolan Gorman learn to handle high heat?
Can Alec Burleson hit for power at the major league level after driving balls at Triple-A?
Could Moises Gomez make enough contract to become the next Adolis Garcia?
There are much promise with this group, but also many unanswered questions that complicate potential trade decisions. The picture will doubtlessly become clearer during the coming season . . . but can the Cardinals count on having the sort of midseason trade possibilities they had last year?
That's the calculus, as John Mozeliak would say.
Here is what folks are writing about Our National Pastime:
Alden Gonzalez, ESPN.com: "The rate of spending this offseason has been both frantic and jarring, with more than $2 billion lavished on the 10 most expensive free agents in a span of less than 10 weeks. But the most intriguing free agent in baseball history still looms. In 10 months, barring a last-minute extension with the Los Angeles Angels, it'll be Shohei Ohtani 's turn to venture into the open market. And one number keeps being brought up by the many who have pondered the two-way star's next contract: $500 million. Five offseasons ago, when his salary was compressed and his potential was limitless, the entire industry lined up to recruit Ohtani from Japan. He was too young for free agency then, which made him attainable through the major league minimum and controllable for up to six seasons. Soon, of course, there will be no ceiling on Ohtani's compensation. But some expect his market to be nearly as robust again, given the outlandish expectations that he has already exceeded. And guessing Ohtani's potential free agent contract has evolved into a fun game throughout his sport."
Jeff Passan, ESPN.com: "There is massive payroll inequality in baseball -- and as much as we hear about the teams at the very top and bottom, the discrepancy is not just due to the Mets' payroll being more than 450% higher than Oakland's. It's the proliferation of low-spending teams refusing to make the commitments it takes to add the best players. The teams that continue to pinch pennies often come equipped with excuses about why they need to squeeze them so tight -- and what we saw this winter showed that this gap will only increase at a time when some teams are deciding to leave that bottom group behind while others continue to invent reasons they cannot spend enough to win. The Padres are a perfect example of a small-market team's ability to evolve into something more. The Padres invested in their roster. They are trying to win. And they're going to sell out every home game this season after years of bottom-third attendance in all of baseball. So why can't every team do that? Is it because ... the Padres are the only pro team in their market and can own the city? Or because ... they took private-equity money from Ares Management and other owners don't want to dilute their shares? And finally because . . . what they're doing isn't sustainable or particularly rational and good teams aren't run that way? All of those points might be true -- and yet the Padres have chosen to leverage their advantages instead of bemoaning their disadvantages. As a result, they'll spend the near future chasing World Series trophies while franchises that were previously San Diego's peers remain tethered to the bottom of the standings."
Bob Nightengale, USA Today: "The timing was awfully strange for Boston Red Sox infielder Trevor Story to undergo elbow surgery last week. One Red Sox player told USA TODAY Sports this summer that Story anticipated he would need surgery in the off-season, but perhaps even with his diminished arm strength last season, Story felt like his elbow would be fine with rest. Now, he'll be out at least the first half of the season after struggling most of last season. Story produced a slash line of .293/.386./.776 with nine homers and 27 RBI in 68 plate appearances from May 10-26.  The rest of the season: 227/.290/.368 with seven homers and 39 RBI in 328 plate appearances. The Red Sox, to compensate for the loss of Story, has expressed interest in free-agent shortstop Elvis Andrus and free agent infielder/outfielder Jurickson Profar."
R.J. Anderson, CBSSports.com: "The Cubs made their latest addition on Saturday night, inking first baseman Trey Mancini to a two-year deal. They may have at least one more signing in mind, as they remain intrigued by left-handed relievers Andrew Chafin and Matt Moore . . . Chafin, 32, made 47 appearances for the Cubs during the 2020-21 seasons. He spent last year with the Tigers, amassing a 2.83 ERA in 57 innings. Moore, 33, returned from a stint in Japan in 2021 and had a resurgent campaign last year. He posted a 1.95 ERA in 74 innings as a member of the Rangers bullpen. As it stands, the Cubs bullpen is projected to include just one left-hander: sophomore Brandon Hughes."
Patrick Dubuque, Baseball Prospectus: "The Cubs' 1B/DH slots combined for a .657 OPS, just an eyelash ahead of Pittsburgh for last in the National League. They appeared to be heading into the 2023 season with slugging prospect Matt Mervis at the cold corner, but in the past week the team has signed both (Trey) Mancini and Eric Hosmer, though the latter shouldn't provide much opposition if the rookie arrives in camp hitting like he left off in the AFL. Mancini is best suited to DH at this point, and he'll offer his usual 110 DRC+ level production. It's a mark that only two Cubs surpassed last year, and one of them is a Cardinal now. Removed from the pressure to contribute on a World Series contender, Mancini is about as predictable a bat as they come. It's satisfying to take a guy like that and slot it into a lineup, move the rest of the pieces around, and then clap their hands in that way that people only do when they've cleaned something. After all, that's what this time of year is for: for putting things in order, and then looking at them, like collectibles on display. Eventually they'll have to play, and fail, and get hurt, and everything will get broken and jumbled just in time to clean it up again next year."
Ben Clemens, FanGraphs: "Let's talk about Harrison Bader, the once exuberantly-coiffed Yankees outfielder. The Bronx Bombers swapped Jordan Montgomery for Bader at the trade deadline last year in a move that neither team's fanbase was in love with. Both players then turned around and contributed exactly what their team was hoping for – quality innings for Montgomery and lol-how-did-he-catch-that defense for Bader. Now, I think the Yankees should stop thinking of Bader as a two-year commitment and put a ring on it – or at least, a multi-year contract. The obvious reason to do so is that Bader turns the Yankees outfield from defensively adequate to significantly above average. One of the underrated aspects of Aaron Judge's 2022 performance was plus defense in center field, but one of the properly rated aspects of his performance was that he put up the best offensive season since Barry Bonds. When someone hits like that, keeping their bat in the lineup is of the utmost importance, and giving Judge an easier defensive assignment and occasional time at DH is thus advisable. When the Yankees had no other good options in center, running Judge out there every day was fine. With Bader in tow, though, Judge can return to being an excellent corner outfielder instead. Average defense in center is a neat skill to have, but Bader is light years beyond that. He's a perennial Gold Glove contender, and that might be underselling it. Beginning in 2017, his first full season in the majors, Statcast has Bader as the fourth-best center fielder in the game, 46 runs above average, behind only Lorenzo Cain, Byron Buxton, and Kevin Kiermaier. Prefer other defensive metrics? DRS thinks he's fifth-best (behind Kiermaier, Michael A. Taylor, Buxton, and Cain) and UZR thinks he's the best, period. That kind of defense is worth sacrificing offense over."
"I'm still engaged in the market, talking to representation in both spaces -- both in the outfield and the bullpen. Whether anything actually comes to fruition … remains to be seen. But definitely still having the conversations."
New York Mets GM Billy Eppler, on remaining on the prowl.