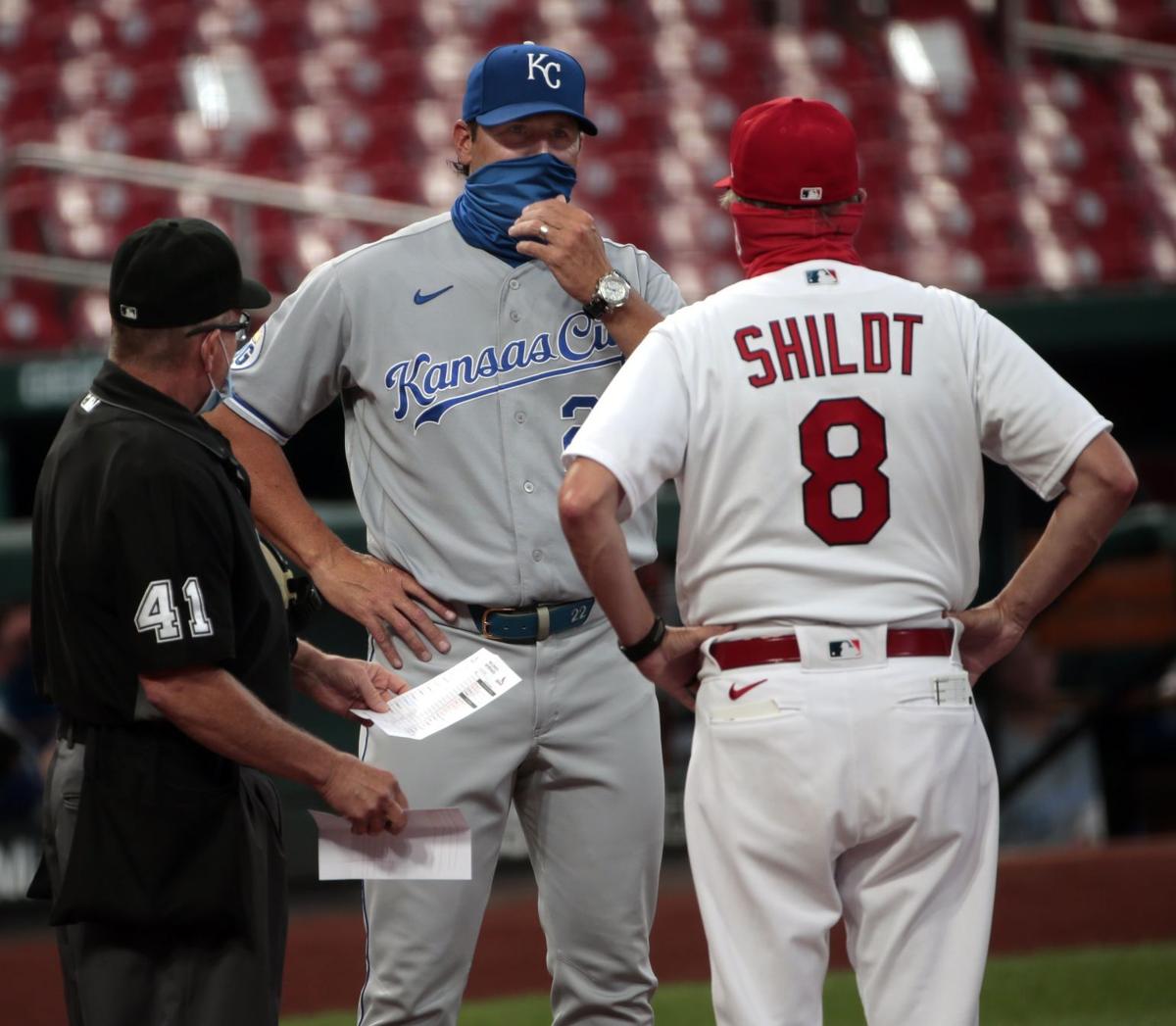 If the American League named a Manager of the Month for April, former Cardinals skipper Mike Matheny would add that plaque to his mantle.
He has his low-budget Kansas City Royals on a roll. They have won six of their last seven games to take the American League Central lead by 2 ½ games over Tony La Russa's Chicago White Sox.
"It has to do with belief," Matheny told reporters after the Royals beat the surprising Pittsburgh Pirates 9-6 Wednesday. "They walk out there expecting good things to happen. Many of us have been a part of teams where the opposite is there. That's a tough rut to get out of.
"But the one they're on right now, I want them to continue to think that way, feel that way for as long as we can."
Experts saw promise in the Royals' pitching this season. Sure enough, starters Danny Duffy (3-1, 0.39 ERA), Brady Singer (1-2, 2.95) and Jakob Junis (1-1, 3.47) have thrown well during the first month.
But folks wondered if the Royals had enough firepower to hang around. On Wednesday, the middle of their order showed promise.
Jorge Soler had three hits, including two doubles, and three RBIs. Andrew Benintendi had three walks and a two-run double. Hunter Dozier sparked the offense with a first-inning triple.
"We've seen the top third carry us at times, we've seen the bottom third really do a nice job carrying some of the weight," Matheny said. "It's been that middle third -- and Soler, Benintendi and Dozier all putting together good at-bats, big at-bats, and just kept the pressure coming."
Soler was hitting just .186 entering this game. Dozier is still languishing at .138 and Benintendi carries a dismal .647 on-base plus slugging percentage.
"From three to six, you're really hoping that those are going to be RBI producers," Matheny said. "And they will be. It's just a matter of getting them into a good place, and today was a great step in the right direction."
There's a long, long way to go in this season -- but it appears Matheny could guide the Royals to relevance sooner than expected.
Here is what folks have been writing about Our National Pastime:
Gabe Lacques, USA Today: "Baseball is incredible. Where else can you find a two-way star like Shohei Ohtani, who leads the American League in home runs and also started and won a game Monday in which he drove in or scored a majority of the Los Angeles Angels' runs? Baseball is terrible. Why bother with a sport whose hitters have collectively produced a .232 batting average, which would rank as the worst ever and mark the third time in four years that number has dropped? Baseball is incredible. We have never seen such precision from a starting pitcher like Corbin Burnes, who has started the season by striking out 49 batters and walking nobody, his adjusted ERA an otherworldly 265, his Fielding Independent Pitching a near-invisible 0.51. Baseball is terrible. We're not yet to May 1 and already we've seen 14 position players pitch, a record pace for a once-whimsical rarity that's now a far too common statement on the overall dearth of acceptable pitching around the major leagues. Baseball is incredible."
David Schoenfield, ESPN.com: "Every Jacob deGrom start these days is a testament to pitching perfection, the most impressive combination of power and command since the peak of Pedro Martinez's Hall of Fame career. Yet, once again, the New York Mets and their fans were left frustrated Wednesday, able to appreciate deGrom's brilliance but staring at a big fat loss on the scoreboard. The Mets' ace allowed one run over six innings against the Boston Red Sox, striking out nine to run his season total to 59, which matches Nolan Ryan's 1978 mark for most through a pitcher's first five starts of a season. Unfortunately, that one run was the only one of the ballgame. The visiting Red Sox won 1-0 behind Nick Pivetta -- who is not to be confused with Pedro Martinez or Nolan Ryan -- and three relievers, who combined to strike out 15 batters and allow just two hits. Pivetta was good, the relievers were good, Matt Barnes struck out the side to finish it off -- and a chorus of boos rained down from the stands at Citi Field. The New York fans booed Francisco Lindor for the second straight night, as he went 0-for-3 to see his average drop to .203. They booed Dominic Smith, who went 0-for-4 with three strikeouts to see his average drop to .203. They cheered deGrom. The lack of run support for deGrom is obviously an ongoing storyline stretching back several seasons. He will finish April 2-2 with a 0.51 ERA. He has now lost two games in which he allowed one run and received a no-decision in a third start when he pitched six scoreless innings."
Mike Axisa, CBSSports.com: "Five starts into the season, Gerrit Cole has been as dominant as any pitcher in the sport. He leads all pitchers with 1.9 FanGraphs WAR, and he's the first pitcher in franchise history to strike out 50 batters and issue no more than five walks in a five-start stretch. Every huge money free agent signing should work out as well as Cole has for New York.It's not easy to get better when you're as good as Cole, though he's found a way to improve early this season. Specifically, Cole is throwing his changeup more than at any other point in his career. He's already thrown more changeups this year (76 in 31 2/3 innings) than last year (67 in 73 innings), and his 14.8 percent changeup usage rate is easily a career high."
Thomas Harrigan, MLB.com: "Coming off three straight NL East titles, the Braves are off to a rocky start in 2021, but [Ronald] Acuña has done his best to keep them afloat. Atlanta's do-it-all superstar leads MLB in homers (eight) and runs (23) and the NL in slugging percentage (.776) and OPS (1.233), and he's striking out at a career-low 15.2% clip. Somehow, he's still just 23 years old."
Alden Gonzalez, ESPN.com: "Fernando Tatis Jr. found himself during a four-game series at Dodger Stadium, amassing five home runs and three stolen bases. Trent Grisham, meanwhile, entered Wednesday with an .888 OPS. If those two are clicking at the top of the lineup, the Padres' offense is among the best in the sport."
Jay Busbee, Yahoo! Sports: "Dodgers-Padres '21 is shaping up to be a season-long brawl, Mortal Kombat in the batter's box. The Padres won this round, taking three of four from Los Angeles and, just as crucially, working their way under the Dodgers' skin. This series was an epic poem all by itself, a four-game story of home runs, bat flips, grudges, sign-stealing allegations, bad Photoshops, pitchers out of position, position players pitching, swordplay and Twitter beef, and it's all glorious and ridiculous in a sport in real need of a sense of humor. For now, Dodgers-Padres pivots on Tatis, specifically on the ways in which he's setting up camp in the Dodgers' heads with his many celebrations. Which is where we bring you, the fan, into the picture. Where do you stand on athlete celebrations in moments of triumph? Are you a disciple of the Church of Act Like You've Been There Before, or do you enjoy little mini-Broadway performances at every home run, dunk and touchdown?"‌
"It's interesting, it's funny, it sucks. It doesn't feel right for sure. First time it's happened in my career"
Lindor, on Mets fans turning on him.