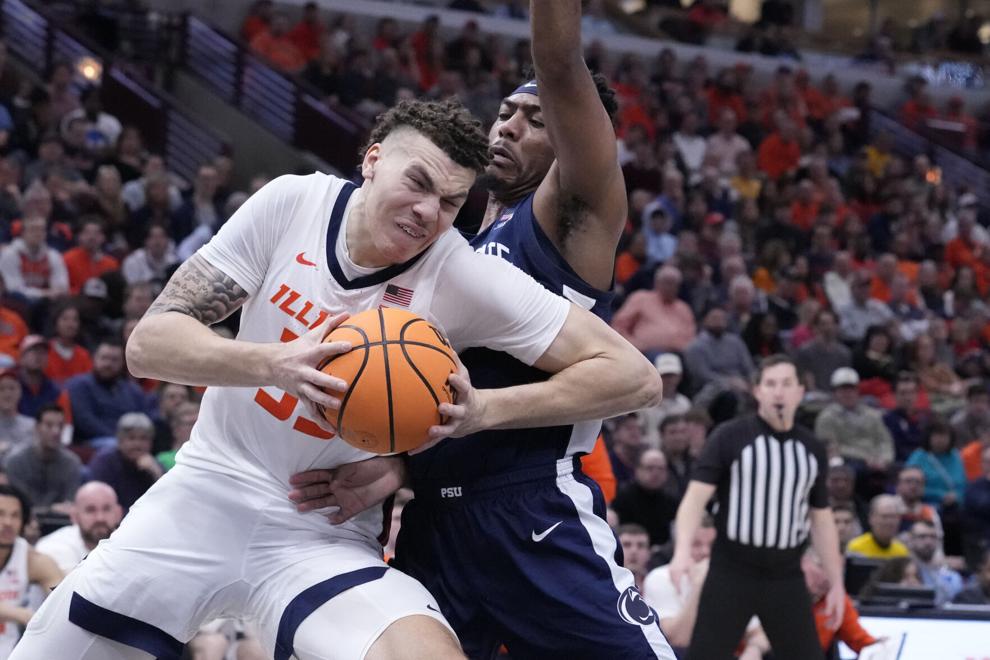 The NCAA Tournament selection committee saw plenty to process with Thursday's frantic conference tournament activity.
At the Southeastern Conference Tournament, Mississippi State squeezed out a critical 69-68 overtime victory over Florida. The Bulldogs have dug all the way from their 1-7 start in their front-loaded league schedule.
"We had to hodge-podge a team together and we had some ups and downs," Mississippi State coach Chris Jans said. "That is normal for a new staff. We got off to that great start in non-league and then adversity hit when we got into SEC play.
"But I was proud of how we stuck together and we didn't throw in the towel. I think that stretch is why we've had success. They kept grinding and kept believing. That is probably what I am most proud of."
Vanderbilt extended its late push by dumping LSU 77-68. The Commodores have gone 9-1 since absorbing their epic 101-44 beating at Alabama. Even the loss of center Liam Robbins to a season-ending knee injury failed to slow their roll.
Arkansas steadied itself by defeating Auburn 76-73. Both of these teams earned Big Dance credentials earlier this season before encountering turbulence in league play. The Tigers lost nine of their last 13 games to slide to the edge of the NCAA bracket.
Over in the Atlantic Coast Conference, North Carolina missed another opportunity to help itself. The Tar Heels fell to Virginia 68-59. In the old days an 11-9 mark in ACC play would mean something, but this season that mark and a blah non-conference showing has North Carolina in trouble.
"You've just got to pray for the best," North Carolina guard Caleb Love said.
Penn State helped itself at the expense of Illinois, earning a needed 79-76 victory over the Fighting Illini at the Big Ten Tournament for its sixth victory in seven games. The Nittany Lions were just 5-9 in Big Ten play before making their impressive late run.
"My hat's off to Penn State," Illinois coach Brad Underwood said. "They beat us three times, so we obviously haven't figured out what the sauce is to beat them."
Elsewhere in the Big Ten, Rutgers kept its dreams alive by dispatching Michigan 62-50. The Scarlet Knights had been trending in the wrong direction with six losses in eight games,
The Wolverines have suffered some agonizingly close losses this season, but this decisive defeat left them 17-15 overall.
Iowa also failed to help itself; losing 73-69 to Big Ten also-ran Ohio State gave the Hawkeyes four losses in their last six games.
In the Big 12, Oklahoma State came to the league tournament needing to do some damage, Instead the Cowboys fell to Texas 61-47 for their sixth loss in their last eight games.
At the Pac 12 Tournament, late-charging Arizona State continued its push by knocking off USC 77-72. The Sun Devils handled Oregon State the day before, so they have six victories in their last nine games.
With so many teams making a late move, Missouri was reminded of the value of their narrow late-season victories over LSU and Ole Miss to hold its place in the middle of the NCAA bracket.
The Atlantic 10 Tournament featured no surprises. SLU, VCU, Dayton and Fordham all advanced without incident. Saturday the real fun begins.
Here is what folks were writing about this remarkable day of basketball:
Jeff Eisenberg, Yahoo! Sports: "North Carolina had already lost more games than any other AP preseason No. 1 team ever has. Now the underachieving Tar Heels are on the verge of making some more ignominious history. A 68-59 to Virginia in the ACC quarterfinals Thursday night likely extinguished North Carolina's hopes of earning an at-large NCAA tournament bid. The Tar Heels have run out of chances to improve a resume that doesn't compare well with other bubble teams. North Carolina will enter Selection Sunday with a 20-13 overall record and a dearth of marquee wins. The Tar Heels are just 1-9 in Quadrant 1 games, their lone victory coming at home against Virginia on Feb. 25. While North Carolina did beat Michigan and Ohio State in non-conference play, those victories looked more helpful in December than they do now. The Wolverines are likely on the wrong side of the NCAA tournament bubble and the Buckeyes finished second to last in the Big Ten."
Kyle Boone, CBSSports.com: "No. 10 (Big Ten Tournament) seed Penn State entered the day as one of the 'Last Four In' the projected NCAA Tournament field, according to Bracketology Expert Jerry Palm. However, it should feel pretty good about its chances of dancing after picking up a 79-76 win over No. 7 seed Illinois. The Nittany Lions have won six of seven and are now 20-12 entering a quarterfinal matchup on Friday with No. 2 seed Northwestern. Andrew Funk led the way with 20 points on 6 of 9 shooting from 3-point range for PSU in a game that featured 13 lead changes. Illinois will head to the Big Dance just 4-6 over its last 10 games. The Illini were projected as a No. 8 seed by Palm entering the day."
Michael Cohen, FoxSports.com: "Any conversation that explores how Penn State coach Micah Shrewsberry turned the fortunes of a downtrodden basketball program at a football-obsessed school should begin with his use of the transfer portal, an increasingly important tool for coaches trying to jumpstart rebuilding efforts. Keen talent evaluation by Shrewsberry and his staff in consecutive portal cycles fortified an underwhelming roster with high-impact transfers who have pushed the Nittany Lions to the brink of their first NCAA Tournament bid since 2011. The most successful of those newcomers, (Jalen) Pickett, who played three years at Siena, earned first-team All-Big Ten honors in his second season at Penn State. He averaged 18 points, 7.3 rebounds and seven assists per game in a reflection of how broadly he influences the game."
John Gasaway, ESPN.com: "'JANS THE MAN' reads the undeniably nifty T-shirt worn by Mississippi State students in Nashville this week. At the SEC tournament's second round, those students watched coach Chris Jans steer his team past Florida in overtime. The version of the Gators without Colin Castleton was no match for MSU's Tolu Smith, who put up a 28-12 double-double. The Bulldogs appear to be on relatively solid footing as a "last four byes" team about to face Alabama in the quarterfinals. If Mississippi State hears its name called Sunday, Jans will have been the man for back-to-back NCAA tournament teams. Last March his New Mexico State Aggies took down UConn before falling to Arkansas."
Brad Crawford, 247 Sports: "This was a must-win for Michigan in terms of its NCAA Tournament hopes. Back to back road losses to Illinois and Indiana to end the regular season put the Wolverines squarely on the bubble and it doesn't appear Michigan's flat offensive performance will be enough . . .  It might've been a must-win for both teams, but only Rutgers was the squad who played like it in the second half. The Scarlet Knights played with maximum energy and Michigan went nearly 12 minutes in the second half without a field goal at one point."
Mike Lopresti, NCAA.com: "The consequences are what they're supposed to be at a tournament, when a pandemic is not banging at the gates. Dejection for the losing team who could not afford this defeat for its NCAA tournament hopes. 'A tough loss for this team, for this coaching staff and also the university,' (Michigan coach Juwan) Howard says about his 17-15 Wolverines. Elation — and maybe a bit of relief — for Rutgers, beating a team it had lost to 16 times in 17 previous meetings . . . And just in time. Rutgers had dropped six of its last eight, and coach Steve Pikiell, to make a point to his players about ignoring the fickle chatter from the public, had bashed a cell phone. 'You don't want to get me started on that,' he says of what social media can do to a team."
"It's tough. This whole season has been tough. I can't really get my thoughts really together all the way. Just credit to them. They played the better game tonight."
Our Town's Caleb Love, on North Carolina's loss to Virginia.