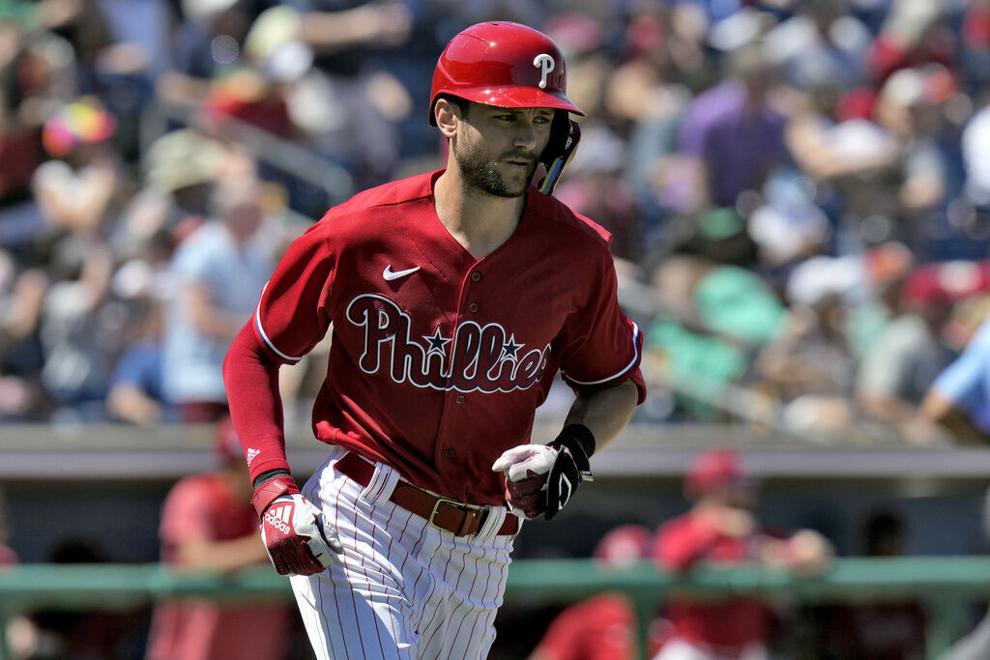 After all they have endured so far this season, the Cardinals have won 23 games.
That's the same number as the big-spending San Diego Padres. That's the same number as the equally aggressive Philadelphia Phillies.
Injuries have helped diminish those two would-be National League powers this season. Phillies superstar Bryce Harper rushed back from Tommy John surgery, but he still missed 30 games.
The Padres started the season without suspended slugger Fernando Tatis Jr., then more recently they have dealt with the loss of Manny Machado to a hairline hand fracture.
But both teams run huge payrolls -- $249 million for the Padres on Opening Day and $243 million for the Phillies – so there are no excuses for lagging back in the big league pack.
Each team has myriad issues. For instance, Phillies ace Aaron Nola is 4-3 with a 4.59 ERA. MLB.com notes that this the highest ERA to begin a season through 11 starts in his career.
He suffered an 8-5 loss to the Atlanta Braves Thursday while allowing three homers.
"I've just got to execute," Nola told reporters. "I didn't execute well tonight. They didn't miss any balls over the plate. They hit some bad pitches, a couple good ones. I mean, they pretty much shelled me tonight . . . It's just not a great night."
The Phillies have lost 14 of their last 22 games. ESPN.com's David Schoenfield had this assessment of them:
Bryce Harper's return was supposed to spark the lineup, and although he has hit well since he returned (albeit with just two home runs), the Phillies continue to scuffle on offense. In Harper's first 19 games since he came back May 2, the Phillies went 8-11. Brandon Marsh and Bryson Stott have cooled off after their hot starts (at least Marsh has maintained a high walk rate), and Trea Turner , in his own words, has "sucked." He's hitting .250/.295/.392 with five home runs -- including a homer in the ninth inning to tie the score in Philly's walk-off win Wednesday night -- for an 89 OPS+, well below a league-average hitter. With six steals, he's hardly on pace to steal 50, let alone the 70 some predicted. It's a mess. And this week's series against the Braves is the first of the season (Philly hasn't played the Mets yet, either).
The Padres were on the brink of losing their sixth straight series Thursday until they rallied for a dramatic 8-6 victory over the terrible Washington Nationals. Rougned Odor saved them with his two-out, three-run homer in the ninth inning.
 "Somebody's got to get it started," Odor said afterward. "That guy is me. Now we go."
Or so the Padres hope. ESPN.com's Alden Gonzalez had this take on them:
The Padres began this week's three-city road trip with nine losses in their previous 11 games and somehow possessed the seventh-lowest OPS in the major leagues. They are underperforming throughout their lineup, but nowhere more so than at catcher, where Aaron Nola, Luis Campusano and Brett Sullivan have combined to slash just .169/.248/.270 entering the road trip. The Padres' OPS from behind the plate ranks higher than only that of the Marlins and Guardians. This is a position the team will desperately need to address before the trade deadline, but it's hard to figure out where to turn.
While the Cardinals have been headed in the right direction in recent weeks, the Phillies and Padres both headed south. The next two months ahead of baseball's trade deadline will be most interesting.
Here is what folks have been writing about Our National Pastime:
Dave Laurila, FanGraphs: "Lars Nootbaar aspires to drive more balls in the air, and understandably so. The 25-year-old St. Louis Cardinals outfielder has a 120 wRC+ this season — his career mark is one point lower — but he also has a 55.7% groundball rate, which ranks sixth highest among qualified hitters. Not coincidentally, his slash line is an OBP-heavy .267/.390/.382. Nootbaar does possess the ability to make hard contact. His average exit velocity was in the 90th percentile a year ago, although he has admittedly backslid this season to the less impressive 53rd percentile. And again, he's killing too many worms. Moreover, not only has his groundball rate risen — last year's mark was 43.8% — the percentage of balls he's hit pull side has dropped from 42.4% to 32.3%. While his plus plate discipline has remained as good as ever, Nootbar needs to find a way to up his power production in order to do meaningful damage."
Brent Maguire, MLB.com: "(Nolan) Gorman more than held his own as a 22-year-old in his 2022 debut season with a 107 wRC+. Fast forward a year and Gorman has ascended to become one of the top hitters in the Majors. On a team with names like Paul Goldschmidt, Nolan Arenado and Willson Contreras, Gorman is the Cards' best hitter with his team-leading 172 wRC+, 13 home runs and .622 SLG. Gorman has all but earned every bit of his production; he ranks in the 90th percentile or better in expected wOBA, expected slugging % and barrel rate. Put simply, Gorman has showcased the type of elite pop that should make him one of the better hitters in baseball for the foreseeable future."
Jesse Rogers, ESPN.com: "Milwaukee is in the midst of a brutal stretch of its schedule, winning just enough games to stay on pace with Pittsburgh at the top of the division. Series losses to St. Louis and Tampa Bay were mostly close games -- besides an 18-1 drubbing by the Cardinals early last week. The Brewers' offense continues to be its Achilles' heel -- and is especially awful against left-handed pitching. Rowdy Tellez is about the only reliable threat, as he belted two home runs while compiling an OPS over 1.200 over the past week. He needs some help."
Ray Ratto, The Defector: "After starting the season 13-0, the Rays have eased into a more sustainable pace (22-15, or .595), and they are no longer hitting an unsustainably preposterous 2.5 homers per game or scoring 7.8 runs per game. They are also not playing Washington, Detroit, and Oakland all the time. These things are perhaps related. This is not to dog Florida's good team (and frankly, the Marlins being 24-25 with an expected record of 18-31 is its own achievement), but to notice that the other two teams in the American League worth looking at are the Baltimore Orioles, for whom there is already an annoying large contingency of on-staff supporters, and the Texas Rangers, for which there is none at all. The Orioles have the worst record in baseball over the past five complete seasons, but they padded that total by losing 333 games, largely on purpose, in the last three full years. The Rangers are themselves a disreputable 25th on that list, but when you see the Orioles go 47-115, 54-108, and 52-110, you see a team striving aggressively for the gaudiest possible failure. When you see the Rangers going 67-95, 60-102, and 68-94, you see a gray indistinct smear. And this morning, the Rangers, not the Rays, have the best run differential in baseball, and a two-game lead in the AL West to go with it. They have spent more money than they ever have before, spent it better (Corey Seager, Marcus Semien, and a phalanx of starting pitchers, some of whom have stayed healthy), and hired a manager who has the healer's touch and a quarter-century of results as proof."
Mike Axisa, CBSSports.com: "Only the Athletics, who are a money laundering operation more than a competitive baseball team, have received worse bullpen production (minus-2.1 WAR!) than the first place Rays. Tampa has the fourth mosts blown saves (10), and the bullpen has taken nine of the team's 15 losses. The bullpen is a concern for the Rays. There's no doubt about it."
Justin Klugh, Baseball Prospectus: "We've packed a lot into the season's first months: The Cardinals' you're-not-my-real-dad Willson Contreras drama, Max Scherzer getting suspended as part of Phil Cuzzi's personal crusade to rid the game of hand sweat, the Dodgers' pathetic Pride Night debacle, the Rangers waiting for the Astros to show up on their doorstep like Anton Chigurh, the league-wide torrential slider barrage, Aaron Judge getting the Blue Jays squawking by glancing to his right, the challenge of pitchers adopting the pitch clock into their repertoire and the total non-issue of infielders adopting the new shift rules into theirs."
"We have to get better. When it comes down to us as a staff, the expectations are put right in front of you. There is an urgency that needs to be had in order to meet those expectations. Wins and losses out the window, the last 10 days haven't been great, and I think that the urgency in which those expectations are trying to be achieved is not right there."
Blue Jays manager John Schneider, on his struggling team.