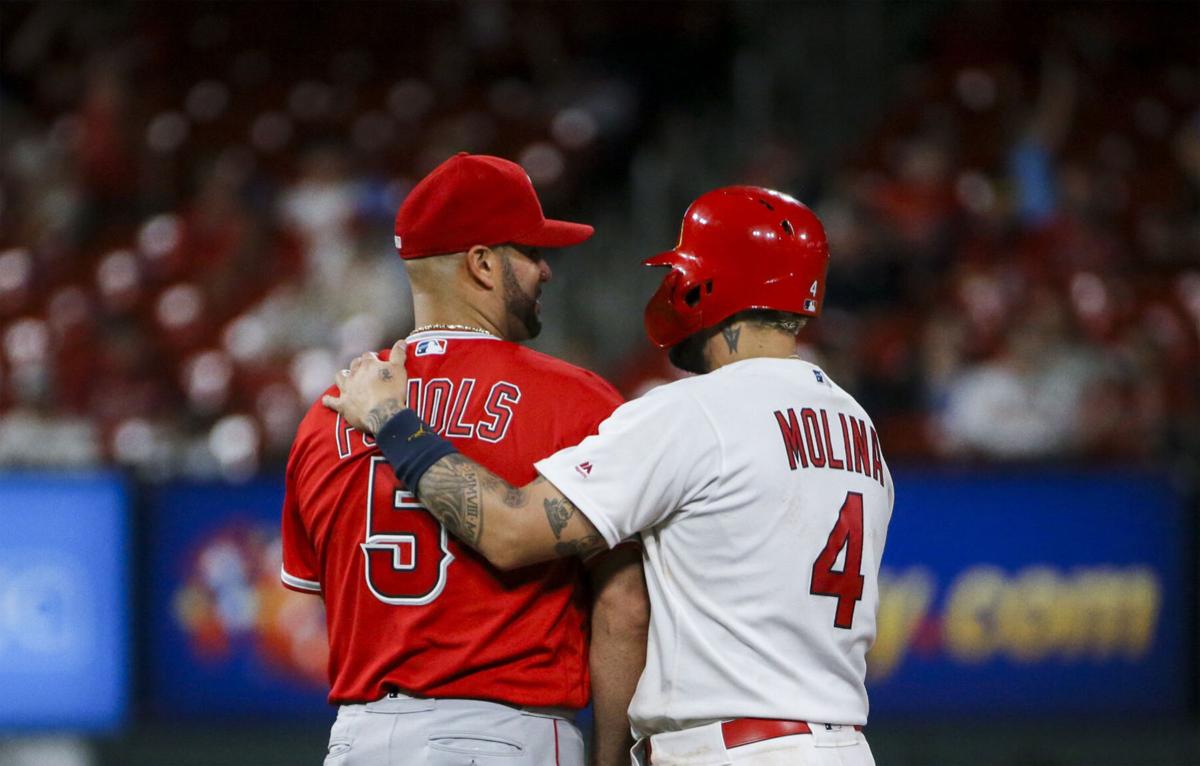 The sunset beckons former Cardinals icon Albert Pujols.
He is entering the final year of his back-loaded 10-year, $240 million contract with the Los Angeles Angels. He will make $30 million this season.
As for next year . . . well, who knows. His listed age is 41. His slash line for last season was a dismal .224/.270/.395.
His on-base plus slugging percentage was a miserable .665 and his Wins Above Replacement metric was under water at minus-0.3.
As CBSSports.com notes, his slash line for the last four years is a dismal .242/.291/.406.
Pujols has been a below-average hitter since 2017. He offers limited mobility when he plays first base and he's station-to-station (at best) on the bases.
While he has a chance to reach some more statistical major league milestones this season – such as 10th place all-time in hits and third place in total bases – he doesn't offer a ton of value to the Angels as they labor in the shadow of the Dodgers juggernaut.
So it's not surprising to hear that he isn't making any big baseball plans past the expiration of his contract.
"Right now, I don't have a plan for the future," Pujols told ESPNDesportes.com on Tuesday.
"I have worked all winter to be ready from the first day of training," he said. "I will take this year day by day, without creating expectations. There are things that happen that you cannot control.
"I will try not to think about the future, but what I can do now for this organization. My body will dictate what I should do later."
But even if baseball adopted a universal designated hitter and even if he were willing to sign for minimal money to keep going, would any team take him?
Here's what folks are writing about Our National Pastime:
Mike Axisa, CBSSports.com: "[The Dodgers] are the best team right now. They were before even bringing Justin Turner back to shore. Shoring that position up is only doing what they should be doing and that is checking every single box possible to make sure there are zero weaknesses heading into a season in which they are the team best suited to win the World Series. They are. It's not really all that close, either. The rotation strength sure isn't a weakness with three viable Cy Young contenders at the top in Clayton Kershaw, Walker Buehler and reigning Cy winner Trevor Bauer. Nor is rotation depth, with the likes of Julio Urisas, Dustin May and David Price sitting in some order as their 4-6 starters. The bullpen has veterans with closing experience in Kenley Jansen, Blake Treinen and Corey Knebel in addition to high-octane youngster Busdar Graterol while the depth parts are very solid. The position players include two MVPs in Cody Bellinger and Mookie Betts in addition to elite-level candidates Corey Seager and Will Smith. Turner is a steady anchor. Players like Max Muncy, Chris Taylor and A.J. Pollock are also-rans on this team. Youngster Gavin Lux remains a breakout candidate. As we've grown accustomed with this ballclub and front office, there's roster flexibility and organizational depth. They are the easy favorite to win the title."
Zach Kram, The Ringer: "This winter, St. Louis traded for [Nolan] Arenado, retained Adam Wainwright and Yadier Molina, and added nobody else. Milwaukee's only addition of note was Kolten Wong, whose option the Cardinals curiously declined at the start of the offseason. Chicago—last year's division winner—traded away Yu Darvish, effectively substituted Joc Pederson for Kyle Schwarber, and then ignored its catastrophically shallow rotation. Cincinnati didn't bother trying to replace the departed Trevor Bauer, salary-dumped a high-quality closer in Raisel Iglesias, and seemingly forgot that shortstop is even a position. And Pittsburgh gave up just about every worthwhile major leaguer that was left on its roster. It was, in essence, a reverse arms race, with each team thinking: As long as my competitors aren't trying to improve, then I don't need to try to improve, either. The result is five clubs that range from really bad to merely kind of bad. Based on FanGraphs' predictive measure of team strength without accounting for schedules, all five NL Central teams would project below .500 if they didn't get to play all the other bad teams in their division."
David Schoenfield, ESPN.com: "The Reds went all-in for 2020, spending more in free agency than they had over the previous decade. But the offense stumbled through the 60-game season (hitting .212 and finishing last in the NL in runs), and then the Braves shut them out in both playoff games. Now Trevor Bauer is gone, and ownership is back to its penny-pinching ways. Meanwhile, three major questions for camp: (1) Will Sean Doolittle get first crack as closer over Amir Garrett? (2) Will Kyle Holder, the Rule 5 draft selection acquired from the Phillies, win the shortstop job or will the Reds look to make a trade? (3) Is this the year Nick Senzel stays healthy and breaks out?"
Anthony Castrovince, MLB.com: "The Cubs dealt [Yu] Darvish and non-tendered Kyle Schwarber, but they didn't sever ties (or, at the very least, have not yet severed ties) with the guy who was so widely assumed to be on the trading block prior to his free-agent walk year. Heck, a lot of us thought [Kris] Bryant was going to be dealt before 2020, let alone before 2021. Bryant, of course, didn't pad his own trade value with a woeful 2020, in which he was worth just 0.4 wins above replacement per Baseball Reference. But the third-base market was light on help beyond Justin Turner, the Arenado situation was made complicated by the factors mentioned earlier, and the Cubs were known to be cutting costs. Some people in the industry even wondered if the North Siders might non-tender Bryant in light of how much he was due to make in his final arbitration round (he wound up signing for $19.5 million). Yet last we checked, Bryant still has a locker with his name on it at Sloan Park in Mesa, Ariz."
Jay Jaffe, FanGraphs: "For the second time in his career, Jake Arrieta will join a rebuilding Cubs team. The soon-to-be 35-year-old righty spent four seasons and change with the Cubs from mid-2013 to '17, joining a team en route to 96 losses and helping Chicago to four straight playoff berths, including a long-awaited championship in 2016. During that stretch he emerged as an ace, throwing a pair of no-hitters and winning a Cy Young. This time around, he's trying to re-establish himself as a reliable starter via a one-year, $6 million deal, that for a team that's in the process of blowing up the roster that won the NL Central in the abbreviated 2020 season. The contract is a big step down from the complex three-year, $75 million deal Arrieta just completed with the Phillies, but then he struggled mightily while trying to live up to that contract. Over the course of those three seasons, he delivered a 4.36 ERA, 4.55 FIP and 3.7 WAR in 352.2 innings, making a full complement of starts only in 2018. The recurrence of a bone spur in his right elbow, which had bothered him the previous year as well, limited him to 24 starts in 2019 before he underwent season-ending surgery in mid-August." 
Buster Olney, ESPN.com: "Underneath the star power of Josh Hader and Devin Williams, Milwaukee has a lot of bullpen depth in Brent Suter, Freddy Peralta, Justin Topa, Eric Yardley and Drew Rasmussen, etc. That infrastructure allows manager Craig Counsell to deploy Hader and Williams as relief sledgehammers when Milwaukee has a chance to win games."
"He could be one of the best players of his generation if given the opportunity. So that's the point as a manager, kind of a steward of his situation, right? I don't want to tell him what he can or can't do. So let's watch him. Let's talk to him. And let's just see what he does. Let's see how it plays out. Right now, there are no limits. I don't want to build in 'Shohei rules.'"
Angels manager Joe Maddon, on Shohei Ohtani's recovery from an elbow strain.