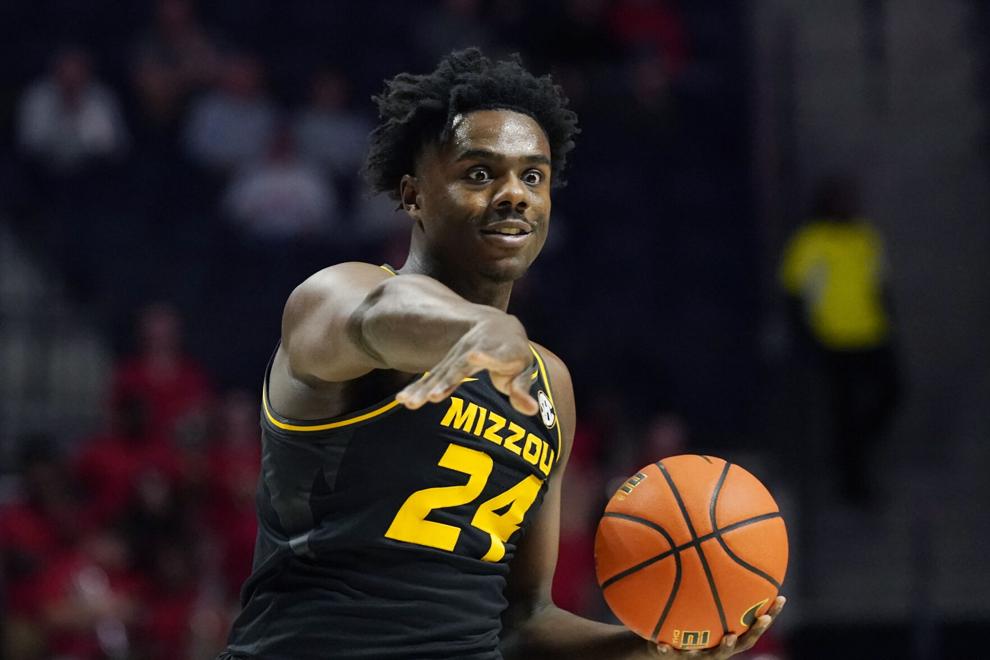 The Southeastern Conference aims to send a large contingent to the NCAA Tournament. The powerful Big 12 expects to put an even larger group into the bracket.
So Saturday's SEC/Big 12 Challenge will give each league a chance to make its case:
Here is the slate of games:
No. 15 Auburn at West Virginia
No. 2 Alabama at Oklahoma
No. 12 Iowa State at Missouri
Texas Tech at LSU
No. 11 TCU at Mississippi State
Arkansas at No. 17 Baylor
No. 10 Texas at No. 4 Tennessee
Florida at No. 5 Kansas State
No. 9 Kansas at Kentucky.
Ole Miss at Oklahoma State.
The Iowa State-Missouri game should be lots of fun. Both teams run lot of four-guard looks and both teams move the ball on offense.
But the Cyclones sound more than ready for this game.
"I'd say overall the belief is high, it's really high," Iowa State coach T.J. Otzelberger said after his team knocked off Kansas State. "You've got to have that belief and you've got to have the resolve, and then you have to stay together and find a way."
Texas-Tennessee should also be a blast. Vols coach Rick Barnes could gain a little extra satisfaction against the school that ran him off.
Alabama hopes to reduce Porter Moser's slumping Oklahoma team to another speed bump as it races toward favorable NCAA Tournament placement.
"Guys are mature and understand what we've got at stake," coach Nate Oats said. "We're playing for a No. 1 seed in the NCAA tournament. We're playing for an SEC championship. You can't afford to have a letdown. If you want to be playing your best basketball in March, you've got to continue to get better every game."
The SEC wishes it could substitute streaking Texas A&M for reeling Ole Miss in this event. The Aggies played a weak non-conference schedule and a winnable game at Oklahoma State would have been a big opportunity to advance their postseason case.
Kentucky has gained some traction and Kansas has hit a rare lull under Bill Self, so perhaps the Wildcats can take don't the Jayhawks at home and continue their midseason surge.
That would settle down their antsy boosters for a day, anyway, and give coach John Calipari a bit more room to breathe.
Here is what folks have been writing about college basketball:
Gary Parrish, CBSSports.com: "Alabama beat Mississippi State 66-63 on Wednesday while Tennessee blasted Georgia 70-41. That means the Crimson Tide and Volunteers remain alone in first and second, respectively, in the SEC standings and seem to be separating from the rest of the league -- at least as it pertains to national relevance and NCAA Tournament seeding. Both Alabama and Tennessee are projected top-two seeds for the NCAA Tournament, according to CBS Sports Bracketology expert Jerry Palm. I would agree with that sentiment . . . No other SEC school is . . . better than a 6-seed in Palm's latest projected bracket, all of which suggests there's a sizable gap between Alabama/Tennessee and everybody else in the conference. Does that mean the SEC is a two-team race? Not necessarily. Texas A&M won at Auburn 79-63 late Wednesday -- which dropped the Tigers to 22nd in the Top 25 And 1 -- to improve to 6-1 in the league and remain tied in the loss column with Tennessee (7-1) and just one game back in the loss column of Alabama (8-0). So the Aggies could be a factor -- especially if they continue playing the way they've been playing during this nine-game stretch in which they're 8-1 and performing like a top-10 team, according to BartTorvik.com."
Mike Lopresti, NCAA.com: "The Wildcats were No. 4 in the pre-season Associated Press rankings but early defeats by Michigan State and Gonzaga evicted them. Whenever they tried to build some momentum, they kept tripping over another double-digit loss. UCLA, then Missouri, then a 26-point thrashing at Alabama. At least they were getting knocked around mostly by ranked teams, but when they were beaten in Rupp Arena by South Carolina, warning sirens started going off in Lexington, even though injuries had been a factor. Then they went to Knoxville, out-defended Tennessee 63-56, came home to put down Georgia and Texas A&M, who had won seven in a row. It's hard to find something Kentucky has never done in basketball but when the Wildcats won at Tennessee, it was the first time in history an unranked Kentucky team had gone on the road to beat an Associated Press top-5 opponent. Several areas have brightened, including the free throw line. The Wildcats were 312th in the nation in free throw shooting, but in their three recent wins have hit 77.8 percent. How did they manage to beat Tennessee with 35-percent field goal shooting, 19 turnovers and getting waxed 36-18 in the paint? Make 22 of 25 free throws. John Calipari seems encouraged with his rotation. So 13-6 and 4-3 in the SEC might not be what Big Blue Nation expected, but it's certainly an upgrade from a 1-3 league start."
John Fanta, FoxSports.com: "What's led Kentucky to three consecutive wins? It actually began when starting point guard and SEC assists leader Sahvir Wheeler went down with a shoulder injury. John Calipari was forced to change things up and found a longer, more difficult lineup to guard with Cason Wallace, CJ Fredrick and Antonio Reeves joining Jacob Toppin and Oscar Tshiebwe. After playing just 28 combined possessions as a group over the first 16 games of the season, that five has combined for 72 possessions over the last three games. Kentucky has outscored their last three opponents – Tennessee, Georgia and Texas A&M — by a combined 72 points. The Wildcats are back on the right side of the bubble, and with Tshiebwe charging the rebounding efforts, this team could go on a March run if perimeter shots fall more consistently. We can assure one thing: No coach in the NCAA Tournament will enter his first-round game with more pressure than Calipari."
Isaac Trotter, 247 Sports: "Is this the year Rick Barnes gets over the hump in March? Tennessee plays like one of the best teams in the country, and the Vols' defense just embarrasses opponents every night. Tennessee has done it even with senior pillars like Santiago Vescovi, Uros Plavsic and Josiah-Jordan James all missing multiple games with injuries. Barnes integrated ballyhooed freshman Julian Phillips into the mix effortlessly, and Zakai Zeigler stepped up admirably to fill Kennedy Chandler's massive shoes."
Jeff Borzello, ESPN.com: "(Matt) McMahon completely remade the (LSU) Tigers' roster after taking over last season, a difficult task given that every single player was in the transfer portal at one point. But with a combination of roster holdovers, players he brought with him from Murray State, other transfers and a few freshmen, McMahon had the Tigers off to a 12-1 start, with the lone loss coming by two points against Kansas State. Things have gone downhill quickly since then, with seven straight losses, including Tuesday's 20-point loss at Arkansas. The offense has really struggled, breaking 56 points just once in the last six games and ranking last in the SEC with 0.88 points per possession. Things should improve with more roster continuity.
Joe Cox, Saturday Down South: "Somewhere in the Hogs' 1-5 SEC start, their struggles became pretty easy to spot. Yes, losing Nick Smith was critical, and before that, losing transfer big Trevon Brazile was more important than many first thought. But Arkansas had been dreadful in conference play in shooting and defending the 3. In those 5 conference losses, the Hogs had games where they shot 16, 13 and 20% from long range. They also had games where they allowed opponents to shoot 56 and 45% from 3-point distance. The good news is that the problem has been remedied, whether by playing 2 poor teams in Ole Miss and LSU, or by shooting 40% and 39% from distance in those games, or by holding the opponents to a combined 6 3-pointers made. The Razorbacks finish the month with a trip to Baylor and a home game against Texas A&M. Both are opportunities to test whether Arkansas has really revived, or the schedule was simply favorable. Ricky Council and Anthony Black have been an excellent one-two punch, and if Arkansas ever gets Smith back, they could yet surprise the league and the nation. Saturday is a good test run in that quest."
"I've got to take a different approach and understand it's a marathon. It's not an immediate reaction. You can react immediately in this league and you'll have nine other teams go through the exact same thing some point in time during the season."
Kansas coach Bill Self, on his team's downturn.