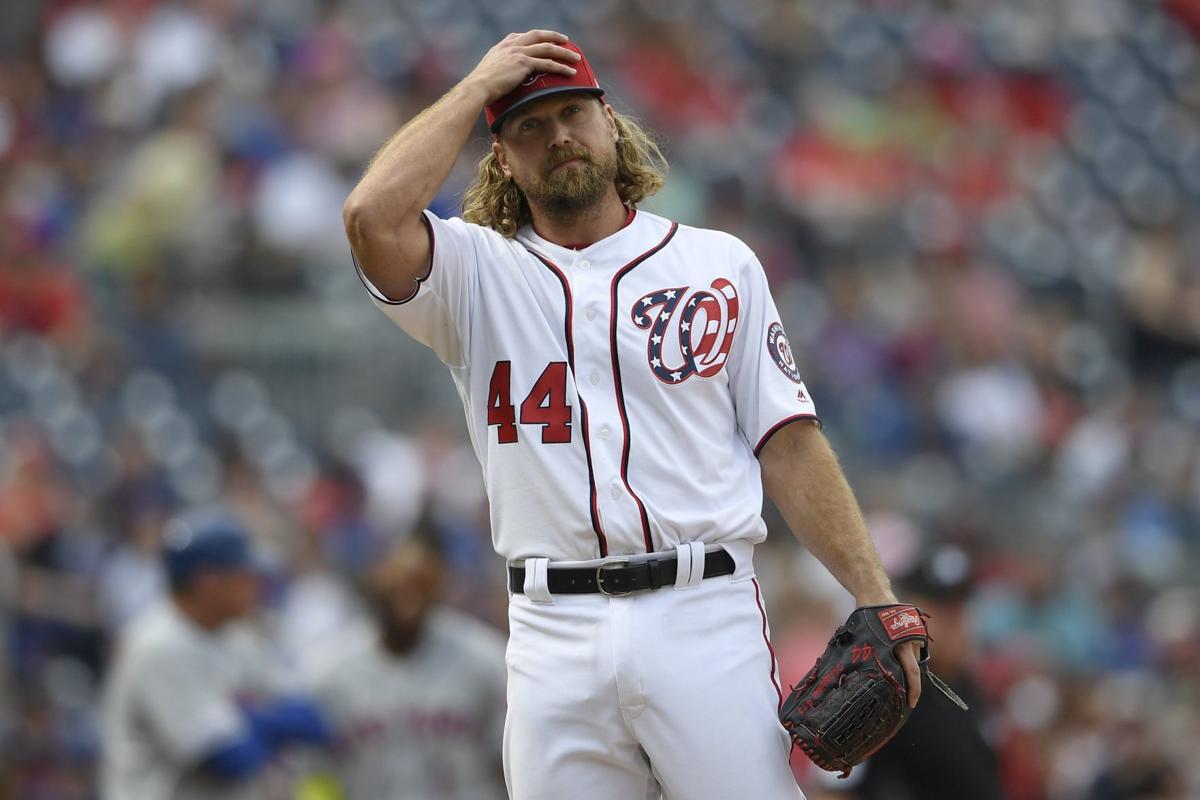 Former Cardinals closer Trevor Rosenthal has faced one challenge after another since leaving the STL. Now his balky shoulder presents a new obstacle.
He underwent Tommy John surgery in 2017 as he was heading into free agency. He sat out the 2018 season unemployed while recovering, then signed with the Washington Nationals.
Rosenthal's elbow healed, but his command did not return in 2019. The Nationals let him go. He landed with the Detroit Tigers and was less erratic, but he didn't get on track until last season.
He reemerged for the Kansas City Royals with seven saves and 21 strikeouts in 13 2/3 innings. Then the San Diego Padres acquired him for their postseason push and he didn't allow an earned run in 10 innings.
His postseason went badly -- 13.50 earned-run average in four appearances -- but his revival earned him a one-year, $11 million contract with the Oakland A's. He got his chance to regain his standing as one of the game's top closers.
"What a huge sign this was," A's manager Bob Melvin told reporters at the time "A true closer. A lot of teams don't have that. A lot of teams look to match up and look to do things differently. With Trevor here now, we know what the ninth inning looks like."
Rosenthal got a late start in spring training with a groin muscle strain, but he managed to post a 2.25 ERA in four games.
But now he is battling shoulder trouble. Rosenthal may undergo thoracic outlet surgery that would sideline him for much of this season.
"Surgery is on the table," Melvin told reporters Wednesday. "He's contemplating right now. I think he's talking to the people close to him. We should have a decision on that shortly.
"I think it'll be his call, ultimately. I don't know what has been recommended at this point. It'll be a group discussion."
This is bad news for the A's, who hoped Rosenthal could replace closer Liam Hendricks. The low-budget A's can't afford to have dead money on their payroll.
Yes, getting turned lose by the Cardinals stung Kolten Wong. The club didn't pick up his contract option for 2021 and he eventually landed with the Milwaukee Brewers as a free agent.
So he will have extra focus coming into this series at Busch Stadium.
"Whenever you kind of get let go from an organization or anything, it kind of leaves that impression in your mind that you know how good you are and they probably thought you weren't good enough," Wong told reporters. "It's definitely something that's going to be in the back of my head every single time I go back and give me that little extra motivation to play a little harder and do a little more.
"But at the end of the day I know how to compete with the best of them. I know how to play this game with the best of them, and I'm excited just to go out there and show them what they lost."
Wong has been dealing with some oblique tightness, so his first game against his old team could be pushed back until the weekend.
Here's what folks have been writing about Our National Pastime:
Dayn Perry, CBSSports.com: "Coming into Wednesday's series finale against the Pittsburgh Pirates, the Cincinnati Reds' offense led the NL in runs scored and on the young season boasted a slash line of .314/.396/.560. Yes, as a team. Remove the pitchers' offensive numbers from the mix, and the team had a line of .325/.411/.589. Stated another way, Cincy's lineup as a collective has hit like a leading MVP candidate. Then they went out and noshed on the Pittsburghers by a score of 11-4. That gives the Reds an updated total of 57 runs scored and 14 home runs through six games . . . Central to all of this has been left fielder Nick Castellanos. He already has four home runs on the season, and he's batting a stratospheric .435/.480/1.130. That's in addition to lodging solidly in the craw of the division rival St. Louis Cardinals. Anyhow, yeah, scoring better than one run per hour is a good recipe for winning baseball games. Speaking of which, Wednesday's win means the Reds are now 5-1 and atop the NL Central standings. It's easy enough to dismiss wins over the broadly miserable 2021 Pirates, but the Reds' docket to date also includes taking two of three from the Cardinals."
Mike Lupica, MLB.com: "Everybody knows what the Astros did. This is about who they are. This is about who they were last October, when only their own fans were rooting for them to somehow make it back to the World Series, and about the way they're still playing right now for a great old baseball man named Dusty Baker. The Astros have come out of the gate 5-1. They look as if they can mash with any team in the game. They not only don't go away. They keep coming. Whatever you think of the Astros and what they did, this is some big baseball story. Baker's team was just 29-31 during the regular season of 2020, but then got on a roll in October, and came back from 0-3 down to the Rays in the American League Championship Series before finally losing Game 7. Even in that one, they were down, 4-0, and got a couple of runs in the eighth to throw one more scare into Kevin Cash's team. Now the Astros are back to being what they were for a long time, which is the favorite in the AL West. Do they have enough pitching to continue to be one of the best teams in the whole league? The season will tell us that. But what we know already is that they are as tough an out as there is."
Gabe Lacques, USA Today: "It is no longer 2020 – yet COVID-19, while beaten down, is not yet out, and so four Nationals who have tested positive for the coronavirus and seven more flagged for contact tracing were nowhere near the ballpark. It is 2021, and Josh Bell and Kyle Schwarber are supposed to represent a turning of the page from a growing-fuzzy title run and into a five-way fight for the National League East. Instead, they are in the group of stalwart vets confined to the sidelines, 11 temps taking their place, five pressed into service against the reigning division champion Atlanta Braves. Pandemic baseball is no way to live, which is why players – even some reluctantly – are lining up for vaccinations and adhering to protocols and wanting to avoid what befell the Nationals: A start-of-season outbreak that's a tribute to a terrible virus' capricious nature. So they played Game No. 1 after many teams had five in the books and found out that this year of transition in baseball – mid-pandemic, at the least – doesn't have to be a nightmare. After 3 hours and 10 minutes, after idling most of the last week, Soto devoured a 3-and-0 fastball from Braves reliever Will Smith, driving home Victor Robles with the winning run, and the Nationals already felt a difference from a grim and lost 2020."
Michael Baumann, The Ringer: "The A's have made the playoffs in each of the past three seasons, and a big part of their success has been their ability to hold their own against Houston. Between 2018 and 2020, the A's went 22-26 against the Astros, which doesn't look great on paper, but is actually the fourth-best winning percentage of any AL team against Houston during that span. No AL team was more than two games over .500 against the Astros through those three seasons, and no other AL West team was withing 12 games of .500 against Houston. In order to keep pace with the Astros this year, the A's need to basically break even head-to-head. That will be tough now, after they dumped four in a row at home. And I do mean dumped—the aggregate score of those games was 35-9. Meanwhile another AL West rival, the Angels, took three of four from the White Sox, while the Blue Jays—a competitor for the wild card—won a series against the Yankees in New York. Yes, it's early, and the A's have plenty of time to recover. But it's a body blow; if that happened in late August, at least one local newspaper would put the Grim Reaper on the front page in an Astros hat. Oakland's opening weekend struggles bring to mind the old truism about how you can't win the pennant in April, but you can lose it. Ditto the Red Sox, who were long shots for the AL wild card a week ago; after being swept by Baltimore, their playoff odds have gone from discouraging to remote."
"I'm extremely grateful. That game ran a little long and I had plenty of time to get my thoughts. It's going to sound cheesy, but I'll never take a day in a big league uniform for granted, that's for sure. I was super happy to be out there; it felt really good to compete."
New York Yankees pitcher Jameson Taillon, on his comeback from his second elbow surgery.