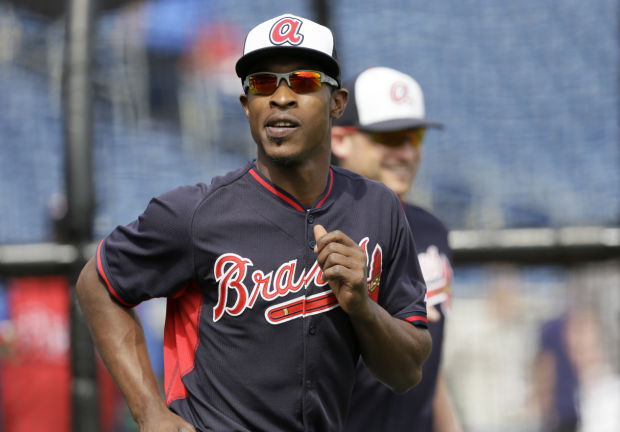 The Atlanta Braves outfield has a whole new look this season.
Jason Heyward is now the Cardinals right fielder, looking to re-establish himself as one of the sport's shining lights. Justin Upton also exited during an offseason trade, to San Diego, in advance of another huge free agency payday in 2016.
And B.J. Upton has been rechristened as Melvin Upton Jr.
The lesser Upton ranks among the worst free agent signings in major league history. The once-promising slugger is entering the third year of a five-year, $75 million contract with the Braves.
In 2013 he hit just .184 and struck out in more than one-third of his at-bats. Last season he improved marginally, hitting .208 with 12 homers and 35 RBIs. (His stunning failure makes Cardinals fans appreciate the unspectacular steadiness of Jon Jay at that position.)
So it's no surprise that Upton — who is still in his athletic prime at 30 — is distancing himself from that failure. He now wants to be known by his given name. The name he had been using, B.J., had been short for "Bossman Jr." — an homage to his father's nickname.
"This has nothing to do with starting a new chapter," he explained to reporters at spring training at Disney World. "I just wanted to. My father thought enough to give me his name, so why not?"
The fact is Upton may never reach his full potential. He is a career .243 hitter. He is batting .198 as a Brave. He did have a 28-homer season with the Tampa Bay Rays, but he has topped 80 RBIs just twice during his nine full major league seasons.
As for his two terrible seasons in Atlanta, Upton said this to MLB.com: "They're gone, and I can't change them. So I just need to work to the future and get ready for this year."
The Braves are stuck with Melvin. There is little chance the team will ever be able to move him and that contract. If he stinks again this season, the franchise may have to release him and just eat the money.
ESPN.com's David Schoenfield had this take on Melvin:
Is there a solution? Is it a mechanical issue? A mental issue? Just a slower bat? He's only 30, so it's not necessarily a bat-speed issue. In the past, Upton has talked about using his legs more. Last spring, it was about developing a shorter swing. Some have suggested he open his stance up.
New Braves hitting coach Kevin Seitzer — Atlanta's fourth in six seasons — is known from his Kansas City and Toronto days for stressing contact and using the whole field. He's already spent some time working with Upton in the offseason and indicated that they're working on a mechanical tweak and shorter swing. Sounds like last spring.
My best guess? Upton has had two awful seasons, and expecting a return to his previous level is optimistic thinking at this point. He likely had a comfort zone in Tampa with Joe Maddon, one that can't be replicated. With every strikeout, the pressure mounts. Maybe a little tweak will fix things, but if it was that simple, it's two years later and we're still seeking that tweak.
This is still another reminder that it is best to invest money at the front end of the personnel process — scouting, drafting, player development — than the back end.
MYSTERIES OF THE UNIVERSE
Questions to ponder while wondering if the Blues can close out their homestand on a high note:
Here is what some of America's leading sports pundits have been writing:
Will Leitch, Sports on Earth: "The lack of power in baseball over the last few years has been so dramatic that even the most casual baseball fan should notice it. Nelson Cruz (140 strikeouts) led the Majors with 40 home runs last season, a figure that wouldn't even have gotten him in the top 10 a decade earlier. (And 2005 was considered, at the time, a bit of a return to Home Run Normal after the craziness of the preceding years.) Giancarlo Stanton didn't play a game after Sept. 11 last season … and his 37 homers still led the National League (By five!). Everybody has their theories about why homers are vanishing, whether they involve PEDs, balls no longer juiced, bigger ballparks or just a shift in the gravitational pull of the Earth. But the fact that it's happening is undeniable. What's more fascinating, though, is that strikeouts have exploded. This is the opposite of the way we've traditionally thought about baseball. Strikeouts were the result of 'selling out' for the homer, the bailiwick of Dave Kingman, and Rob Deer, and Adam Dunn, and Jack Cust — those sorts of players. When you swing as hard as those guys did, of course you struck out; you made the tradeoff. But now, strikeouts are everywhere and don't even come with the side benefit of homers. Ryan Howard led the Majors with 190 strikeouts last year but only hit 23 homers; Marlon Byrd had 185 with 25, Ian Desmond 183 with 24, Chris Johnson 159 with 10. Austin Jackson struck out 144 times — a figure Kingman reached only twice in his career — and only hit four homers. Four homers on 144 strikeouts. How does that even happen?"
Jon Heyman, CBSSports.com: "Disgraced superstar Alex Rodriguez is charming, well-spoken and seems highly intelligent. Some day we may all learn the answer to one of the greatest mysteries in modern sports history: How did such a charming, intelligent fellow make such a mess of things? For now, every baseball reporter within a hundred miles of here traveled to the corner of Columbus and Himes to stake out A-Rod, to wait interminably, for crumbs. Well-crafted crumbs, but crumbs nonetheless. After taking the field here at the Yankees' minor-league complex, throwing from third base, then hitting a few bombs on his first day back as a Yankee after a year-long banishment due to drugs, Rodriguez admitted he made 'plenty of mistakes,' and that it's 'on him.' It was like a longer apology letter, presented with what a smile in the blazing Florida sun. It certainly was far from the whole story. A-Rod avoided the question of why he took those performance-enhancing drugs once again, why he lied about it for so long, or why he even threatened to sue the Yankees, MLB and the players union, the very three entities most responsible for making him the richest athlete in North America. (He is a record holder in two categories, biggest contract, and longest drug suspension.) While Rodriguez copped to the errors, he declined again to say exactly what those errors were or explain why someone so rich, talented and famous couldn't resist the lure of the easy fix. Once again in his case, he could not resist. He was appropriately contrite and — unlike last time — this time he didn't implore us to judge him from his day forward, thank goodness. He's too far behind in the count for that baloney, way too far."
Jeff Passan, Yahoo! Sports: "Everything gets back to the talking points. This isn't necessarily a problem unique to Alex Rodriguez or sports. It's everywhere, celebrity an avenue to put forth a message crafted by people who aim to shape the psyche through words. As much as Rodriguez tries, sincerity just isn't a trait he possesses, not when he so nakedly hits his talking points again and again and again. Monday gives us three. The first is that A-Rod made a mistake. He said the same thing the first time he got popped for PEDs, of course, so this isn't a mistake so much as it is the consequence of sloppiness. The second is that he served his penalty. This is true. It doesn't erase what prompted that penalty, doesn't absolve him from the recourse, but, yes, that is a fact. And the third is that he's focusing on trying to make the Yankees. This sounds properly deferential, the superduperstar with Hall of Fame numbers humbling himself to those he wronged, even if he knows the Yankees either put him on their opening-day roster or pay him $61 million to go away. This is the game, and he plays it well, because if he talks, he knows it will get quoted, and if he gets quoted, it will get clicked, and if it gets clicked, it will fulfill the circle of quid pro quo. And what of these words, then? Are they any different? No, other than pointing out the fundamental insincerity of what happened on the sidewalk Monday. The farcical nature of anything to do with A-Rod is now fact, a fictitious do-si-do worth viewing through a lens equipped with a hair-trigger B.S. meter. There will be more, so much more, because one thing Rodriguez can't do is stay quiet for long."
Richard Justice, MLB.com: "Around midseason last summer, Red Sox general manager Ben Cherington did about the toughest thing someone in his position can do: He took a tough-love look at his club and came to two conclusions. The first was that the Red Sox weren't good enough to make the playoffs. Beyond that, he saw that his organization was pitching-rich, but it lacked offense. So he went to work. Cherington dismantled a large part of the club that won the 2013 World Series, and on Opening Day this season, the Red Sox almost certainly will have three position players and four starting pitchers who weren't even in the organization a year ago. He focused on offense, adding two free agents, (Pablo) Sandoval to play third and (Hanley) Ramirez in left. Last summer, he signed (Rusney) Castillo, a Cuban free-agent center fielder."
"I pay attention. I watch the MLB channel all the time. I know what's going on. I can't control any of that. I can only control coming here and doing my job."
Colorado Rockies shortstop Troy Tulowitzki, on seeing his name in the rumor mill day after day.