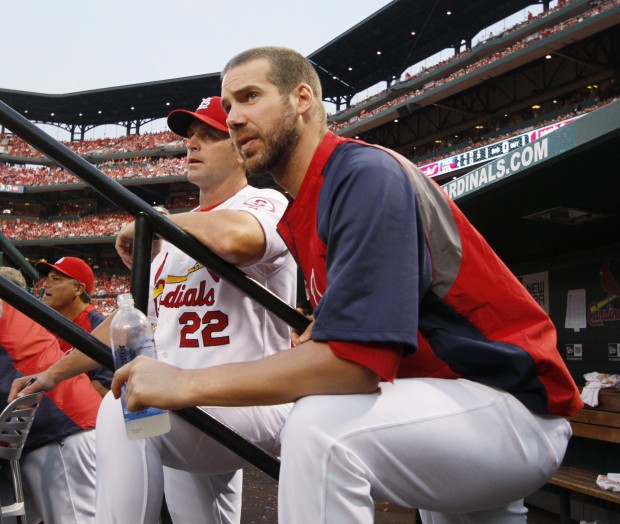 The Cardinals face two huge questions about Chris Carpenter in the next several weeks. One is obvious, the other complex, perhaps delicate.
First, can the 38-year-old Carpenter will himself to pitch effectively after failing to appear since a loss Oct. 22 to the San Francisco Giants in Game 6 of the National League championship series?
If Carpenter gives a positive answer, Question Two brings a greater degree of difficulty, one that involves not only himself but general manager John Mozeliak, manager Mike Matheny, the existing starting rotation and, by extension, the bullpen.
The first question should be answered shortly before or after the July 31 non-waiver trade deadline, a significant date for a contender on a low-decibel search for another starter.
The second question becomes moot if Carpenter can't clear physical hurdles presented by an approaching
simulation game or two and a series of minor-league rehab starts.
By itself, Carpenter's attempted comeback is extraordinary given the organization's belief in early February that the 2005 National League Cy Young Award winner had pitched his last game because of recurring weakness and pain in his right shoulder. Carpenter has worked six games since winning Game 7 of the 2011 World Series more than 20 months ago. His return to the active roster would jack team confidence, energy and perhaps swagger in that portion of the schedule referred to as "the dog days."
"At that point I'm going to have a conversation with Mike and Mo," Carpenter said shortly before Saturday's win over the Miami Marlins. "They're going to evaluate me. Is my stuff good enough? Am I good enough to fit in and move one of these guys? If not, be honest, tell me and move on."
Carpenter, however, is no career mercenary responsible for a drive-by contribution or two. He and catcher Yadier Molina have more invested in this franchise than any current player.
Perhaps the franchise's most important pitcher since Bob Gibson has undergone four operations while in St. Louis, missed significant portions of four seasons, yet still given the organization 95 wins, a .683 regular season win percentage and 10 victories in 18 postseason starts. By Mozeliak's own admission, "When you look at the history of our organization the last 15 years there are very few players who have Carpenter's political capital."
Mozeliak intends the statement as a compliment. One can wonder if it also offers a complication.
Carpenter will pitch in St. Louis this season if given medical clearance. We know so because Mozeliak promised it Saturday afternoon, even if he couldn't say in what capacity.
"Every day things change," Mozeliak said. "Our needs might be one thing today then change tomorrow. We were advocates for him to come back. Once those medical questions are answered we'll deal with the rest of it. Given his history, if he can do it he's going to get the chance."
Carpenter is aiming for a return to the rotation, though he's admittedly still striving for pitching shape because of back stiffness that idled him last month.
"If I took four or six months off I'd be fine. But I don't have four months to take off right now," Carpenter said. "We're trying to make sure we're doing (the rehab) properly."
Will Carpenter fit in a rotation featuring Adam Wainwright, Rookie of the Year candidate Shelby Miller, Lance Lynn and veteran Jake Westbrook?
Would prospects Carlos Martinez or Michael Wacha now offer more?
The Cardinals activated Carpenter last September, less than two months after he required surgery to alleviate a nerve problem. He made three regular season starts, stitched together a division series win, then pitched naked against the Giants when Joe Kelly seemed a better option. Carpenter's velocity was diminished, his mechanics out of whack and his need to improvise obvious. Westbrook's unavailability because of an oblique strain and Jaime Garcia's labrum issues created what Matheny remembers as a "desperate" situation. The Giants ripped Carpenter for 12 hits, 10 runs (four earned) in eight innings. His two losses were as many as in Carpenter's previous 16 playoff outings.
"I don't think we would settle for what he had last year," said Matheny, who thought Carpenter more impressive in Friday's bullpen throw than in any of last season's appearances. "He only wants to be out there if he's right."
Insists Carpenter: "I feel like my stuff is better than it was last year."
"It all has to do with communication and honesty between everyone," Carpenter said. "You come in and everyone is already doing what they're doing. I'm not stupid. You don't want to go in there and ruin something, no matter who I am or what I've done. They aren't going to just shove me back out there. ... It's all about whether it's going to work. When I was thinking about it I considered the amount of pressure, stress and decision-making that went along with it. If it happens, I'll ask them to be honest with me and I'll be honest with them."
If Matheny thought last October desperate, he sees the current situation as volatile because of greater organizational depth. Kelly worked as a fifth starter Saturday. A trade could be found. Or innings and injuries could send things in another direction.
Acknowledging potential complexities, Matheny related the frank conversation he recently shared with a pitcher he freely refers to as a superstar: "It could get down to there being some difficult decisions. I have so much respect for you I want to treat you right through this thing. When this all comes together I want to be absolutely behind you. This kind of situation tends to take care of itself. But given where we are right now there would be some challenges in how we use you the right way."
Added Matheny: "It's a completely different scenario from last year. We have different options."
Carpenter has not seen open field since injuring himself in January performing heavy leg lifts. Coupled with his shoulder issue, the condition has whipsawed him the last six months. Hopeful of pitching somewhere next season, the pending free agent is seeking answers for himself as well as his team.
"I'm not doing this to come back, tip my hat and say 'I did it again.' I want to see the year out and see how I feel and go from there," he said.
The range of outcomes creates a canyon. One side holds the end of a remarkable career. The other offers one more improbable return and a prominent role in another remarkable postseason run.
In between runs the tough stuff, hope, honesty, respect, immediacy and perspective. Carpenter, the ultimate competitor, and the Cardinals, the ultimate big-picture franchise, have traversed 10 seasons together. No one wants to see it end badly.