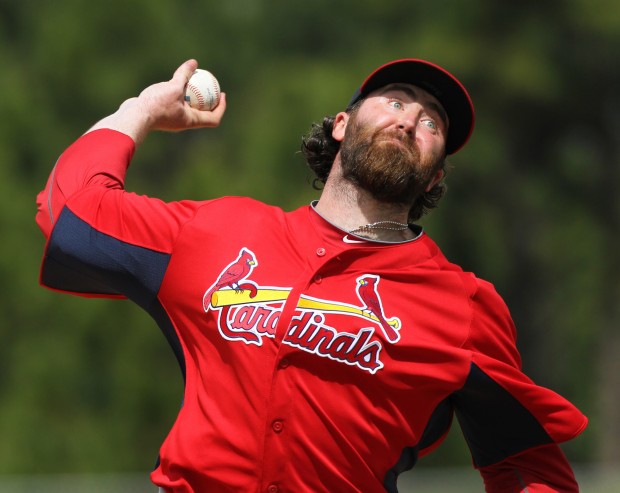 If there is a role in professional sports cloaked more in pop psychology, superstition and managerial butt covering than major league closer, please tell me where to find it.
You're also invited to include a sentence on how to win without one in the modern game.
The Cardinals currently offer a notable case study: A franchise rife with young, power arms finds itself confronting a late-inning identity crisis due to closer Jason Motte's open-ended absence.
Water, water everywhere, nor any drop to drink.
The industry envies their production line of hard throwers that include Mitchell Boggs, Trevor Rosenthal, Joe Kelly, Maikel Cleto and Eduardo Sanchez. Equipped with triple-digit velocity, Jorge Rondon labors in relative obscurity in Memphis. Converted starters Eric Fornatero and Michael Blazek add to the system's heat index. The Cardinals promoted five minor-league relievers to their 40-man roster last November. Yet April's story has focused more on lost chances than future promise.
"Nothing is more disheartening than an inability to close out a game," concedes John Mozeliak, who's seen this too often during his 6-year term as Cardinals general manager.
The Redbirds entered Thursday's opener in Philadelphia leading the National League Central and boasting the league's third-best overall ERA (3.31). However, numbers split abruptly between the rotation (2.19 ERA) and a bullpen that ranked last in the league with a 6.18 ERA. The NL bullpen average stood at 4.13. Only the Phillies and Chicago Cubs pens had allowed an on-base percentage greater than the Cards' .354 figure.
This is small-sample theater; less than 10 percent of the season is complete. A team's personality may still change abruptly before June.
One of only two NL teams with four blown saves, the Cardinals can hope for such a transformation. Though shut out twice in their first 14 games, they can make a case for an 11-3 start without the bullpen hijinks.
Offensive numbers tend to seek the mean. The Cardinals surely won't continue to hit .392 with runners in scoring position. Likewise, they're certain to improve on their .202 average without runners at second or third.
An uncertain bullpen can bleed for months as the 2003, 2011 and 2012 teams proved. The parent club's distress has been mirrored at Memphis, where Victor Marte fumbled three of his first four save chances and Sanchez landed on the disabled list with a forearm strain. Cleto's inconsistent command remains at issue as does his straight, but triple-digit fastball.
Such chaos cost the Cardinals a postseason berth in 2003 despite scoring 876 runs. It took a major renovation around the 2011 trade deadline to salvage that season.
Mozeliak believes this mess is easier to clean up than a year ago, when Chris Carpenter's nerve-related shoulder weakness prompted Lance Lynn's move to the rotation.
"It's harder to back-fill 200 innings than 60 or 70 innings," Mozeliak said. "But that's not to minimize what we're dealing with now."
Still, this bunch needs positive reinforcement. Boggs' reference point as closer before this spring ended badly when then-manager Tony La Russa lifted him from a disastrous outing in Houston never to return to the role. Further complicating matters, Boggs left for the World Baseball Classic in March as Matheny's set-up man and returned to camp to find the final three outs his.
Rosenthal, 22, similarly went from a candidate to start to fire-stopper to Boggs' successor as eighth-inning guy.
The only late-inning reliever not to undergo a change of responsibility, Edward Mujica, coincidentally entered Thursday as the Cards' most consistent reliever to date. Matheny called on Mujica against the Phillies to at least temporarily assume closing responsibilities, and he got the save despite giving up two hits to open the ninth.
"We feel comfortable with the guys we have," Mozeliak insists.
Good thing: Motte, who converted each of the Cardinals' 42 saves last season, is increasingly seen as a longshot to avoid elbow ligament replacement next month, and April is a bad time to land outside help.
The Cardinals could have served themselves better by not designating a closer soon after Motte's injury, thus allowing Matheny more flexibility and perhaps less scrutiny while using the schedule's first couple weeks to evaluate.
A robust team now finds itself within a worrisome shadow. Below-the-radar options include top prospect Carlos Martinez, originally scheduled to remain in Florida through April after missing most of spring training due to visa issues. Instead, "Little Pedro" was set to make an abbreviated start Thursday at Springfield. Martinez, 21, could enter the parent club's picture within a month if he gains traction at Double-A.
Current sentiment calls for closer by committee, a tack many devotees of advanced metrics believe more logical than reflexively saving a team's best reliever for a ninth inning that may contain less leverage than a bases-loaded situation in the seventh.
By framing the ninth inning as the ultimate responsibility, teams may unwittingly create phobia among those such as Boggs who thrived in set-up duty.
Role certainty makes it easier for managers to run a game. Relievers better anticipate when they might be called upon. As is, a closer rarely warms more than once a game. By broadening his top reliever's role to sometimes include the seventh and eighth innings, a manager can expose him to warming several times, complicating day-to-day availability. The dynamics of undoing a traditional arrangement require a chess player's forward thinking and a salesman's pitch.
But by now complications are old news.