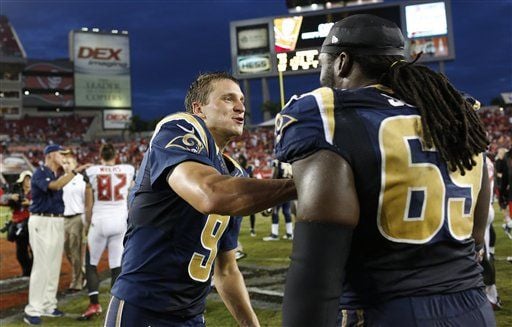 TAMPA, Fla. • Sunday's takeaway from Raymond James Stadium was easy to digest.
With a loss to the struggling Tampa Bay Buccaneers, the Rams would retreat to 0-2, which the NFL defines as purgatory. A team looking for its first winning season in a decade might define it in even harsher terms. Instead, a little-known commodity offered the Rams a slice of redemption.
Austin Davis turned his first NFL start into something unforgettable for himself, his family in attendance and long-suffering masses waiting for a reason to do anything except grind their teeth.
The Rams didn't beat the Bucs in Sunday's final 38 seconds in spite of Davis, but because of him.
Davis got a game ball. The Rams received at least a
temporary stay of cynicism after rallying for a 19-17 win in the final minute thanks to a 71-yard drive built upon Davis' four completions worth 64 yards.
"I felt at peace out there and felt at home," reflected Davis, "and that had a lot to do with the guys that I was around and how well we played."
Who knows where this season goes from here? But for at least one week the Rams are a good story. A year ago the Rams cut Davis, the Dolphins signed and almost immediately released him and Davis spent two or three days a week volunteering as an assistant coach at Westminster Christian Academy. The Rams later re-signed Davis to their active roster following Sam Bradford's October knee injury. Davis, however, has no problem recalling where he's been.
"I think they've been doing pretty well," Davis said about Westminster's season.
Sunday's display wouldn't qualify as a panacea for a Rams team still afflicted by an insane number of penalties and inconsistencies on run defense. They beat a defense-first Bucs team confronting injuries to five defensive starters. Yet it represented a respite from three weeks of grinding, growing pessimism.
After Sunday's game a man in a suit stood outside the visiting locker room. He wore a dress shirt, a designer tie and the look of a high-ranking club official who had just seen a season flash before his eyes. Asked about Sunday's starting quarterback, Rams chief operating officer Kevin Demoff put it succinctly. "He won the game." Just in case he hadn't made himself clear, Demoff said it again.
Davis' numbers were plenty impressive: 22 completions in 29 attempts for 235 yards. No touchdowns but, more important, no interceptions. He achieved a 99.1 passer rating, a figure Bradford reached just three times in his 2010 rookie season. The performance occurred despite a 50-minute weather interruption. Davis fed eight receivers, including Brian Quick seven times. He saved his longest completion for his last throw of his team's final drive —a 27-yard, third-down connection to Austin Pettis running a seam route.
Executing a deep curl pattern, Kenny Britt was the play's primary target; but this kid certain to be carded at any area pub or casino made a hair-trigger read based on the safeties' reactions.
The Rams trailed 17-16 with 5:15 remaining and the ball on their own 9-yard-line after Chris Givens fielded a kickoff near the end zone's west pylon and headed directly east. Davis then steered the Rams north with passes of 9, 13, 15 and 27 yards before Greg Zuerlein nailed his fourth field goal.
"It was actually fun. I wouldn't call it stressful," said Quick, his team's most prolific target the first two weeks. "Being in that situation shows how much you love the game. It's easy to win in a blowout, but being in a close game like that, your team has to fight together and comes through together."
"He did a great job with the checks. He had multiple calls at the line to get us into the right play," said center Scott Wells, who has seen much good and bad in 11 seasons with the Rams and Green Bay Packers. "That's next-level stuff for a quarterback and he had command of that all day."
Players read a quarterback more than any teammate. A guy who stammers, hesitates or can't be heard evokes uncertainty, even dread. Joe Montana found John Candy in the stands before executing a game-winning drive in the Super Bowl. Brett Favre's drawl never changed. On Sunday, Davis was as he had seemed to teammates Wednesday and Thursday. The quarterback cited a sense of "calm" and being "at peace." No one challenged his self-analysis.
"There was no question at any time," recalled Wells. "He's your field general out there. When he stepped into the huddle all eyes were on him. He stayed poised even when we got him hit a couple times. He moved on. Nothing seemed to bother him today. He stepped up on the road against a good defense."
Davis completed six of eight third-down passes for 76 yards. Five of the completions translated to first downs. The sixth positioned Zuerlein for a field goal worth a 16-14 lead with 9:10 remaining in the game.
"Players read body language on each other all the time," testified right tackle Joe Barksdale. "He had a great week of practice. And all you've got to do on Sunday is come out and do what you've done all week in practice. Do it when it actually counts. Austin had the confidence to do that."
Second-year running back Zac Stacy stood behind Davis literally and figuratively all day. "In my opinion, he can only get better. In my rightful opinion, that's what I believe. And we can get better as a team."
Now the rub: Fisher insists Shaun Hill remains the team's starting quarterback when his sore quadriceps allows him greater mobility. Hill tested the thigh several hours before Sunday's kickoff but was available only in an emergency and, according to Fisher, could not take a snap under center. "At no point was there a chance for Shaun to start," Fisher said about the Bucs game.
Davis has completed 38 of 52 passes for 427 yards in two games. At the very least he is a novelty, a shooting star responsible for interrupting the toxic fallout from the first week's 34-6 loss. But Fisher has remained behind Hill since Bradford's left knee collapsed three weeks ago. There was no give in that stance Sunday.
"When Shaun comes back, he's our starter," Fisher said, offering a week's worth of grist for talkers and print second-guessers, this space included. "I'm really proud of Austin, but Shaun's our starter when he can play."
Hill, 34, has made 27 NFL starts. He capably managed the Rams opener until the thigh injury kept him from making comfortable throws. Fisher already has dealt with conspiracy theories about whether Hill was actually hurt or benched. Now he'd be well-served to make sure Hill is really, really healed.
Rams fans are starved for another guy to step from a supermarket aisle and return them to prominence. Davis, a humble type who shattered many of Favre's passing records at Southern Miss, might tease the closest story to Kurt Warner's days at a Hy-Vee.
Davis allowed himself one expressive moment Sunday, a flash of emotion following Pettis' catch. "It got away from me after that one," he said.