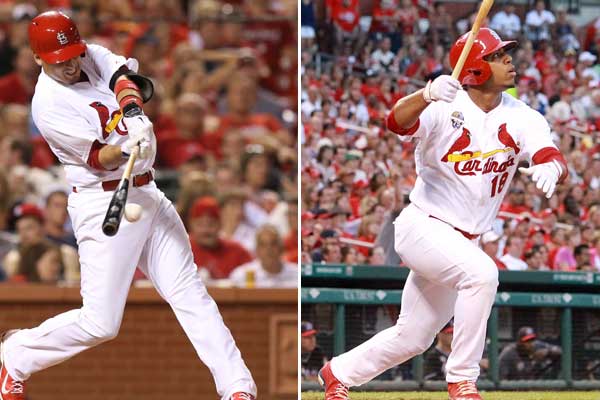 Sensitive to any suggestion that he exerts undue influence over his third-year manager, John Mozeliak is fond of saying, "I don't do lineups."
Make no mistake: Mo helped write two months' worth of cards Thursday morning.
With a stunning deal agreed upon late Wednesday night and formalized a bit awkwardly several hours before his second-place team's series finale against the San Diego Padres, the Cardinals general manager both fortified a listing rotation while removing the controversy from a festering right-field timeshare.
He also demonstrated who's sheriff.
Mozeliak fulfilled his promise to fortify his innings-challenged team by acquiring veteran John Lackey from the Boston Red Sox for outfielder-first baseman Allen Craig and utility arm Joe Kelly. The move put into better context Wednesday's swap of outfield prospect James Ramsey for Cleveland Indians starter Justin Masterson. While the rest of the National League Central dozed at the non-waiver trade deadline, Mozeliak shook a team he has alternately called "frustrating" and in search of an identity.
Today that identity is changed, much to a clubby rank-and-file's chagrin.
Mozeliak gave appropriate warning.
He made clear his displeasure in May and doubled down in June.
Shoulder injuries to Michael Wacha and Jaime Garcia redirected concern from a somnambulant offense to a rotation that couldn't locate the sixth inning without Adam Wainwright and Lance Lynn.
At the same time Mozeliak observed the ersatz platoon of Craig and Oscar Taveras, the popular and previously productive righthanded bat in the second installment of a five-year contract extension and the free-swinging, uber-hyped, lefthanded-swinging 22-year-old christened the best hitting prospect since The Great Pujols.
Something had to give, so Mozeliak decided to give and take at the same time.
The seventh-year GM saw a diminishing asset, Craig, and parlayed it before he became immovable. Mozeliak included Kelly, a versatile, cost-controlled talent who started with distinction in place of Garcia and Chris Carpenter the last two seasons.
As a No. 5 or even a No. 4 starter, Kelly clicks. As the No. 3 within a rotation that won't know about Wacha's return until mid-September, Kelly didn't promise enough, especially four starts into his return from a serious hamstring injury. Rather than hope for the best, Mozeliak acted ... clinically.
The Cardinals are fond of calling their clubhouse "family." There's much ado about ignoring outside "distractions" created by media, hangers-on, whatever. Yet Kelly learned he had been traded through a television report. Craig learned while surfing the net. Neither player even knew he was in play. Craig was so stunned he left the Petco Park clubhouse without comment. Family one day, disposable the next.
The Cardinals have sacrificed eight years of future control over Craig and Kelly for 1 1/2 seasons of Lackey, a prolific postseason pitcher who beat the Cardinals twice in last October's World Series and is second among active arms with 16 postseason starts. The moves stink if you're sentimental. Craig ranked as one of the game's two most productive players per at-bat the last two seasons. (Two-time American League MVP Miguel Cabrera is the other.) Kelly crammed 15 wins and a 3.25 ERA into 38 starts spread over pieces of three seasons. He also performed a mean "worm" on command, earning undying appreciation from the club's cable rights-holder.
The moves make sense if you think this team is playing with rounded edges.
The moves make sense if you believe outings of 6.2, 2.2, 5, 5.1, 5, 5.2, 5, 4.1, 5, 6, 4, 4, 5, 4.1, 4.2, 3, 7, 4.2 and 5 innings by starters not named Wainwright or Lynn since Wacha's last appearance June 17 offers a red flag for a club that must now return to a five-man rotation.
They also make sense to those who believe the right-field timeshare a flameout.
Craig's career .308/.369/.518 slash line entering spring training contrasted this season's unsightly .231/.297/.346. Due $25.5 million the next three seasons, Craig no longer seemed a given.
"At some point what was happening in the outfield was going to have to be dealt with," Mozeliak said moments after the Cardinals' 6-2 win in San Diego. "When you look at the depth we've been building at the outfield position, trying to create opportunity in the short term is important."
It's absurd that a player of Craig's consistency eroded to this degree. He's resembled an offensive shell since the curious handling of last September's Lisfranc injury to his left foot. The club and Craig insisted the foot had healed. His hitting mechanics, however, remain in a shambles. What Craig does in Boston will serve as a telling referendum.
Manager Mike Matheny's lineups had become grist for a parlor game. Mozeliak recently conceded he might option Taveras a second time due to truncated playing time. Mo hastened Thursday to say packaging Craig in no way represented making the decision for Matheny. Yet, in practice, it does just that.
Mozeliak referred to the genesis of the deal as, "Trying to address a top-flight starter and add to the rotation for next year.... We were going to have to do something in the outfield because what was happening now was not sustainable."
And, presto, Taveras used Thursday's first plate appearance to yank his first home run in 95 at-bats.
Some will suggest Wednesday and Thursday offered a renunciation of the franchise's reliance on home-grown talent. Actually, the last two days offered further trust in a system that immediately replaced a 97-RBI outfielder with another with 105 major-league plate appearances. Trading Kelly creates greater opportunity for Carlos Martinez, the franchise's top pitching prospect who became a civic cause when bypassed as No. 5 starter to begin the season.
The Cardinals have reached three league championships and two World Series during Mozeliak's stewardship. The club has won 88 and 97 regular-season games since its Hall of Fame manager retired. Yet somehow — maybe due to his bow-tie fetish, the Cat-In-The-Hat socks, a vocabulary heavily sprinkled with financial jargon or the suspicion he acted as Tony La Russa's bobo — Mozeliak continues to be underestimated.
It's been two months since he put a defending NL champion on notice. He has become increasingly fond of the non-banking phrase "accountability."
Thursday morning the club confirmed Mozeliak was cutting through any remaining vestiges of complacency and entitlement. He was done taking names. He was changing them. Depending on what happens next, a man fond of "churn" may show he is far from done.