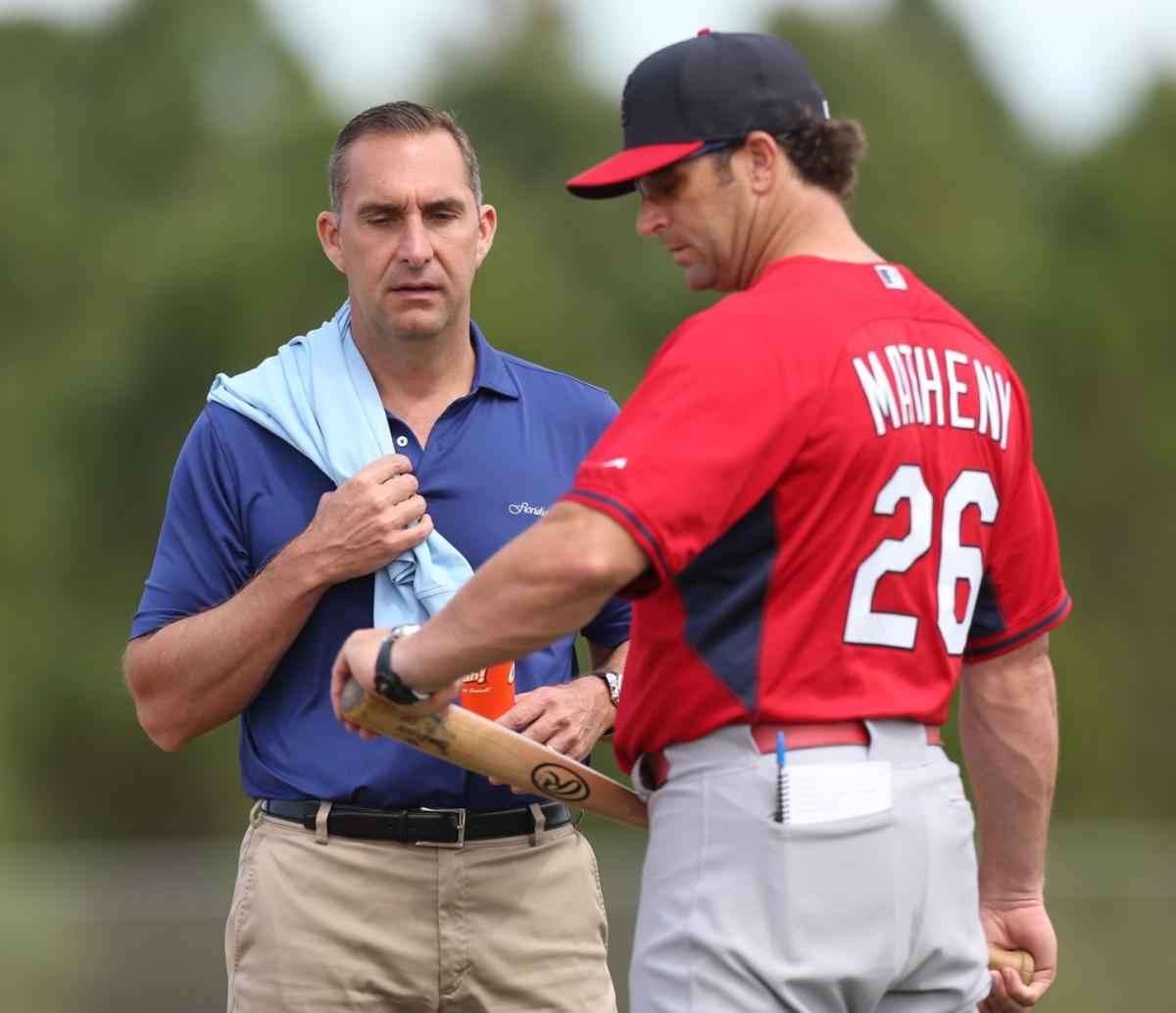 Inevitability forced itself on the Cardinals much sooner than the organization would have preferred.
For the first time since 2003, the franchise must construct a starting rotation without either Chris Carpenter or Adam Wainwright.
When Wainwright's left ankle buckled grotesquely during his at-bat in the fifth inning Saturday night in Milwaukee, the Cardinals' minor-league pitching depth became part of its present.
Its margin for pitching error has evaporated.
Suddenly, a 12-5 team looks vulnerable and potentially needy.
It's one thing to replace your fourth or fifth starter with organizational fill, something entirely different when it's the guy who annually provides 230 innings and a shot at a Cy Young Award. This is no bueno, as in ''Waino.''
At least for public consumption, Cardinals general manager John Mozeliak insists the club will pursue internal options to compensate for what appears to Wainwright's season-ending loss to an Achilles tendon injury. That might be good enough to buy 'Mo' some time with deferential local media, but it's not enough to satisfy those who deem the Cardinals a factor come the postseason.
Losing Wainwright is a seismic shift that should move Mozeliak and team Chairman Bill DeWitt Jr. to take a hard look at tonight's opposing starter, Cole Hamels, as the Cardinals and Philadelphia Phillies open a series at Busch Stadium. This isn't just about this season. It's a reminder that a transitional time is here.
As prolific as Carpenter and Wainwright were during the last five seasons of Tony La Russa's managerial tenure, they combined for more than 35 total starts only twice —2009 and 2010. The Cardinals won the NL Central before being swept from the division series in 2009 after the duo took the ball 62 times.
They missed the postseason for the third time in four years when Carpenter posted 35 times and Wainwright 33 in 2010. Wainwright missed the entire 2011 World Series championship run following elbow ligament replacement surgery in February. Afflicted with a bum elbow and a reoccurring nerve problem that eventually necessitated surgery, Carpenter made only four starts in 2007-08, and three more in 2012 before retiring. The Cards returned to the World Series the first year in his absence.
Early statistical returns suggest the two-time defending division champions might withstand the loss of Waino. They entered Sunday's setback against the Milwaukee Brewers with an industry-leading 1.99 staff earned-run average, which included a 1.97 rotation ERA.
The Cardinals have beaten Cincinnati ace Johnny Cueto twice and Washington ace Max Scherzer behind Michael Wacha.
They have received quality starts from impressionable Carlos Martinez in each of his three opportunities.
Three-time 15-game winner Lance Lynn brought a 1.56 ERA into Sunday's blown-tire appearance.
John Lackey so far has run hot and cold but boasts a seven-inning shutout performance against Milwaukee.
Yet exit polls and early returns can mislead. Just ask John Kerry.
The impressive Wacha owns 12 career major-league wins and 192 innings pitched. Martinez, 23, carries 11 major-league starts and fewer innings (137 2/3) than Wacha.
Lynn's 49 wins before this season were tethered to generous run support, which abruptly has gone missing. The Cardinals view the pending free agent Lackey as a short-timer holding a rotation spot for Marco Gonzales, who didn't make his scheduled turn Sunday for Class AAA Memphis because of a strained pectoral muscle.
The Cardinals can't fake their way through this one. They are six games into an unforgiving 20-day stretch that requires four starts from each spoke of the rotation.
Cardinal Nation serves as a willing market for organizational boasts about its pitching depth. But now this is for keeps, not fantasy keeper leagues.
Tyler Lyons and John Gast once represented the lefthander of the future, only to be bypassed by Gonzales.
Zach Petrick is a neat story, an undrafted college kid who steadily has ascended the minor-league ladder. But Petrick turns 26 this July. And does he miss enough bats?
Lefthander Tim Cooney didn't receive a call-up last September after winning 14 games for Memphis. Reliant on sink, the club's 2012 third-round pick proved vulnerable to home runs at tight AutoZone Park.
Cooney, tonight's scheduled starter for Memphis, might be intriguing enough to merit a spot start for the parent club; however, a hit-per-inning ratio throughout his career makes him a candidate for rapid exposure.
After an indifferent winter ball experience in Venezuela, the well-named Boone Whiting is working long relief at Memphis.
Perhaps Mozeliak is open to an organizational star search when he proposes using the next month to weigh internal options. Jaime Garcia remains in Jupiter, Fla., where he supposedly was more than a month shy of being available before Wainwright's injury occurred. Gonzales is on the seven-day disabled list, though pectorals usually are deemed more than a minor ouchy.
Gonzales resembled the Cardinals' best pitcher in spring training and admittedly deserves a shot before the club invests in an outside option.
But, again, how long can it wait?
Reason enough existed for Mozeliak to "kick the tires" on Hamels last winter. Wainwright, 34 this August, has long served as an innings horse. Lackey and Garcia probably are riding out their final season with the franchise.
Martinez and Gonzales represent youth. The Cardinals could use another stabilizer unless Wacha is ready to make that leap now.
Attaching more truth to rumor than is his habit, Mozeliak made little attempt at happy talk during his weekly Sunday morning appearance with the club's radio rightsholder. Wainwright's MRI exam Monday is expected to confirm a diagnosis Mozeliak already has received.
Worst (and most likely) case: Wainwright suffered a ruptured Achilles tendon that requires surgery and a rehab of nine to 12 months. He can't be guaranteed full participation next spring training.
Best case: An incomplete tear at the muscle-tendon juncture higher on Wainwright's leg requires a recovery of several months, leaving open a possible return in the autumn.
For now the Cardinals can get away with applying a tourniquet (an internal promotion or Dumpster safari) while hoping the rest of the rotation holds. Long term, this team requires another experienced, big arm for the big picture.