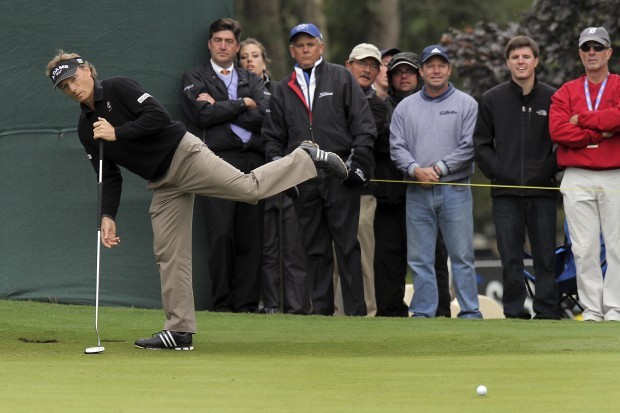 The rules-making powers that be in professional golf formally announced Tuesday morning they will spend the next 2½ years attempting to shove toothpaste back into the tube.
Of course, the United States Golf Association and the Royal & Ancient put it a bit differently. For the "betterment of golf," players no longer will be able to employ an anchored putter as of January 2016. This means that players such as two-time Masters winner Bernhard Langer who "anchor" the butt of the club against their chin, sternum, belly or other body part in between are out of luck.
In a sport where "lift, clean and place" can be cause for raised eyebrows, Monday's ruling is the equivalent of Watergate, the mortgage bubble and immigration reform rolled into one. Some see the ruling as preserving the game's integrity; others see it unnecessarily threatening livelihoods and the sport's popularity.
Potential exists for a schism between the USGA and the PGA Tour, which could conceivably ignore Tuesday's proclamation and maintain the status quo. The PGA of America — a separate entity from the PGA Tour — publicly said it was disappointed by the decision to abolish the anchored putter.
"The source of our burn … is more about the enjoyment of the game," PGA of America president Ted Bishop said late Tuesday afternoon.
This week's Senior PGA Championship at Bellerive offers an amphitheater for debate. The over-50 Champions Tour long ago served as a proving ground for the anchored putter, which became a career-saver for numerous professionals whose putting technique and nerves had betrayed them.
"It's difficult not to put faces to the issue," acknowledges two-time U.S. Open champion Andy North, who doubles as a member of the Champions Tour and an analyst for ESPN.
North is among those who adamantly agree with Tuesday's decision by the USGA. The anchored putter has spread wellbeyond older players into the mainstream of the regular tour. High school and college players have adopted the longer club well before their putting nerves frayed.
"So why do you think that is?" North asks rhetorically, knowing that the anchored technique is simpler and can remove dreaded "yips" from the stroke.
Golf is still perceived as a polite game, a game when players regularly call penalties on themselves. It's controversy when a television viewer phones a Masters rules official to claim Tiger Woods took an improper drop after his approach shot ricocheted into a pond. The mildest commentary from competitors is treated like some palace revolt.
Tuesday's ruling was no quirk. It was a shot across the bow to men who have long made their living from the game. A number of players characterized the USGA and R&A as hopelessly out of touch. If concern existed about the anchored putter creating an unfairadvantage, where was the outcry two decades ago?
Scott Hoch calls himself a fence-straddler on the issue but admits, "It really hurts some people's careers. Once they started, it's kind of hard to make a ruling like this."
The anchored putter is hardly new; however, using it to win major championships on the regular tour is a recent phenomenon. Adam Scott won the Masters with it last month. Ernie Els went long to win last year's British Open. Webb Simpson did likewise while capturing the U.S. Open. What once seemed merely unorthodox now strikes a significant number of tour pros as an unfair advantage. Langer is more blunt.
"Why did it take them 40 years to do something about it?" he says. "What's the problem? Somebody won a major, their majors – the British Open and the U.S. Open – that was their problem."
Langer, 55, sees little difference between a 2016 sunset on the anchored putter and peeling it from his hands today. He confronted yips on the regular tour for years, eventually switching to a technique in which his right hand encircled a conventional putter and part of his left forearm while placing his left hand lower on the grip.
"It's what they're saying: I can't use this anymore. I'm not now going to be practicing for two years with the short putter while I'm trying to compete with what I've been using for 17 years," Langer explains. "It takes 10,000 hours to get good at something. Ten thousand hours of putting if I put in two hours a day … you do the math."
If you don't play golf, this seems like inside baseball. If you have appreciation for the game, you realize how this issue could tear at its polyester roots.
Former Masters and Players Championship winner Fred Couples anchors the long putter largely because of chronic back issues. Indeed, this week's event lost some luster when Couples withdrew Monday. One asks what a 2016 ban might do to a Champions Tour that badly needs to retain star power.
"Does the NBA have a different definition of out of bounds for LeBron or Michael?" North said. "If it's a rule, it's should be enforced equally for everyone."
"You can't speculate about who might go away (because of the ruling)," insists Loren Roberts, so good a putter he long ago was anointed Boss of the Moss. "There's no way you can. A lot of guys here are major champions. They're champions for a reason, because they have talent."
Roberts endorsed the USGA decision to go along with the R&A, but he wonders what happens next. "I do believe we need to play by one set of rules," he said. "Whether everyone gets to use it or nobody gets to use it, it can't be split. Having said that, it looks like there's going to be an impasse here."
The USGA and R&A have a way of picking odd fights. Neither has yet addressed driver heads the size of planetoids or a golf ball juiced with jet fuel. Advances in technology have rendered many championship layouts obsolete. Rocco Mediate has used and then discarded the anchored putter in the last decade. He voiced surprise at the USGA going along with the R&A. "It's not the putter," Mediate said, his voice peaking. "It's the (adjective deleted for family publication) golf ball."
There are so many places this could now go, a court of law among them. Tour players could revolt still, urging Commissioner Tim Finchem to unilaterallychange conditions of competition at Tour stops.
"They have the ability to create their own set of rules. That's a known fact," says Bishop, who also sits on the PGA Tour policy board.
Bishop does not sound as though he's willing to lead an insurrection. He will, however, listen to the players.
"I think that's the question that remains to be answered. There are two options. There's the option to abide and follow the USGA and R&A rules. It'll be interesting to see how the PGA Tour and how the players feel going forward. We'll just have to dissect the information and see where we're going to go," Bishop says. "Those are the two options. I don't see the PGA of America getting in the rules-writing business, to be honest."
If the USGA and its European equivalent believe this a problem, it's a shame they've waited decades to make a unified stand. A game that typically has handled its differences discreetly should perhaps go a different route this time.
"I think the players have thought we might have to (split from the USGA) for a long time, given the game we play and the set-up we play," said Quincy, Ill., native D.A. Weibring, who played 15 years on the regular tour. "It's a tough call. We've been together a long time. But when we bring up (square) grooves, when we bring up the ball, when we bring up different things, they're a little slow to react."