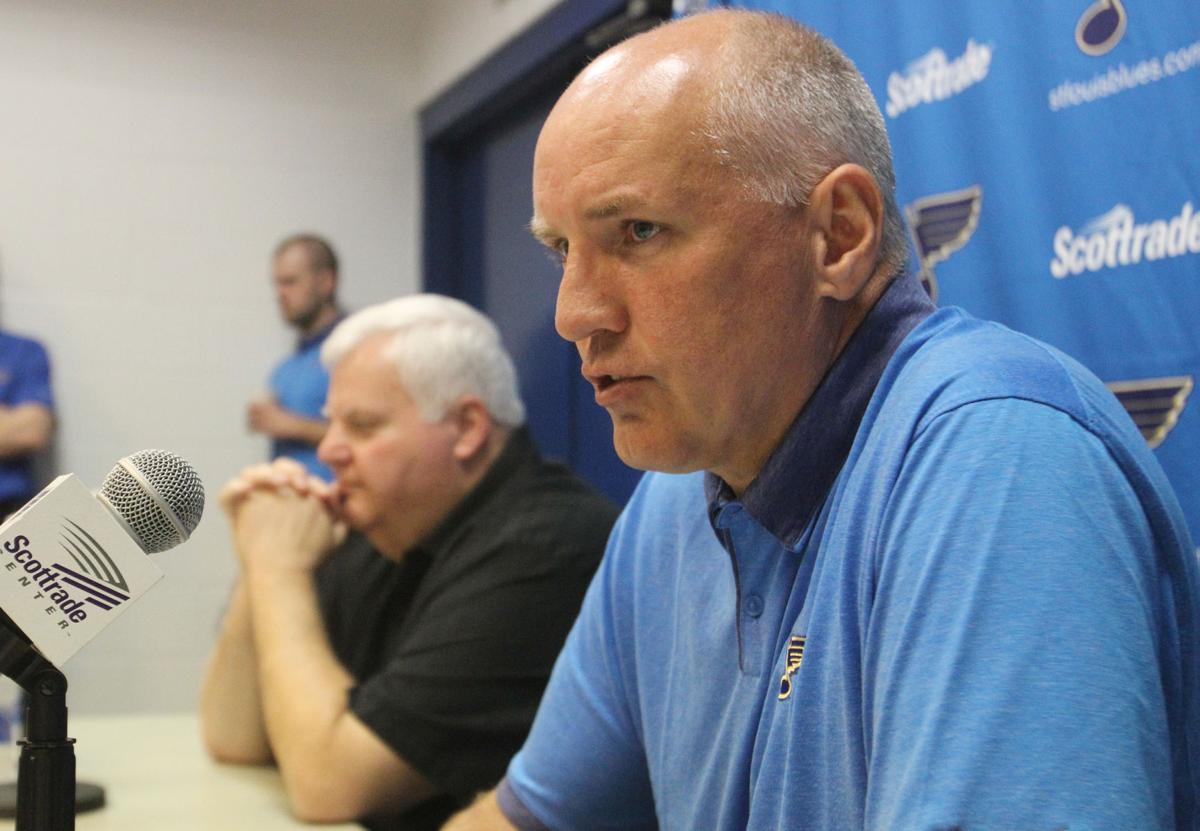 Doug Armstrong's concern was as evident as Jake Allen's struggles. You don't need to be Wayne Gretzky to know the Blues' general manager's offseason decisions don't look very good these days.
Armstrong hit the panic button by telling Allen to stay home from the Winnipeg trip, so it seemed comical to hear him say "you don't want to make a mountain out of a molehill."
With all due respect to Armstrong, it's time to realize the Blues resemble Sisyphus now because the puck keeps rolling downhill and into the back of their own net way too often. At this rate, they will be sellers at the March 1 trade deadline.
A day before the Blues suffered an embarrassing 5-3 loss to the Jets, Armstrong practically took a page out of Mark McGwire's handbook when meeting with the media Friday. He might as well have said he wasn't there to talk about the past.
The weight of the Blues' season has fallen on Allen, threatening to sabotage an already shaky team that has been paying dearly for Armstrong's offseason decision to break up a team that reached the Western Conference Finals.
We had to expect some growing pains this year with the Blues, but nobody could have predicted the issues that have betrayed Allen.
The players would be the first to tell you that they're the ones who are most responsible for the play on the ice. They deserve some of the blame. Legendary coach Ken Hitchcock continues to try to shake things up in hopes of finding the perfect fit. Quite simply, though, the Blues have never recovered from the void that was left when Armstrong broke up a team that was only two games away from the Stanley Cup Finals last year.
We should have expected tremendous highs and lows from a young team that no longer has veteran leaders David Backes, Troy Brouwer and Steve Ott to lead them on and off the ice.
To be fair, it seemed like a decent gamble to trade away veteran goaltender Brian Elliott so that Allen could become the undisputed starting goaltender.
Nonetheless, there's no denying that there's a big difference between sharing the load and being asked to carry most of it. On the ice, the young Blues have shown some great signs at times. There's no doubt that Vladimir Tarasenko, Alex Pietrangelo, Robby Fabbri and Colton Parayko and Jaden Schwartz give the Blues a good, young core to build on.
Unfortunately for the Blues, they are paying dearly for what is clearly a lack of confidence in the crucial goaltending position. You cannot underestimate the pressure that falls on the entire team when they know the final line of defense is struggling badly.
"I think it's only natural to have that in your head that you don't want to let up one shot in the whole game," Kevin Shattenkirk said. "That's the easiest way to keep goals out of your net. I think that becomes a dangerous game when we try to be perfect, when we're trying to make sure that every pass is made the right way out of our zone, every shot is blocked."
Hitchcock notes that the Blues don't have the needed balance because too many players are overworking from the red line in and not working enough from the red line back.
Armstrong made the decision late Thursday night to not let Allen travel to Winnipeg. How much longer can the Blues wait for Allen to get his mojo back?
They keep sinking in the standings, prompting one to wonder if Armstrong's offseason moves have transitioned the team from a winner to a seller.
A year ago, the Blues were good enough to keep the team together and risk losing Backes and Brouwer to free agency without getting anything in return.
This year's team might not be strong enough to make that same risk. Shattenkirk has been around long enough to know that he would be wise to brace for a possible trade out of town.
"I think I knew all year that this was the time of year when that question would be coming up," Shattenkirk said. "And it would be strongly determined by our record and how we're playing. As of late I think the question has really come to light. It's tough. It's something that I've prepared for, but something you can't prepare for once it gets here."
Shattenkirk's fate rests in Armstrong's hands. How much confidence does the general manager have in his team? Does Armstrong think he built a team that needs to be a seller or buyer? Does he need to make a trade for a goaltender?
"I'm not naive to think that if this continues forever, then it's not going to work out, but I don't think that's going to be the case," he said of Allen.
Then Armstrong, who barred Allen from speaking to independent media Friday, abruptly walked away from the media when asked when the Blues must consider if they need to be sellers.
"I'm not going to talk about that. I'm here to just give you a quick update on Jake," he said.
Sure, but do Allen's struggles put the Blues' season at risk?
"I'm just going to give you a quick update on Jake," he said. "I'll deal with the other things at a different time. OK? Thanks."
Then Armstrong rushed for cover.
Jose de Jesus Ortiz
@OrtizKicks on Twitter