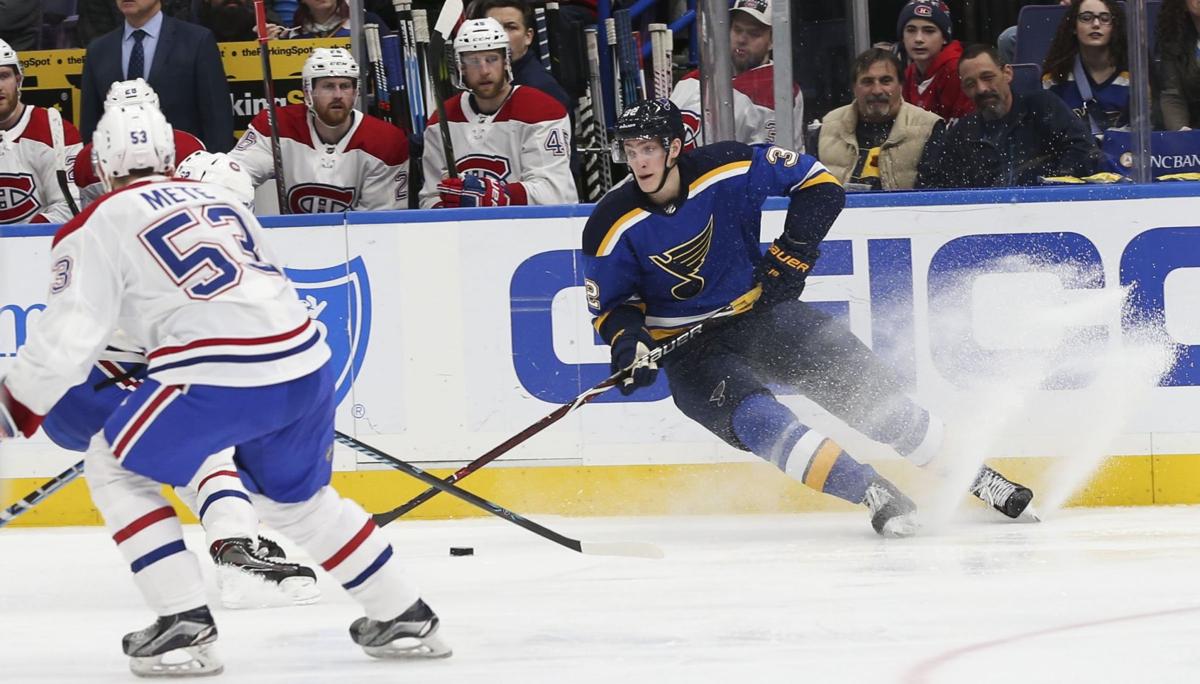 Despite the Blues' three-game losing streak, general manager Doug Armstrong isn't disappointed with the way his team has played lately with the exception of a pair of disappointing third periods.
Yet, if the current roster hoped to entice Armstrong into making a major trade for an expensive rental before the National Hockey League's Feb. 26 trade deadline, the last week is further proof that the Blues should be conservative and hold on to their top young prospects.
Although the Blues are legit playoff contenders, nobody would say they're only one major star or even two away from being top Stanley Cup contenders.
"I think we're playing pretty good actually, very competitive games," Armstrong said. "We've sort of had a couple of really sub-par third periods."
To the Blues' credit, they haven't been completely outclassed during their losing streak. They were competitive with the defending Stanley Cup champion Penguins until rookie Vince Dunn made a rookie mistake on a pass that led to the tie-breaking breakaway goal.
The 4-3 overtime loss in Nashville on Tuesday was jarring considering they led 3-0 after two periods, but the Blues could genuinely blame unlucky bounces in a 2-1 loss Friday at Dallas.
"I thought the Pittsburgh game we played good," Armstrong said. "We had a turnover by a young player, and those don't bother me. You don't want to see them made, but young players are going to make mistakes.
"But all in all I thought we played pretty good against Dallas. We needed some timely goals. We're very competitive. We haven't seen a game like we saw against Philadelphia or Florida in awhile, which is a positive side."
Sure enough, the Blues haven't had another ugly no-show loss since the Wild crushed them 6-2 at Scottrade Center on Feb. 6. As they promised, they haven't been skated off the ice during their recent losing streak.
They have, however, dropped down the Central Division standings and into a wild-card playoff position with 22 games remaining on their schedule.
They are tied with the Stars for third in the Central with 72 points, but Dallas has played two fewer games. The Blues also have played two more games than the Wild, who are just three points behind them in the wild-card race.
The roster could use a boost at the trade deadline. It's not as clear, however, whether the team is good enough to merit such a gamble.
Nobody will confuse these Blues for the franchise's 2014 team that was good enough to entice Armstrong to go after star goaltender Ryan Miller and Steve Ott from the Buffalo Sabres in a major trade deadline deal.
This Blues team doesn't appear as strong as the franchise's 2013 team, which had enough promise to persuade Armstrong to give up a first-round pick and two prospects for veteran defenseman Jay Bouwmeester at the trade deadline.
The Blues finished second in the Central during the shortened 2013 season before reaching the Western Conference quarterfinals. Then they finished second in the Central in 2014 with Miller, but they couldn't get out of the first round that season.
Miller bolted via free agency to sign with Vancouver after the 2014 season, so that trade proved to be an expensive rental.
Blues fans shouldn't expect an expensive rental via a trade this season. Armstrong traditionally shies away from addressing the independent media in the two weeks leading up to the trade deadline, but he took a few minutes to speak with the Post-Dispatch during a current scouting trip.
"The message internally is that we're going to act accordingly with an eye on the future, meaning when we put all our chips in when we got Ryan Miller we felt that there was one piece that could move us to separate us from the herd," Armstrong said. "Even in the Bouwmeester trade, we were a Top 2 or 3 in the NHL for a whole season.
"We're not a top two or three in the NHL now. We're a top 10 team. I don't think any one player takes a team that's in the Top 10 and pushes them to No. 1. I don't know if that makes any sense to you. What we want to do is we want to try to improve our team with an eye on improving it this year but also not hurting it for the next two or three years."
If the Blues make a deal, they'll try to add a player who fits the current core of players in their mid to early 20s.
Armstrong doesn't see this as the year to give up the players he deems blue-chip prospects for a rental who will be here for 22 games and the playoffs.
That is the smartest game plan this season for the Blues. That's not to say teams aren't lighting up Armstrong's phone with offers for top young prospects Robert Thomas, Tage Thompson, Klim Kostin and Jordan Kyrou.
"This is the most informative time of year, quite honestly, the trade deadline," Armstrong said. "Internally you see your prospects through rose-colored glasses. You drafted them, you invested time with them, you trade for them. But when the trade deadline comes around the other 30 managers tell you how good your prospects are by if they ask for them.
"It's been a positive three weeks that I'm getting multiple calls on multiple names. Usually you might get a call to see where you get one name or two names. We're getting three, four, five names being asked about, which is a real positive thing for us."
The Blues would be wise to hold on to their elite young prospects, give this current roster a chance to prove they can make a playoff run and then perhaps be in better position for a serious Stanley Cup run in a year or two.
Jose de Jesus Ortiz
@OrtizKicks on Twitter