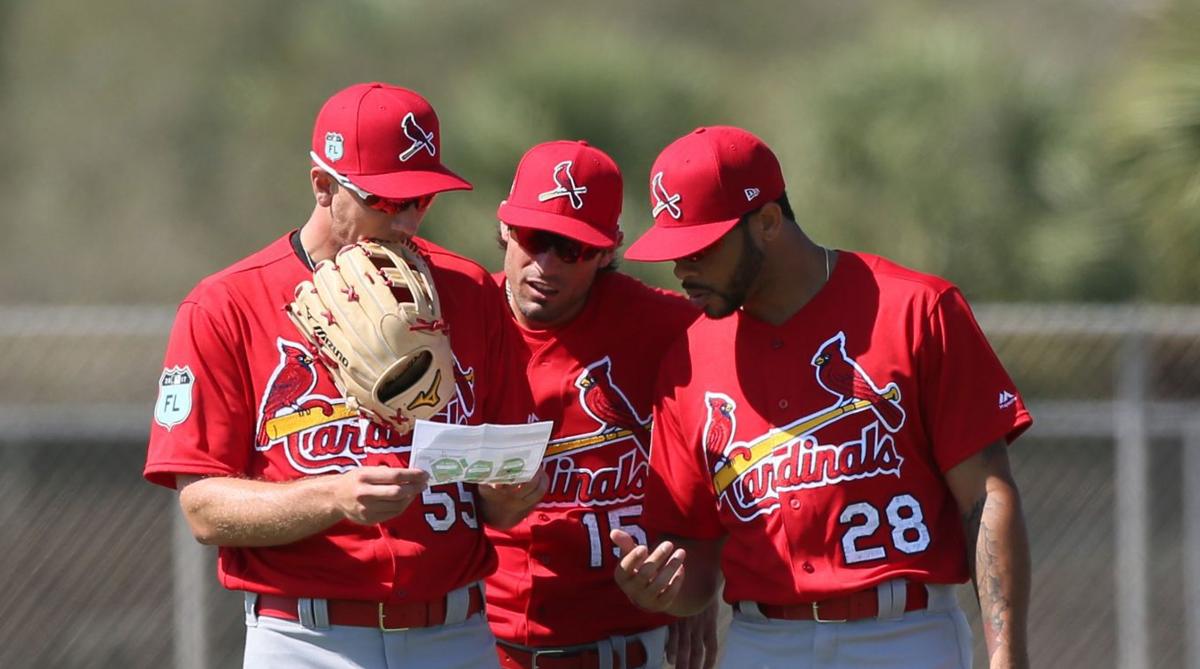 While a large section of the Cardinals' fan base cries out for John Mozeliak to get rid of Stephen Piscotty's contract, others hope their beloved Redbirds part ways with Randal Grichuk. Some in the baseball industry even wonder if it would be wise for the team to sell high on Tommy Pham this winter.
With plenty of young outfield talent in the Cardinals' farm system or already in the majors, Mozeliak and general manager Michael Girsch must and will cull their stockpile this offseason to fix other parts of the team. If the Cardinals can persuade the Marlins to pick up a portion of Giancarlo Stanton's salary, very few local fans will complain if their favorite outfielder is shipped to Miami.
Either way, the Cardinals will risk giving up too early on a prospect. The story of Diamondbacks slugger J.D. Martinez, who became the 16th player in the modern era to hit four home runs in a game on Monday, should resonate in St. Louis. He's a slugger many Cardinals fans wanted at the non-waiver trade deadline. The former All-Star is also a great example of a kid who blossomed after one organization completely gave up on him.
If not for an infamous statement by former Cardinals scouting director Jeff Luhnow, much of the baseball world hardly would have cared when the Astros general manager released Martinez on March 22, 2014.
The tanking Astros had just lost a franchise-record 111 games in 2013 to finish with the worst record in baseball for the third consecutive season. Yet somehow Luhnow declared that the decision to release Martinez could be seen as a case of the Astros being victims of their own success.
That statement was ridiculed throughout baseball immediately and then even more as Martinez thrived. The Tigers claimed Martinez two days after he was released. He flourished immediately by hitting 23 home runs and 76 RBIs in 2014 with a career-high .315 batting average, .358 on-base percentage and .553 slugging percentage.
A year later, Martinez made the 2015 All-Star team and hit 38 home runs and 102 RBIs. He had a -1.5 Wins Above Replacement in three seasons with the Astros before posting a 4.2 WAR in 2014 at 26 years old. He posted a 5.0 WAR in 2015 and 1.8 WAR last season. He had a 1.6 in 56 games with the Tigers before he was traded to Arizona, where he has a 1.1 WAR after 40 games.
By comparison, Grichuk, who turned 26 on Aug. 13, already has a 7.0 career WAR. Piscotty, who will turn 27 in January, has a 0.7 WAR during this disappointing season and a 4.4 WAR so far through his first three seasons. Pham, 29, has a career-high 4.9 WAR this year and a 6.3 WAR over four seasons.
Mozeliak, the Cardinals' president of baseball operations, and Girsch will have a difficult decision when they try to determine which outfielders to trade this winter.
"The question is balancing future projection on performance relative to playing time," Mozeliak said. "Clearly you've seen some exciting things from really everybody involved. But at some point we're going to have to decide who we think our top three outfielders are."
Pham isn't even eligible for arbitration yet, so he's the best bargain in the group even if you don't consider that he's the team's most valuable player this season. Grichuk will be eligible for arbitration this winter. Piscotty is in the first year of his six-year, $33.5 million contract he signed in April.
The Cardinals also have rookie outfielders Jose Martinez and Harrison Bader in the majors now. Veteran center fielder Dexter Fowler, the club's big free agent acquisition last December, has a no-trade clause.
Center fielder Magneuris Sierra, who jumped from Class A Palm Beach to the majors earlier this season, is also on the 40-man roster. He's the best pure defensive outfielder in the organization. Class AAA Memphis outfielder Tyler O'Neill is one of the best power bats in the minors.
"I think when you look at sort of where we are as an organization, you're looking at playing time and how you distribute talent," Mozeliak said. "There's definitely going to be some tough questions that we have to ask ourselves."
Martinez is an extreme example. The Cardinals don't appear in danger of having to release any of their outfield depth. They will gamble, though, and try not to give up a perennial All-Star when they try to acquire much needed bullpen depth this winter.
On July 4, 1998, the Dodgers gave up a corner infielder named Paul Konerko along with lefthanded pitcher Dennys Martinez for closer Jeff Shaw. Konerko hit .219 over 26 games with the Reds, who traded him for Mike Cameron after the 1998 season.
Konerko finished his 18-year career with five All-Star berths and a World Series title over 16 seasons with the White Sox. There are no mulligans when front offices give up on the wrong kids, whether via trade or by failing to add players to the 40-man roster. That much has been evident the past two seasons when the Padres have picked Cardinals minor leaguer pitcher Luis Perdomo and infielder Allen Cordoba in the Rule 5 draft.
"Like I've always told people, you have to get your players right because if you miss it's problematic," Mozeliak said. "It's hard to replace talent that you've missed. You definitely want to get your players right."
Jose de Jesus Ortiz
@OrtizKicks on Twitter