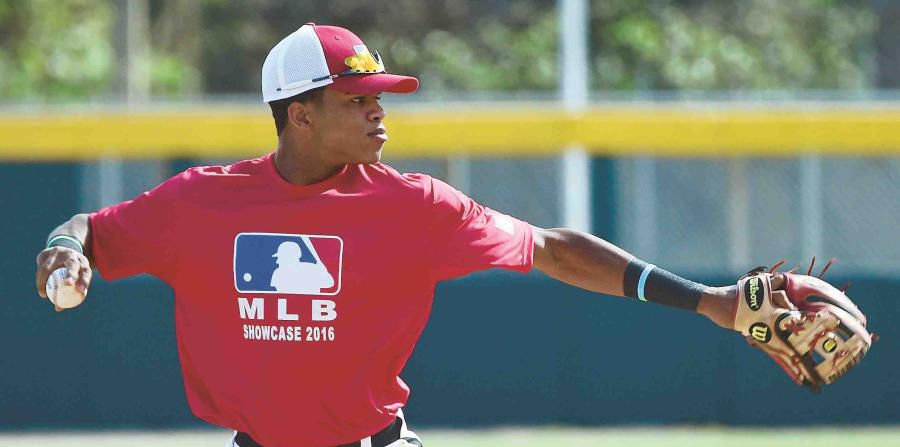 You have to hand it to the Cardinals. They don't care much about public perception. Busch Stadium lost its innocence long ago, and there's hardly anything scouting director Randy Flores can do to sully the franchise quite like his predecessor Chris Correa, the guy who hacked the Astros.
Using a pick that Major League Baseball should have taken away from them for hacking into the Astros' Ground Control database, the Cardinals doubled down by using their first-round selection on Puerto Rican shortstop Delvin Perez, who tested positive for using a performance-enhancing drug.
Fans don't care if their stars are cheating. The Cardinals don't either, especially if the cheat tumbles into their lap and perhaps even at a bargain.
General manager John Mozeliak understood that there would be a mix of reactions to the Cardinals' selection.
"It was certainly something that both Bill (DeWitt Jr.) and I discussed, understanding that there is going to be a reaction to this," Mozeliak said. "Both Bill and I felt that he was a young man, he made a mistake, he recognizes that.
"We have a scout that works for us down in Puerto Rico who knows Mr. Perez well and knows the family and really felt like this was someone who was remorseful for the mistake he made, really believed it was a good opportunity for him to move forward."
Want to know why athletes have a sense of entitlement? Here's just the latest example. If you're talented enough, somebody will take a chance on you. The Cardinals knew that, so they pounced when Perez was available in a slot they never expected when they did their mock drafts before Perez's PED test was reported last week.
It's ultimately all about the pennants. The Cardinals clearly thought Perez was the right selection as the 23rd overall selection of the first round Thursday night.
Only two weeks ago, many baseball scouts thought Perez, 17, was a legitimate top 5-10 prospect in this draft. The slick shortstop then tumbled down the draft board last week after multiple outlets reported that he had tested positive for PEDs.
With a $9,080,700 draft bonus pool to spend on this draft, the Cardinals could be creative and take a gamble on Perez. They might even consider paying Perez below the $2,222,500 bonus slot for the 23rd overall pick.
The savings can be used on one of their lower picks.
"He has lightning quick bat speed, great range, a great arm," Flores said. "He's someone who normally isn't looking at us at 23."
The Cardinals had three picks among the first 34 selections in the 2016 draft, and they desperately need to hit on this draft because they might lose a pick as punishment for their former farm director's crime against the Astros.
Drafting 17-year-olds is a huge gamble even when there aren't any character questions. The risks are even greater, though, when you consider that a player may have been juicing. Flores acknowledged as much Thursday night.
Some will tell you that the Cardinals are a civic trust. The romantics would even try to tell you that children should look up to their beloved Redbirds. That line of thinking is naive.
Nonetheless, you have to wonder what message the Cardinals sent the young fans who are naive enough to believe all their favorite ballplayers are clean.
"I would say that the message is forgiveness and future and a prospect," Flores said. "You look at someone and you acknowledge that we've all made mistakes. I certainly have not been in (Perez's) shoes or his situations or what he thought was going through his mind, but I do know he has a long future ahead of him.
"I'm thrilled that future begins with the Cardinals."
The Cardinals crossed the PED threshold long ago when Mark McGwire juiced his way to the single-season home run record. And when Mozeliak needed a shortstop after the 2013 season, he gave a four-year contract to Jhonny Peralta even though he had just served a 50-game suspension for ties to PED use.
The Cardinals were ripped in some corners for signing Peralta, but that four-year, $53 million contract has paid off. Now they must hope their much smaller gamble on Perez pays off as well.
Interestingly enough, the Cardinals did not make Perez available to the media Thursday night. Mozeliak says they will make him available later when they have a translator. I guess the Cardinals didn't realize the Post-Dispatch hired a bilingual columnist who grew up not far from Flores' Latino enclave in Southern California.
Instead, the Cardinals had conference calls with their second (33 overall) and third (34th) picks — outfielder/first baseman Dylan Carlson, 17, of California's Elk Grove High and Mississippi State righthander Dakota Hudson.
The 6-3, 165-pound Perez is from Puerto Rico's International Baseball Academy. He hopes to be the next Carlos Correa, a fellow Puerto Rican shortstop and 2015 American League Rookie of the Year.
"No doubt, I guess, growing up it's not been easy (for Perez)," Perez's agent Melvin Roman said. "Basically he's had to fight for everything he's had. What he's accomplished is amazing from a small part of Puerto Rico. ...
"This guy's got all the tools, all the necessary tools to become a major league franchise player. I think he's going to be a very high-ceiling franchise player in the future."
Jose de Jesus Ortiz
@OrtizKicks on Twitter