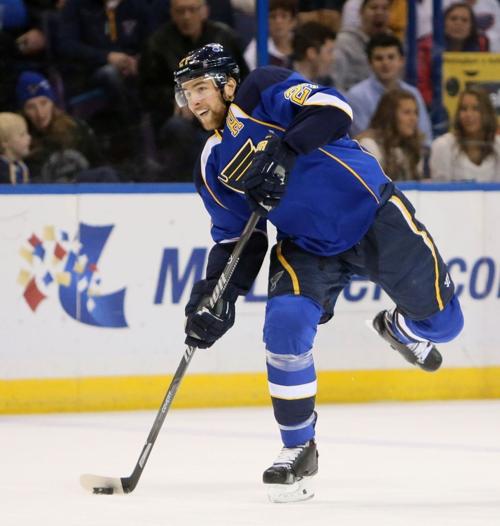 A month ago, Alex Pietrangelo took time out of his wedding preparations in hope of salvaging another dear partnership. He spent several days lobbying Blues captain David Backes to remain in St. Louis.
Pietrangelo and his wife Jayne had become extremely close with David and Kelly Backes, spending countless hours off the ice together. Backes was even in Pietrangelo's wedding party on July 2. Pietrangelo was still in bed the morning after his rehearsal dinner when Backes called him with the news that he was headed to the Bruins.
"When those words came out of his mouth I knew it wasn't going to be what I wanted to hear," Pietrangelo said. "We kind of understood the situation. As much as I wanted him back, life goes on."
Life definitely goes on. The Blues are in search of another captain, and Pietrangelo may be ready to wear the vaunted "C" on his sweater this year.
Pietrangelo, 26, and Alexander Steen are the two most likely candidates to be picked by coach Ken Hitchcock and general manager Doug Armstrong as the 22nd captain in Blues history.
Pietrangelo, the Blues' top defenseman, and Steen served as alternate captains last season. They are both respected leaders capable of taking over the captain's role.
"He was an assistant captain at a young age and he has leadership qualities that we've seen," Armstrong said of Pietrangelo. "As he gets more and more comfortable in the leadership role he's certainly growing into an elite player that has a presence on the ice."
When they sit down to determine the next Blues captain, Armstrong and Hitchcock will look for a player who has a presence on the ice and a level of play that reflects his stature in the league.
An NHL captain is expected to lead beyond the ice rink and dressing room. Armstrong also notes that captains are expected to bring the families on the team together.
"Each one is different and each organization is different," Armstrong said. "I think what makes a team strong and close on the ice is one that is strong and close off the ice."
Backes succeeded tremendously well in that regard. So has Pietrangelo. He had a front-row seat for Backes' reign as captain. He watched him closely and helped him lead on and off the ice. They became more than teammates, which is why the smooth and usually composed 6-foot-3, 210-pounder from King City, Ontario, Canada, began crying when Backes left his wedding late on July 2.
With many of their St. Louis friends at the party, Kelly Backes was overcome with emotion as she left the reception hall that night.
"She was crying and I think I started to tear up talking to her because she couldn't keep her emotions back," Pietrangelo said. "Then my mom came out and my mom was crying.
"It was after a couple of wedding cocktails so I'm sure we were more emotional than we normally are. But I think for them being here for as long as they were and being so emotionally attached to the city was tough for them."
Backes is clearly moving on quite well. He threw the ceremonial first pitch before the Red Sox played Thursday at Boston's famed Fenway Park.
Pietrangelo feigned jealousy while noting how his good friend has already thrown ceremonial first pitches at Busch Stadium and Fenway Park. Pietrangelo would love the opportunity to throw a first pitch before a Cardinals game.
Sounding like a man who has definitely embraced his wife's St. Louis roots, he even boasts that his pitch would be a perfect curveball for a strike.
An offspeed pitch would definitely suit his style. Pietrangelo isn't a bruiser. He's smooth and calculated while almost quietly shutting down some of the best forwards in the NHL on a consistent basis.
He's not prone to emotional outbursts. He's tremendously accessible to the media. The few times he has declined to speak to the media after games, he said, it has been because he didn't want to say something that would get him in trouble at a time of frustration.
He describes himself as friendly, energetic and laid back at the same time.
"I give everybody the benefit of the doubt," he said. "I don't really stress on too many things. If something negative happens I push it to the side, learn from it and move on. I do the same thing in life.
"What do I have to stress about? The hockey side of my personality translates on the ice and off the ice, but I know when to flip that switch. And when it comes to my work and it comes to my job, I know how to take it seriously. I know when things need to be said. Sometimes it's uncomfortable to say the things that nobody else wants to say, but I have that in me where I can stand up and be vocal and say the things that nobody wants to say."
More importantly, he realizes the weight of the captain's role and would appreciate the honor.
"Yeah, I would welcome the responsibility," he said. "I think being so close with Dave over the five years he was captain, I've learned a lot from him just kind of sitting back and seeing how he operates on a daily basis. Not only on the ice but off the ice, which is a big part of it trying to keep the locker room together and doing the off-ice stuff.
"He was always trying to help me through that. I think he knew this opportunity might come some day for me. He was always willing to answer my questions, and I was always eager to ask him. So if there is a guy that I was lucky to learn from, it was him. Being such good friends of his made it that much easier."
Jose de Jesus Ortiz
@OrtizKicks on Twitter