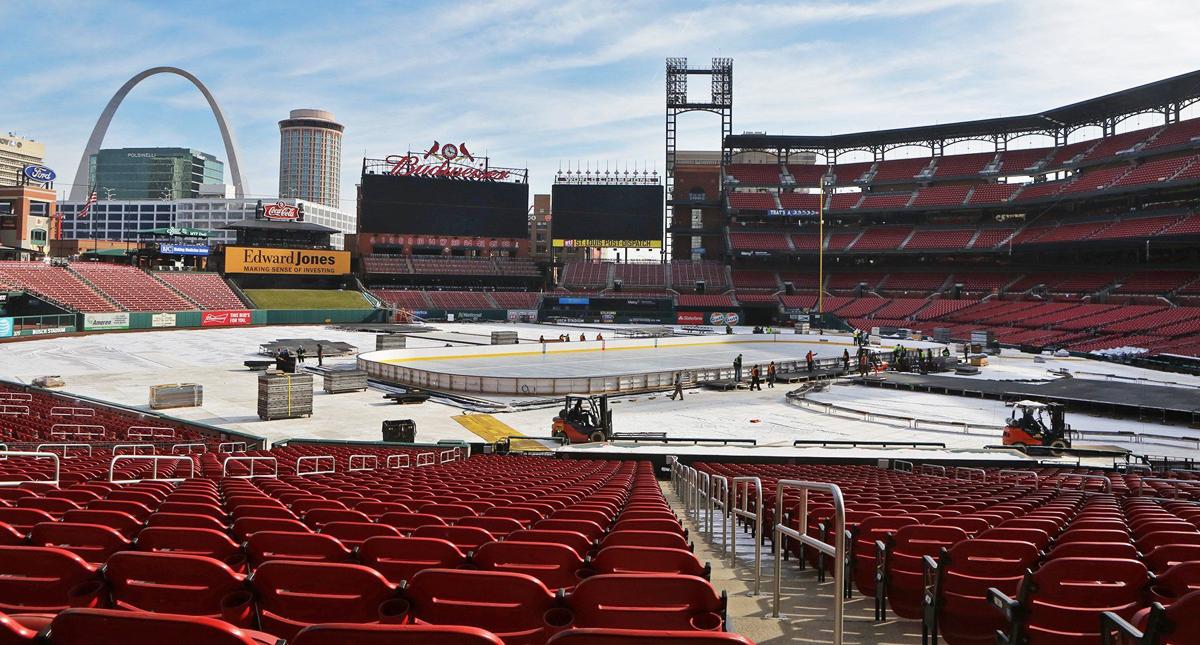 In case you needed it, the Winter Classic at Busch Stadium between the Blues and Blackhawks will expose the faulty logic that has been peddled recently by those folks claiming St. Louis needs a Major League Soccer franchise to be a major-league town.
You can debate the merits of doling out welfare for billionaire and millionaire sports franchise owners if you must. I would argue that the SC STL ownership group and MLS have pushed their proposal for public funding with faulty figures and must lower their request from taxpayers now that MLS has said the expansion fee will be $150 million instead of the $200 million estimate they outlined in their request.
We'll have more time to question SC STL and MLS officials in the next three months. For now, though, there's no denying that Missouri Gov. Jay Nixon doesn't give St. Louis enough credit when he portrays the SC STL public funding debate as one in which citizens must decide if they want this town to be a major-league one.
"This is that moment," Nixon told several of my Post-Dispatch colleagues Friday. "Does St. Louis want to be major league or not?"
With all due respect, Governor, such a statement deserves to be ruled as an E1 — error by the pitcher. With a thriving NHL franchise in the Blues and a perennial baseball power in the Cardinals, St. Louis has more than enough star power to rank as a major-league town.
St. Louis is far from perfect, but the issues that might make you wonder about the town have nothing to do with what we cover in the sports pages. The surging crime and infrastructure issues are much greater concerns in the community than our sports franchises.
Born and raised in Los Angeles, I've been blessed to have lived and worked as a journalist in some of the biggest and best cities in America — Los Angeles, New York and Houston.
All three of those cities have MLS franchises, including some of the winningest teams in MLS history — the Houston Dynamo and LA Galaxy.
Yet, when you think of Los Angeles, New York and Houston as major-league sports cities, you think of the Dodgers, Lakers, Clippers and Kings; Yankees, Mets, Knicks, Giants, Jets, Islanders and Rangers; and Astros, Rockets and Texans.
Even the most casual sports fan in America can tell you where the Dodgers, Astros and Mets play, just as any casual sports fan can tell you that the Cardinals play in St. Louis.
The football Cardinals play in Arizona, but the 11-time World Series champion St. Louis Cardinals are the ones most of America thinks about when you mention the Cardinals. Do you know where the Red Bulls play? Did you know where Chivas USA played before it folded? Do you know where the Timbers, Real Salt Lake, Sounders or Crew play?
It's totally understandable that some local fans are still upset that Stan Kroenke moved the Rams to Los Angeles. Losing the NFL was a definite blow to the city, but a strong Cardinals and Blues duo makes this among the top sports markets in America.
If you have any doubts about St. Louis' place as a big time major-league town, drive down to Busch Stadium over the next week. Take a picture in front of the Stan Musial statue, where you can also capture the Winter Classic banner with the Blackhawks logo on the left side and Blues logo on the right on the facade atop the third-base entrance.
The Musial statue is a reminder that St. Louis has been a great major-league city since before anybody bothered to anoint the top American soccer league as Major League Soccer. The 11 World Series pennants, including the last two from 2006 and 2011, will remind you that there aren't many major-league sports towns that can be considered more worthy of being called major-league than St. Louis.
Equally impressive, the Blues are only the ninth team to be deemed worthy of playing host to a Winter Classic. In a testament to the Blues' popularity and the game's status among the jewel events in professional sports, the tickets sold out quickly.
"It means that we're getting some attention," Blues captain Alex Pietrangelo said. "We've been a good team for a lot of years, so I think we've earned it. Now with the Rams being gone, with the way the Blues and Cardinals have joined together to work with the city and work together with our fan bases, I think it goes to show that partnership that we have.
"A lot of us in here being Cardinals fans, we love going to the stadium to watch ballgames, so this is pretty cool for us. This is a pretty cool opportunity for us to play in their stadium and be in their shoes."
Say what you want about the other issues that confront the city's leaders, but there's no doubt that the Cardinals and Blues long ago assured St. Louis' status as a major-league city.
I'm an outsider, which is why I approached Chaminade graduate Paul Stastny of the Blues to ask him what the Winter Classic at Busch Stadium meant about his hometown.
"It's something we've known since I've been here, since I grew up here, how big of a sports town, how the city supports the sporting events around," Stastny said. "And the sporting events thrive off the support of the community. It's always felt a lot bigger town than it is.
"I think you've seen it with baseball and you've felt it with hockey for so long. To see the Winter Classic here, it finally shows on the map the recognition nationally that St. Louis is more than just the Gateway to the West. It is a sports town. It is one giant community that kind of wants everyone to do well. Whether it's in sports or whether it's away from sports, everybody is kind of united as one."
Jose de Jesus Ortiz
@OrtizKicks on Twitter