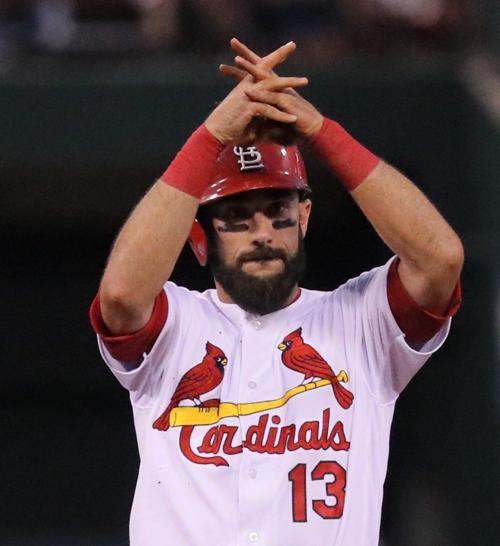 Tired of sputtering along, Yadier Molina and Adam Wainwright moved to re-establish order. On the Cardinals last road trip, they summoned their teammates to The Precinct, a high-end steakhouse.
To appreciate the Cardinals' recent surge and their newfound belief in each other, it helps to understand what transpired at a former Cincinnati police patrol house on Aug. 3.
That's the night Molina, Wainwright, Matt Carpenter and a few other veterans dropped the law on their teammates and pulled them into a more united team.
"The message that was given both by me and collectively from everybody was that if we're going to win this thing we're going to have to do it together," Carpenter said. "That's why you see the new rallying cry that's happening."
In case you're wondering, the Cardinals' new rally cry is a two-handed gesture. The players execute it in their teammates' direction after clutch hits and runs. They lift their hands near their heads and then interlock and unlock their fingers as they bring their hands together and squeeze multiple times, symbolizing team unity.
Carpenter did the gesture after leading off the first with a bunt single and reaching second on an error by the pitcher on Saturday. Wainwright and Jedd Gyorko could be seen in the dugout doing the gesture after Dexter Fowler hit an RBI single to right to drive in Carpenter.
"When guys are doing this that means we're going to do this together," Carpenter said. "We've kind of gone around as a group and came together on that term, and it's shown in the way we've played."
As they headed to another loss in a day game on Aug. 3 in Milwaukee, Molina approached Wainwright in the visitors' dugout at Miller Park to ask if they should hold a players-only team dinner that evening when the team got to Cincinnati. At that point they were 53-55 and 4 1/2 games behind the NL Central-leading Cubs, now they're virtually tied for first and just a percentage point behind.
"That was a big turning point for us," Wainwright said. "A couple times a year a winning team has show dinners where they get together and kind of have a state of the union (and say) 'All right, what do we do? What do we need to do? And let's make a plan and freaking do it, not just talk about it.'
"We got a lot of things out in the open. We had some really great honest talk. We had some guys pour their hearts out that we'd never seen do that before. It was just great, top to bottom. Guys left there with a sense of confidence that I hadn't seen in years around here and a sense of purpose and some togetherness that was just off the charts. In my mind that's translated."
It's no secret that the Cardinals weren't the most unified bunch last year. It's quite telling, though, when a two-time World Series champion such as Wainwright concedes that the team found a confidence that had been missing for a while.
Over expensive steaks and a soda or two for nearly three hours, the Cardinals remained at The Precinct late into that night.
The Cardinals dropped the series opener against the Reds the next day 3-2, but the mood was different. It was better, more optimistic and resilient.
"We were down early but we felt like we were going to come back and win that game for the first time maybe all year," Wainwright said. "The next day obviously we won and the next day after that. And every game since, we've taken off."
Until their current season-high eight-game winning streak, it's not an exaggeration to say that the Cardinals' season was defined by the different ways they found to lose games.
Since that visit to The Precinct, though, they've grown confident that they'll find a way to win regardless of the score.
"We definitely turned the corner from a confidence standpoint," Carpenter said. "We go out every day and as soon as we get to this ballpark we have a good vibe going. It's not like we're going to win every day. But when you come to the ballpark when you're not who you think you should be, it's not that you don't think you're going to win, but you fall into that trap that when things get ugly you're like, 'Oh, here we go again.'
"One thing that this team's done a really good job of is even though we've had stretches of that we never gave up on this group. We've been written off by a lot of people — fans and media included. But this group never really gave up on each other. I think what we're seeing is a group that's finally figured out who we are. And we're showing up with a fire and an expectation to win games."
Wainwright and Carpenter couldn't exactly remember whether it was Molina's or Fowler's grand slam, but he remembers Carpenter approaching him after a recent grand slam to say that the Cardinals would have been the team that gave up the crushing grand slam to lose a month ago.
It's much easier to believe in your team when you know you and your teammates have put the team's success above individual glory. That hasn't always been the feeling this season in the clubhouse.
"It was really heartfelt what the guys were saying," Randal Grichuk said. "It kind of sparked us up in the sense of playing for one another, playing with one another and just doing it for the guys in this clubhouse every day.
"It's about doing it for the older guys who haven't made the postseason or haven't been able to make a World Series run that have had great careers and for the young guys that haven't been in the playoffs and don't know what it's like. We all got together and it was a powerful night."
Jose de Jesus Ortiz
@OrtizKicks on Twitter