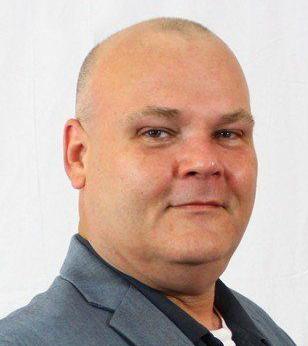 It could be a reality television program. And the latest episode of the saga that has been percolating all year centers on a group assembled by John Hadley.
Hadley, who has had various managerial titles in addition to an on-air role in his 3½ years at the mostly-sports radio station, said he has put together "a group of guys who are young and enthusiastic and want to get after this."
Randy Markel, owner of KFNS (590 AM), said this week that his talks are advanced with Hadley's organization.
"They would take over immediately, once the deal is signed," Markel said. "But we've been there before."
That's in reference to numerous deals that seemed to be close, but never finalized, in the nearly five years Markel has owned KFNS. He has had major flirtations just this year with two Metro East businessmen as well as a group convened by Tim McKernan, co-host and owner of the the station's morning drive-time show. There also have been significant talks with others. Now …
"A deal has been agreed to in principal" with Hadley and company, Markel said. "Hopefully we can get it signed next week."
Hadley, in his off-air role, has been involved in Markel's negotiations with some of the other suitors. He insisted that "this deal will be finalized … it is not like anything in the past" with KFNS. "And this is coming from a very conservative guy."
He compares the status of his team's bid to a sports trade being agreed to merely pending the athlete passing a physical exam.
No O. Pinion
Hadley said that his group would return the station to the sports-intensive format that is its roots, which it has veered away from at times in recent years.
"I can tell you unequivocally there will be changes," Hadley said.
A key move already is pending, one that strongly indicates a deal finally seems to be imminent. Frank O. Pinion, owner and lead host of the station's "Large Morning Show in the Afternoon" program, announced Thursday that its final installment at KFNS will be on Oct. 29.
The entertainment/general chit-chat program has been a fixture in 590's Monday-Thursday 3-6 p.m. slot for three years, and Pinion said on the air that there are no hard feelings about the run ending.
"There is no bad blood, no arguments," he said and added that Markel has lived up to every term they have had in writing. He also praised Markel for allowing the show to remain on the air for two more weeks.
"You almost never get two weeks to say goodbye," said Pinion, who added that he was offered a different time slot but it would not work for him. He also said he hopes to move the show elsewhere.
Who is next?
There are several logical replacements who are well-established in the market and are, or soon will be, available — Bernie Mikasz, Steve Savard and Chris Hrabe. And a new KFNS schedule, if the sale is completed, could include more than one of those. Hadley said the lineup "from noon on" is in play.
"But everyone on the air now will have an opportunity to stay in some capacity," he said.
Miklasz, a longtime Post-Dispatch sports columnist, spent many years moonlighting in broadcasting then made the full-time move to radio 5½ years ago when he went to KFNS competitor WXOS (101.1 FM).
But that station fired him in May, part of a company-wide series of layoffs attributed to the coronavirus-fueled economic slowdown. A clause in his contract prevents him from working on a competing station, a provision that is expected to expire in early November.
Savard, a former longtime sports director at KMOV who also was the Rams' radio play-by-play announcer for their final 16 seasons in St. Louis, moved to a lead news anchoring position at Channel 4 seven years ago. But he was fired last month, like Miklasz was last spring, because of what was said to be virus-caused financial reasons.
He has appeared many times on sports-talk radio shows over the years and would seem to be a good fit, though it is believed he would not be able to until at least early December because of contractual reasons with KMOV.
And Hrabe, formerly of KMOX (1120 AM), does a solid job as a sport-talk host and is working part-time now for Cardinals TV play-by-play broadcaster Dan McLaughlin's website (www.scoopswithdannymac.com).
The bottom line
The purchase price is believed to be about $500,000, the same figure Markel wanted from McKernan's group. McKernan declined comment.
Markel said he would be selling the station's signal, studios and transmitters. He would keep the property on which the towers are located and rent that real estate to the new owners.
Meanwhile, Hadley made it clear he is not acting alone, but would run day-to-day operations.
"I'm just leading a group of guys," he said. "It will be interesting for sure."
Be the first to know
Get local news delivered to your inbox!