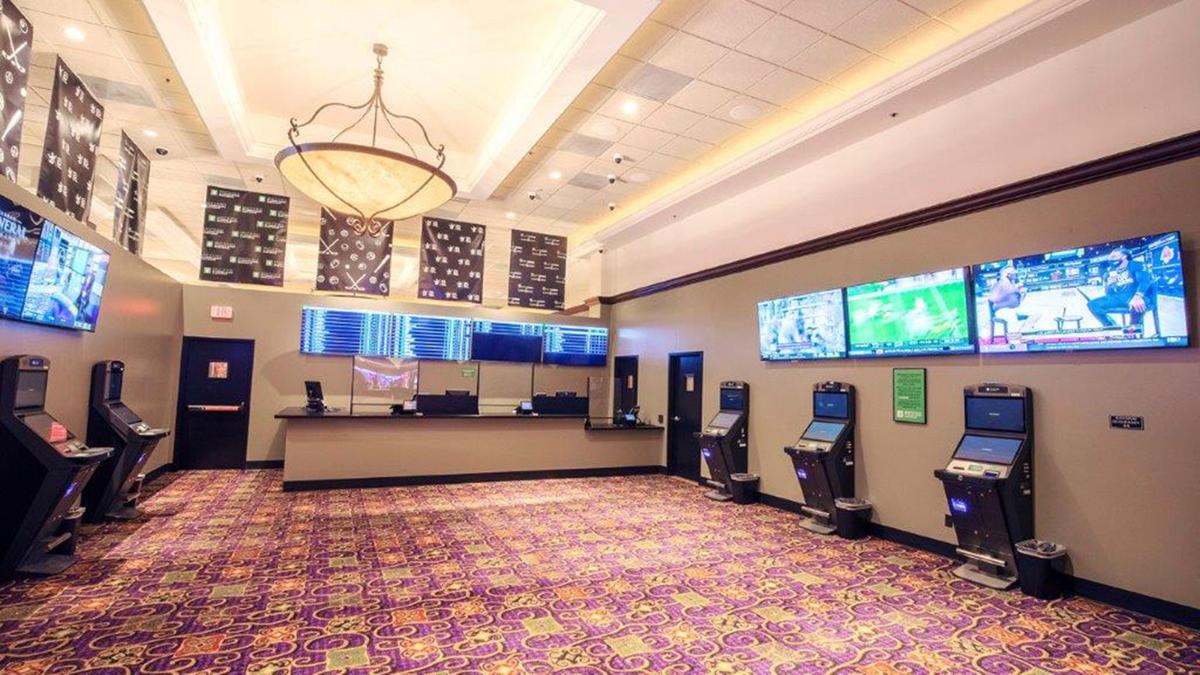 It's Mardi Gras, St. Patrick's Day and New Year's Eve all rolled into about a 3½-hour jubilee of fun, food, drink — and excess.
Super Bowl Sunday is unlike any other day in America, a de facto national holiday that draws the largest television audience of the year, is celebrated with festivities across the land and for decades has been the most-wagered game annually in Nevada's legal sports books, with countless millions of dollars clandestinely bet elsewhere.
This weekend the Big Game betting bonanza makes its debut in the St. Louis market, as the first two legal sportsbooks in the area are open for business — and, in fact, have been taking bets on the contest since the matchup was set on Jan. 24.
But the parties at Argosy Casino in Alton and DraftKings at Casino Queen in East St. Louis will be subdued compared to what would be expected under normal conditions. Because of government-mandated coronavirus restrictions, both facilities will be operating at well less than normal capacity.
"Unfortunately we can't do what we'd like to do," DraftKings-Queen general manger Mitch Johnson said.
Nonetheless, both are ready for a bustling weekend at the windows leading to the game, at 5:30 p.m. Sunday when the Kansas City Chiefs play at the Tampa Bay Buccaneers.
"We expect strong business on Saturday and Sunday," Johnson said, adding that's when "some sizeable bets" are expected. "The biggest ones will come right before the game."
The vast majority of wagers the Queen books comes through its mobile/online business, in which customers can wager if they are anywhere in Illinois. Bettors don't have to live in the state, just be present.
The Alton facility does not have mobile betting, though spokesman Michael Barker said it is expected to be in place before the NCAA Tournament — another usual boom for sportsbooks — begins in about six weeks.
So Argosy relies solely on in-person wagering for the time being, and Barker acknowledges traffic has been slow since the local Illinois casinos reopened a couple weeks ago after a lengthy shutdown because the virus had accelerated. That was the second closure because of the pandemic, and Barker said business was stronger the last time betting resumed because circumstances were different.
"It was great reception for the NBA when we reopened, when you could eat and drink inside," he said, something that was not permitted when operations recently returned. But those restrictions have been eased beginning Friday — just in time for Super Bowl weekend. The flowing of food and drink is expected to boost business, though capacity is limited to 50% of the normal number. About 100 customers will be allowed in the sportsbook area.
The Queen's book was not yet operational for the first casino closure.
If you go
Argosy's set-up currently is more conducive to staying to watch the contest, and make in-game wagers, than is the Queen's. There are seating areas and big-screen TVs, as well as betting windows and wagering kiosks, in the Alton casino.
The Queen's book is smaller, with no seating area. It's designed more for those who want to place some bets, put the tickets in their pockets and watch the game elsewhere.
But this is only a temporary situation, Johnson said. More betting kiosks are to be added before the NCAA Tournament begins, then by next football season a vastly expanded sportsbook will be operating — with stadium seating, big television screens and a VIP area. New restaurants also are planned for the facility.
"It will be first class," he said.
Options galore
The Super Bowl provides a vast cornucopia of betting options, from the traditional point spread and over-under offering, in which gamblers can wager whether the teams will combined to score more or less than a designated number of points.
The spread late Thursday afternoon showed the value of shopping around. In Alton, the Chiefs were favored by 3½ points; in East St. Louis the line was 3. So if you like the Chiefs, you would have been better off making that bet at the Queen. If you want the Bucs, Alton would have been your place. The over/under was 56 at both. Lines can change frequently based on betting trends.
There are hundreds of other choices, such as whether a field-goal or extra-point attempt will hit a crossbar or an upright, will any scoring drive take less time than the national anthem and will an offensive lineman score a touchdown. And both books will offer a galore of in-game wagering, a relatively new concept in sports betting, in which the odds on many situations are adjusted as play progresses.
Given the proximity of Kansas City to the St. Louis market, and the fact almost all the Chiefs' games are on local TV and radio, it would seem logical that recreational bettors would back that team at the windows.
That has been happening at the Queen.
"The early money has been on Kansas City and the over," Johnson said.
But that hasn't been the case as much in Alton.
"It's been a little more even for both sides than we thought," Barker said. "We expected more on Kansas City, but there is that (Tom) Brady factor" with Tampa Bay.
Early birds
The best advice for those wanting to get a few bucks down on the game is to do so as soon as possible.
The combination of expected heavy volume of wagering plus the fact that many bettors figure to be novices at the windows and kiosks can combine for lengthy and frustrating delays. Showing up at 5 o'clock Sunday with the expectation of getting down a bunch of prop bets is a likely formula to get shut out.
''The big thing is (we hope) people will try to get in early," Barker said. "Hopefully everyone won't wait until game time."