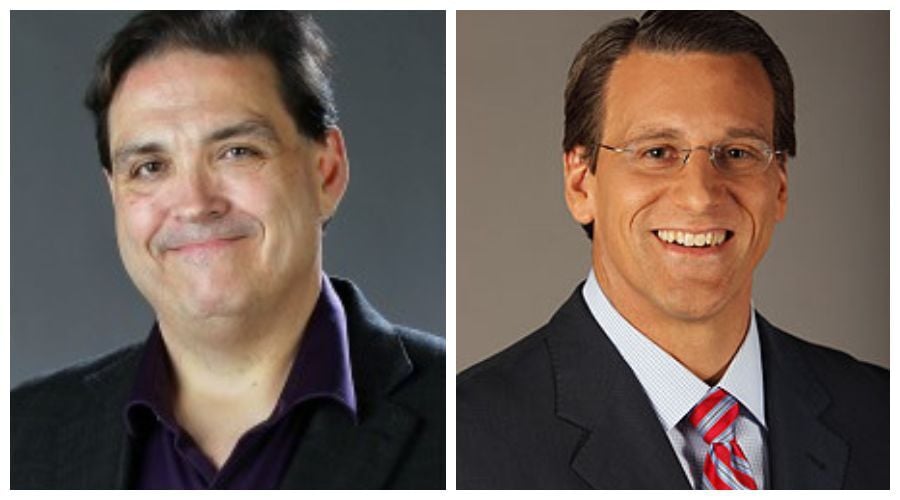 Bernie's back. And "Seve" is on his way.
Bernie Miklasz and Steve Savard, major St. Louis media figures who lost high-profile broadcasting jobs this year because of what was said to be coronavirus-fueled economic downturns at their stations, are set to return to the local airwaves to jabber about sports on KFNS (590 AM) and give the station a roster of big-name sportscasters.
Miklasz is the former Post-Dispatch sports columnist who moved full-time into radio in 2015 but was dropped from his sports-talk show at WXOS (101.1 FM) in May. Savard, longtime sports director at KMOV (Channel 4) before becoming a lead news anchor there seven years ago, was jettisoned in September. He also was the Rams' radio play-by-play voice for their last 16 seasons in St. Louis.
Now they are bouncing back after having had to sit out for a period because of "non-compete" clauses in previous contracts.
John Hadley, who is running KFNS operations while a group he has assembled is in the process of buying the station, said "The Bernie Show" will air from 3-6 p.m. weekdays starting Monday. Then beginning Jan. 4, "Middays with Seve" will occupy the 1-3 weekday slot. (Seve, pronounced "Sevvy," is the nickname given to Savard by Rams broadcast partner Jack Snow.)
The arrival of those two will bolster the lineup of a station that already has well-known St. Louis sportscasters in place. Tim McKernan and Doug Vaughn are featured with others from 7-10 a.m., Frank Cusumano follows until noon then Cam Janssen and Charlie Marlow are on for an hour before Savard eventually begins at 1 p.m., leading into Miklasz, who also will be writing for Cardinals broadcaster Dan McLaughlin's website (https://www.scoopswithdannymac.com). Charlie "Tuna" Edwards is on  in the evening.
Out in the afternoons will be a show that primarily features Hadley with others, as well as national programming that has been airing since Frank O. Pinion's entertainment show was canceled in October to clear the way for KFNS to return to its sports-intensive roots.
To reach that goal, Hadley said he is "firing the weakest link on the air. I had a conversation with him, said, 'You're gone!'"
He was referring to himself, as he has had a considerable amount of airtime recently. But he is expected to join Miklasz at times.
Big goals
Hadley is proud of the lineup he has gathered and indicated that the goal is to not only be stronger than WXOS (101.1 FM), the market's other full-time sports station and the longtime local leader in that genre, but also AM stations that have a considerable sports presence — KMOX (1120 AM) and KTRS (550 AM).
"I don't look at it like it is a one-on-one battle with 101, I look at it as we have the most (sports) talent since the big days of KMOX," Hadley said.
In the 1970s, KMOX's powerhouse roster included Jack Buck, Dan Kelly, Bob Costas, Bob Starr, Bill Wilkerson and Gary Bender, among others.
"I'll take this group against any that has been on the air" since then, Hadley said. "The one thing I wanted to do was give this company, this station, a chance to compete on its merits, on its talents."
Hometown discount
Hadley said he is a minor investor in a group that will end up with four or five others by the time the transaction to purchase the station from Randy Markel is complete. A lease arrangement is in the works to take effect before the sale is finalized.
Hadley, 59, said he considers this his "last chance" to build a powerhouse lineup that honors the tradition that dates to the late 1990s when KFNS was in its heyday under an ownership group led by Greg Marecek before eventually crashing under other owners until Markel pulled it out of bankruptcy five years ago.
"I want to finish it for Greg and his guys," Hadley said. (The rescue mission) Randy started, he and I are finishing."
But in an era of significantly declining revenue for most forms of traditional media that was being felt hard even before COVID-19 hit, how can the incoming KFNS owners afford these broadcasters?
"They've all given a legitimate hometown discount," Hadley said. "If these guys hadn't done it, this wouldn't have happened. But this makes us first class. These guys want to get after it. Nobody is trying to be the top dog, nobody is worried about what anybody else is making. Every one of this guys is here because they want to be here."
Miklasz, who at 101 worked for a national company (Hubbard Radio), said he was willing to make financial concessions to help local owners get going.
"Unlike other potential employers who who tended to make promises they couldn't keep, Hadley was realistic and honest about what they could do for me," Miklasz said. "The economy is bad, and I wasn't looking to break the bank. But Hadley didn't try to exploit the situation by making a ridiculous, low-ball offer. I was enthusiastic about working with him to reach a fair deal for both sides. . . . The trust factor meant a lot to me. . . . Local ownership appeals to me. Local ownership is investing more than money. . . . The personal investment is meaningful."
It is debatable how long this lineup will stay in place, until the proverbial greener pastures blossom for guys used to commanding considerable salaries. But the lineup is strong for the immediate future.
"I don't know," Hadley said when asked about the long term. "But the odds are pretty good now in Vegas."
• • • • • • • • • • • • • • • • • • • • • • • • • • • • • • • • • • • • • • • • • • • • • • • • • • • • • • •
Questions and answers with Miklasz
Bernie Miklasz discusses his situation in a Q&A format with the Post-Dispatch:
Question: In a nutshell, what were the last seven months like?
Answer: "Strange. For the first time in many decades, I wasn't working. I had no job to go to, no job to prepare for. And because of the COVID-19 risk, I stayed home. . . . I was the big boy in the bubble. And I had an audience of one: my wife, Kirsten. She got tired of me bloviating about the hot topics of the day, and I don't blame her. I think our five cats got sick of me, too. It's like, 'Dude go find something to do.'"
Q: Did you have any anxiety about being out of work, and getting another job?
A: "Yes and no. I knew I'd find a job, because I heard from several potential employers who were pretty fired up. But I didn't take anything for granted. No way. Not with media companies slashing costs and laying people off. If you're running a radio station or another media entity these days, the last thing you want to do is submit a big, aggressive and expensive plan to your corporate bosses. That's a good way to get slapped around. So nothing was assured. And I'm a worrier by nature.
"I had a few uneasy moments. I never felt sorry for myself, though. The extreme damage caused by this pandemic has shattered too many lives and careers. I never lost perspective. I had to handle some career adversity for the first time, but this was a much lesser challenge than many of my fellow citizens had to deal with. So there was no reason for me to wallow in self pity. And it all worked out. If anything the result exceeded my realistic expectations."
Q: How much did you miss not being on the air or in print?
A: "This answer may surprise people, but other than being bored at times I didn't miss it at all. I love what I do for a living and look forward to returning. But I'm basically a maniac when I'm working, and after grinding like mad for 40 years, it was good for me to unplug and get a break from the pressure.
"I used the time off to reflect on changes I need to make going forward. Specifically, I have to stop stressing over things I can't control. I need to focus on the positives rather than obsess over relatively minor annoyances that are common in all workplaces. It's fine for me to be intense about my own work. But it's not cool to let it affect my mood in a way that makes co-workers uncomfortable. Again, this is a matter of perspective. After 40 years in a crazy business, I'm truly fortunate to still make a good living as a broadcaster and writer. It's all I ever wanted to do. So I have no reason to be sour."
Q: Now that the old job is more than half a year in the rear-view mirror, how do you look back on your run at 101 and also the way your exit was handled?
A: "Other than using my time off to give considerable thought about how I can be better at my job, there isn't much value in looking back. I'm looking forward. I have no hard feelings about 101 ESPN. And I'll always appreciate John Kijowski for giving me the opportunity to create the first local morning-drive show in the station's history. I think we did well. I was paid well, and treated well. So why not appreciate the positives?"
Q: What are your plans for the new show?
A: "Hell if I know. Seriously, there's a lot moving pieces. New show, new ownership, new routine, new studio setup, new teammates for me — and we're doing all of this in the middle of a pandemic. We haven't had time to plan things, and that's OK. Everyone at KFNS is welcoming and supportive. I have a lot to say on the air, and will never run short on opinions, analysis, good stories to tell. It's just a matter of finding a rhythm. And I'm determined to have a lot of fun."
Q: How long do you think it will take to get "back into the game," and also to build it to where you want it to be?
A: "After so much down time I'm sure I'll be rusty. That's inevitable. I'll need some time to get used to working with some really talented and capable people, and we'll get it rolling."
Q: Back in the Post-Dispatch days you had some memorable interactions with those you were writing about, especially Tony La Russa, from your time covering teams. You got away from going to press boxes/locker rooms while at 101. Moving forward, how important do you think it is to be on site, and do you plan to be in the press box/locker rooms — when locker rooms open again after the pandemic?
A: "I missed being at ballparks and arenas but it was hard to establish an on-scene presence when work required me to set my alarm at 2:30 in the morning (for a show that began at 7 a.m.) And I was writing columns after my show. By six o'clock at night, I was wiped out. But I'll have more opportunities to be on site now. And I think that's important. It's overrated, but important."
Q: How do you see the state of STL sports now?
A: "I don't know how to answer that. So much is uncertain because of the pandemic. When will fans be allowed to go to games? And how many fans? When will the NHL restart? Will MLB have a normal schedule? Too much is up in the air. The Blues and Cardinals should be good — but perhaps not good enough to please everyone. I'm fired up about Coach Drinkwitz and the future of Mizzou football. And it should be a very strong season, locally, for college basketball. SLU, Mizzou and Illinois are impressive."