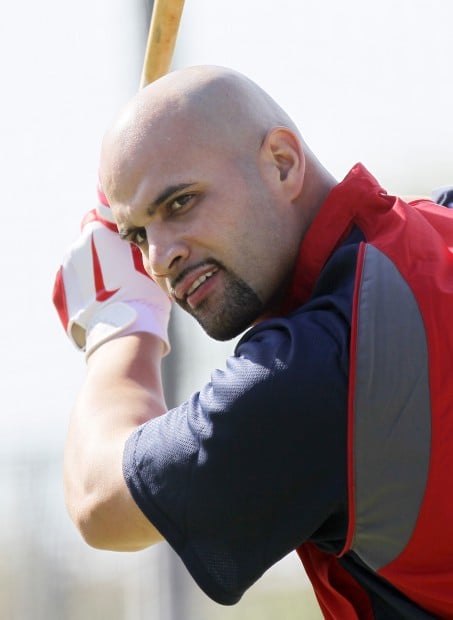 QUESTION: Many players put up big numbers in the walk year of their contract. Do you foresee Albert Pujols putting up even bigger numbers this season with free agency pending, or with Pujols' numbers being so consistent across the board from year to year, do you see him having a typical Albert year?
Pujols is hardwired for consistent, prolific production. He doesn't require extra motivation to excel. Health permitting, he'll reach his customary standards. From a bulk-numbers standpoint, he'll deliver more RBIs if the No. 1 and No. 2 lineup spots do a better job of reaching base. And he'll score more runs if the No. 5 lineup spot cranks out timely hits.
If anything, the unsettled contract will work against Pujols. Not that he is ever bad – hardly – but his numbers tend to dip when he overreaches and tries to do too much. When that happens, Pujols loses his plate discipline by chasing pitches he normally ignores. As long as he doesn't expand his strike zone too frequently, Pujols will rank top five in all three Triple Crown categories – in addition to his usual robust OPS+.
I don't expect pending free agency to influence Pujols' numbers one way or another. If healthy, expect a .331 average, 118 runs, 40 home runs, 123 RBI and perhaps 10-12 steals to go with a 1.050 OPS. By the way, except for the stolen base projection, those figures represent the season averages of No. 5's 10-year career.
In the days leading up to the "deadline," a few folks around the ballpark each day wondered what a walk-year bounce would mean for Albert Pujols. Would the lure of free agency and the subconscious surge of motivation – Tony La Russa calls it "that human nature" – mean Pujols would get his first 50 homer season? Would he flirt with .400? What kind of ludicrous stats could be possible in a walk year for a hitter already projected, in some stat models, to contend for a Triple Crown in 2011. "It would be fun to see what's possible," one teammate said. Alas, the walk-year effect is an urban legend. For a story that ran in the Post-Dispatch the day after the deadline, I looked into the "walk year phenomenon". Mostly it's an anecdotal event. Fans remember Adrian Beltre's two big walk-year productions and forget that he played in spacious Safeco Field in between them. There isn't too much talk about Derek Jeter wilting in his walk year last summer, instead the coverage is about his age. For every Beltre there's a Jeter. For every Jack Clark or Kyle Lohse, there's a Terry Pendleton and Jeff Fassero. FOX Sports baseball columnist Dayn Perry did a study for Baseball Prospectus and found a slight bump in walk years from prominent free agents. Other studies have pulled from larger pools to learn there is no walk-year factor, and those studies include one the Cardinals did on a whim a few years ago. As mentioned in the story for the P-D, Pujols has had the best 10-year start to a career in baseball history and has already won a Decade Triple Crown in the National League. If he "puts up big numbers" in his walk year, how could you tell the difference from any other year?
Albert is Albert. It is hard to imagine him putting up better-than-usual numbers because his production is always so good. I figure he'll be strong in the Triple Crown categories, as usual, and perhaps enjoy a RBI spike given the potentially better Cardinals offense. I expect the Cards to do a much better job hitting in front of him this season – and the presence of Berkman hitting fifth will help him as well.
LARRY BOROWSKY (Founder of Viva El Birdos and editor of "Maple Street Press Cardinals Annual")
Albert has always had all the motivation he ever needed – intense pride, deep religious conviction, and a relentless desire to win. This helps to explain why his numbers in an average year are still better than most players' walk-year peaks. I don't believe the new contract will provide much (if anything) in the way of extra incentive.