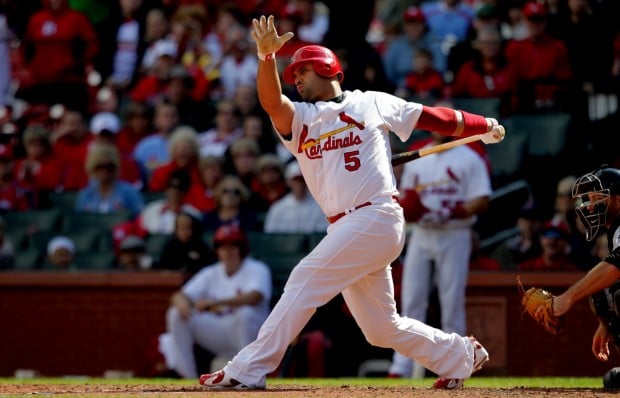 QUESTION: What do you think the chances are that the Cardinals will have Albert Pujols signed to a new contract before the players report to spring training?
The chances are better that they will have him signed than they won't. All along there seemed to be mutual momentum for substantial talks this winter, specifically this month in the lead-up to the Winter Warm-Up. The timing just made sense. This paper has been consistent in its reporting of that timetable.
The biggest pothole that would keep a deal from getting done this winter is if Pujols (or those close to him) insist on going to free agency. For some, the opportunity to test the market is just too much to ignore, and you can't fault a player who has the chance to try it.
If anything, recent trends give us the best indication of the Cardinals' chances to get something done before everything goes south: The Cardinals stretch and extend to sign their own (Chris Carpenter, Scott Rolen, Matt Holliday, Kyle Lohse, etc.), and there's no reason for Pujols to think, right now, that the best offer he'll get a free agent is better than the one the Cardinals will offer now.
I really don't have an idea of a percentage. I previously had thought the number had fallen below 50 percent because of the possibility that a year's delay may have hardened AP's position while his market moved beyond the club's reach. Initial perceptions of a positive mood surrounding talks could belie those assumptions. Developing.
I've always been optimistic for one reason: Regardless of what Albert signs for, the Cardinals will find ways to make money off his signing. That is a well-run franchise. It keeps finding new ways to generate revenue. Extending Pujols would be marketing gold. Unless Albert's people are making absolutely ridiculous requests, the two sides should work out a contract that respects his place in the game while allowing the Cards to maintain a good team around him.