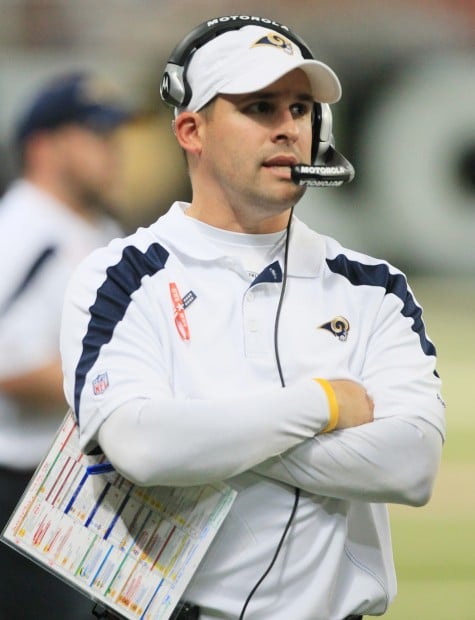 QUESTION: After his success in New England as an offensive coordinator and then being relieved of his head coaching duties in Denver, folks were plenty excited when the Rams hired Josh McDaniels last year to run the Rams offense. Do you think given the Rams' failures on offense this past season that a new head coach will really want to retain the services of McDaniels?
I guess it depends on who the new coach is and if he likes McDaniels and the Patriots' offensive scheme. But the Rams' offensive flop this season couldn't have helped McDaniels' reputation around the league, and sources have told me that if Jeff Fisher is indeed hired by the Rams that he probably would not retain McDaniels to run the St. Louis offense.
Despite a rocky last two seasons, McDaniels is still a valuable commodity. A well-placed league source says both the Patriots and Chiefs have reached out to the Rams to seek permission to talk to McDaniels, but no word on if the Rams gave it.
Depending on who ultimately becomes the head coach, McDaniels could be retained. Sam Bradford genuinely loves this offense. He has talked with several QBs and coaches who have run this offense and everyone tells him it takes two to three years to master it. Surprisingly, if given a choice between the west coast offense he learned as a rookie and the 'Patriot' offense he used this year, Bradford says he'd prefer McDaniels' offense.
Just something to think about for the new coach.
More than likely, a new coach would want a guy that shares his offensive philosophy. If his and McDaniels' ideas jibe on the best way to move the ball downfield, then maybe he sticks around. Probably, though, a new coach would have his own guy or guys in mind for the job. And, if it's really time for a new direction at Rams Park, I think the coach and GM would want to get rid of unpleasant reminders of the recent past. McDaniels is one of the poster boys for the Rams' failings this year.
Since JM is under contract for next season, it would appear retaining him is the path of least resistence. Amazing how STL once considered McDaniels the Spawn of Satan because of his ties to Belichick and TapeGate but he became a savior once named to Spags' staff. If folks are willing to give Bradford a pass because of this year's lousy surrounding cast – and they should – JM should receive similar consideration. This season seems to have done little to tarnish his cred among football people.
KEVIN WHEELER (Host of "Sports Open Line" on KMOX)
It all depends on whether their philosophies match up. I seriously doubt that any head coach would judge McDaniels based on a bad first year as offensive coordinator, especially when he has had plenty of success in the past. Nobody rushed to judgment when Steve Spagnuolo went 1-15 his first year as head coach because the deck was stacked against him. I'm sure anyone who is established enough to be a head coach in the NFL will understand that and recognize that the 2011 Rams just weren't good enough for the offense to function properly.
Take Carolina offensive coordinator Rob Chudzinski for example. He was let go from two different offensive coordinator positions in the past – once at the University of Miami and once in Cleveland – and at the end of each tenure the offense was struggling. In each case the reason he was canned ultimately came down to the team having a lack of talented players. Now he's in Carolina with some talent around and he's now one of those up-and-coming guys on the verge of being a head coach.
There is no reason to question McDaniels as an offensive coordinator. At least not yet. One bad year on a team that we all know was incredibly flawed isn't enough for anyone to toss the guy aside and any new head coach will understand that. That coach's decision to keep McDaniels or let him him go will be based more on philosophy – or the desire to bring in a trusted assistant in his place – rather than on what the Rams did offensively in 2011.