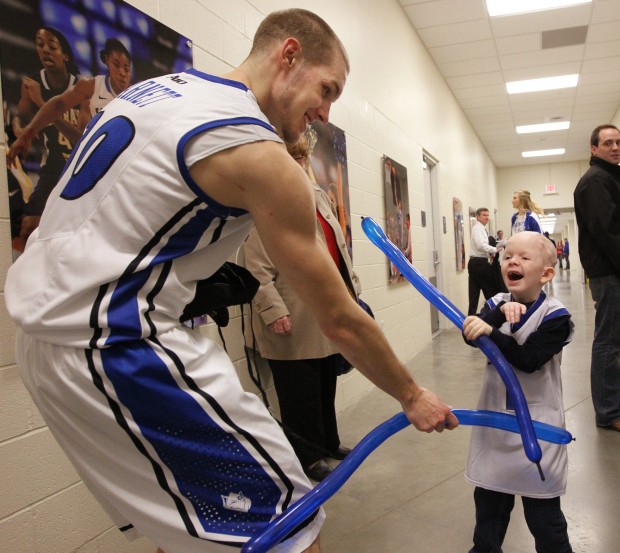 Joshua Brown, the 9-year-old from Belleville who was "adopted" by the St. Louis University basketball team as part of a program that connects children with brain tumors with sports teams, died Sunday.
Brown was a familiar sight at SLU games, sitting behind the team bench, wearing a SLU jersey often with a blue neck tie, and he would visit the locker room after games and attend practices, with SLU basketball players coming to visit him when he was at Cardinal Glennon Children's Hospital getting treatment for glioblastoma multiforme, a particularly lethal form of tumor.
The school flew Brown, his parents and his younger sister on the team charter for SLU's NCAA Tournament games in San Jose, Calif., and on April 28, he attended the men's basketball team banquet at Chaifetz Arena.
Funeral arrangements are pending. (Tom Timmermann)
U.S. men, women score soccer victories • Clint Dempsey scored twice in the second half and moved into second place on the U.S. career scoring list, helping the Americans beat a second-string Germany team 4-3 in a friendly in Washington.
In a game commemorating the 100th anniversary of the U.S. Soccer Federation, Jozy Altidore scored his first international goal in 1½ years. The Americans took a 2-0 first-half lead following an own goal by Germany goalkeeper Marc-Andre ter Stegen, who misjudged a backpass from his own defense.
Meanwhile, Alex Morgan scored twice and Sydney Leroux added a goal to lead the United States over Canada 3-0 in Toronto. (AP)
Blaylock facing charges in fatal crash • Former NBA star Mookie Blaylock was charged with driving on a suspended license and failing to stay in his lane in a head-on crash that killed a woman, police said Sunday.
Jonesboro (Ga.) Police Chief Franklin Allen said authorities wanted to talk to Blaylock, 46, before deciding whether he should face more serious charges. Officers had not been able to speak with Blaylock because of his injuries but they hope to do so as early as today, the chief said.
Blaylock was driving an SUV that collided Friday with a van after crossing the center line in the Atlanta suburb of Jonesboro, police said. The crash killed Monica Murphy, 43. Her husband was driving the van and suffered a broken ankle.
Blaylock was seriously injured, but a spokeswoman at Atlanta Medical Center said his condition was upgraded to fair Sunday. He was initially in critical condition. (AP)
Big Ten to play in Yankee Stadium • The Pinstripe Bowl and Big Ten will announce at Yankee Stadium today a multiyear agreement between the conference and the three-year-old postseason college football game, according to a person familiar with the situation.
The Big Ten will replace the Big 12 in the Pinstripe Bowl, starting in 2014.
The Yankees on Sunday in a release said owner Hal Steinbrenner and team president Randy Levine will attend the news conference.
The move is not unexpected. Athletic directors at the Big Ten meetings in Chicago two weeks ago said the league was working to add the Pinstripe Bowl to its new postseason lineup.
The Atlantic Coast Conference is the frontrunner to land the spot opposite the Big Ten and replace the Big East. The Big East helped the Yankees get the Pinstripe Bowl off the ground, and between Syracuse and Rutgers , the league has won all three games.
But Big East football is in its last season.
The conference will be renamed the American Athletic Conference next season and by 2014 both Syracuse and Rutgers, along with Pittsburgh and Louisville, will be gone. Syracuse, Pittsburgh and Louisville are joining the ACC.
The American, which will still have Connecticut and Temple to give it a Northeast presence, is still hoping to maintain an affiliation with Pinstripe Bowl. (AP)
Orb, Oxbow rematch is Saturday • The trainer of Kentucky Derby winner Orb says his colt is all set to run in the Belmont Stakes following a solid workout Sunday morning.
Shug McGaughey was pleased after Orb worked 4 furlongs in 48.30 seconds at Belmont Park. Exercise rider Jenn Patterson said Orb "did everything very easily" and was "'very happy doing it."
After Orb finished fourth in the Preakness two weeks ago, McGaughey said he wanted to wait for his colt's final pre-Belmont workout to decide whether to run him in the third leg of the Triple Crown, where the field will include Preakness winner Oxbow. (AP)