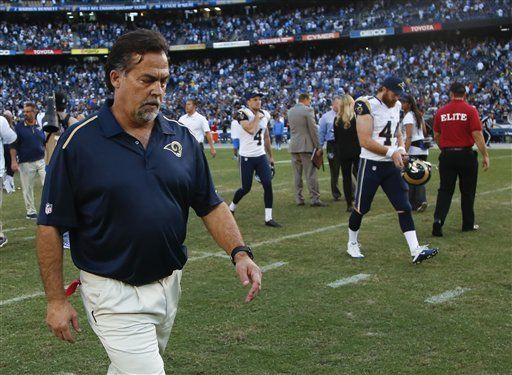 You get the feeling that sometime before the Rams conclude their 2014 season, coach Jeff Fisher's head just might explode over the officiating. That's partly because, as a longtime member of the NFL's competition committee, he knows the rules of the game like few others.
But it's also a result of, well, we'll let Fisher speak for himself.
"Unfortunately, it seems like every week is an adventure with the officiating," Fisher said.
Perhaps no game day this season was as adventurous as Sunday's 27-24 loss at San Diego.
The Rams had two touchdowns called back by penalties, had a 76-yard punt return by Tavon Austin cut in half by another flag, and also had a 23-yard catch by Stedman Bailey and a 16-yard run by Tre Mason nullified by infractions.
Put them all together, and it adds up to 132 lost yards — 94 yards of offense and 38 yards of Austin's punt return. And that's not counting the actual penalty yards themselves marked off.
Critiquing the officiating has become almost a weekly feature of Fisher's Monday media briefings at Rams Park. For a while this Monday, it looked like Fisher would take more of a high road on officiating.
"We deal with it and we move on," Fisher said. "They're doing the best they can. Dean (Blandino) is doing the best he can. From a consistency standpoint, that's what he's striving for. ... There were some things that I disagreed with (Sunday). But you can't change it."
Blandino is the NFL's vice president of officiating.
But just when it looked like Fisher wanted to move on from officiating questions, he was reminded that referee Carl Cheffers crew was the most flag-happy crew in the NFL this season, throwing an average of 19.6 penalties per game according to ESPN Stats & Info.
"We knew that going in," Fisher said. "I knew that ... that crew was gonna throw (flags), and we talked about it."
And throw they did. The Rams were flagged nine times for 90 yards Sunday. San Diego wasn't far behind with eight penalties for 85 yards. Including penalties that were declined and offsetting penalties, there were a total of 22 penalties called.
"They were incorrect at times during the game," Fisher said. "They missed some things as well. It's just part of our game. It's the human element in the game."
Human element or not, Fisher said he still can't find the holding penalty assessed on Marshall McFadden on the long Austin punt return in the fourth quarter. He can't find a penalty anywhere on the play on the coaches' film.
"According to (Cheffers' crew), there was supposedly a foul during the kick on the line of scrimmage," Fisher said. "Didn't see it. I mean, we've been looking for it. Seriously, we looked all over the place for it. We just didn't see it."
Fisher made it sound like Rams coaches looked everywhere except under couch cushions for a Rams infraction on the Austin return.
"Yeah we did," Fisher said, smiling. "We even looked at some other games, and didn't see it, so ..."
But on a serious note, that's two long punt returns by Austin in the past four games negated by referee miscues as Fisher sees it.
"I feel bad for Tavon because we go to San Francisco (Nov. 2) and we were called out of bounds and we're called for an illegal block above the waist, and it's not (an illegal block)," Fisher said.
In that game, Austin had what appeared to be a 61-yard punt return for a touchdown blown dead, although replays showed that he never stepped out of bounds. On the same play, Daren Bates was the Rams player called for an illegal block above the waist.
There were several other calls, or non-calls, in the San Diego game that Fisher didn't agree with.
On the interception by Marcus Gilchrist to end the Rams' last-ditch scoring drive, Fisher said Chargers cornerback Shareece Wright should've been called for holding Rams wide receiver Kenny Britt.
"Sometimes your guys are held, and Kenny was grabbed on the last play," Fisher said. "But that's no reason to throw the ball to Kenny. You guys saw it, Benny (Cunningham) came open and Shaun (Hill) just made a bad decision."
But the penalty that led to the most heated reaction by Fisher during the game came on the blocked Greg Zuerlein field goal with 4 1/2 minutes to play in the first half. There was a flag on the play, and when originally told by Cheffers' crew that it was a neutral zone infraction, Fisher was happy.
The kick came on a fourth-and-2 at the San Diego 28, so Fisher thought the Rams had a first down. He got irritated — in a big way — when told the neutral zone infraction was against the Rams.
"I thought maybe they got the teams switched," Fisher said Sunday after the game. "Because a neutral zone infraction is basically a defensive infraction. And our field goal team, they interlock their legs. So it's nearly impossible to have one our your protectors in the neutral zone.
"But they were adamant that that was the call. I've never heard that ever called before."
Now he has. Just another "adventure" in officiating.