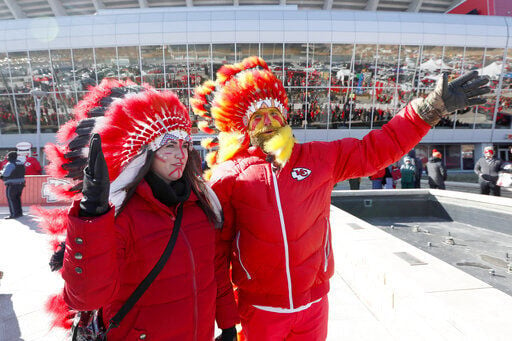 The Chiefs are banning fans inside Arrowhead Stadium from wearing headdresses or painting their faces in a manner that depicts references to American Indian cultures and traditions, effective immediately, they said Thursday in a statement.
The team is also taking part in what it terms a "thorough review process" of the "Arrowhead Chop," also known to Kansas City fans as simply The Chop. While that process remains ongoing, the Chiefs did not indicate whether the chop could also be removed, or when that decision will be made. They "plan to have additional discussions in the future," they said.
Those were among several changes announced by the Super Bowl-champion NFL franchise Thursday, a result of conversations with "a national organization that works closely on issues affecting American Indian people and tribes," the team said in its statement.
While the changes announced Thursday are step in the right direction, said Rhonda LeValdo, an Acoma Pueblo woman who teaches media communications at Haskell Indian Nations University in nearby Lawrence, Kan., they shouldn't be the final measures the team takes.
"They need to get rid of everything. They need to change the name. Everything," said LeValdo, who has been vocal on the topic, including writing a guest column for The Star in January.
She said she was not among those whom the Chiefs consulted.
"I've always been advocating for this -- you can't just keep an element of it," she said.
Earlier this summer, the Washington Football Team ditched it all, announcing it will drop its nickname and change its logo, both of which portrayed Native Americans in a manner deemed offensive to a growing number of people.
The Chiefs have talked with a group of local leaders from American Indian backgrounds about cultural concerns surrounding the team's and fans' use of various imagery since 2014. Previous changes made following those discussions included the designation of American Indian Heritage Month games and a ceremonial "blessing of the drum" at Arrowhead Stadium.
The Chiefs had previously discouraged headdresses and face paint, but Thursday represents the first outright ban on such things. Fans displaying or donning either will be required to remove them before passing through security to enter the stadium, the team said.
"They've always told us that they were not representing Native American people, so for me, I thought, 'Wow, you're finally admitting that,'" LeValdo said. "But everything needs to go. It's either racist or it's not, and it's racist."
The Chiefs also said they will explore options for "a modified engagement moment" from the stadium's Drum Deck that "better represents the spiritual significance of the drum in American Indian cultures." They will continue the blessing of the drum tradition this season, though perhaps with some modification due to the COVID-19 restrictions that will be in place.
LeValdo received texts from friends who welcomed the actions, she said. Her reply: More to come.
"We're not standing down," she said.
Chiefs fans took to social media to express their thoughts about the moves. Some were in favor of them, but many were against them.
"I'm glad that the Chiefs have been working so closely with local American Indian leaders to determine the best course of action going forward," a Twitter user named Reid wrote. "Some of these things are probably long overdue, and there are others that I hope can remain. Either way, this is about more than football."
Twitter user Yusef Johnson wrote: "Kudos to the Chiefs for engaging Native leaders!"
Twitter user StephanoSchepisi wrote: "I don't feel people are going to games dressed in headgear, face paint and do the chop with the intent to mock, minimize or degrade Native Americans. My opinion (is) it's more to celebrate the team and honor the strength of Native Americans. I don't think its done with any ill will."
Earlier this week, the Chiefs announced a plan to allow fans at its first three home games at a reduced capacity of 22%, or about 16,700 fans. Their season opener is Sept. 10 at Arrowhead against the Houston Texans.
Tackling the news and updates you need to keep up with the latest from the St. Louis Battlehawks and the NFL.