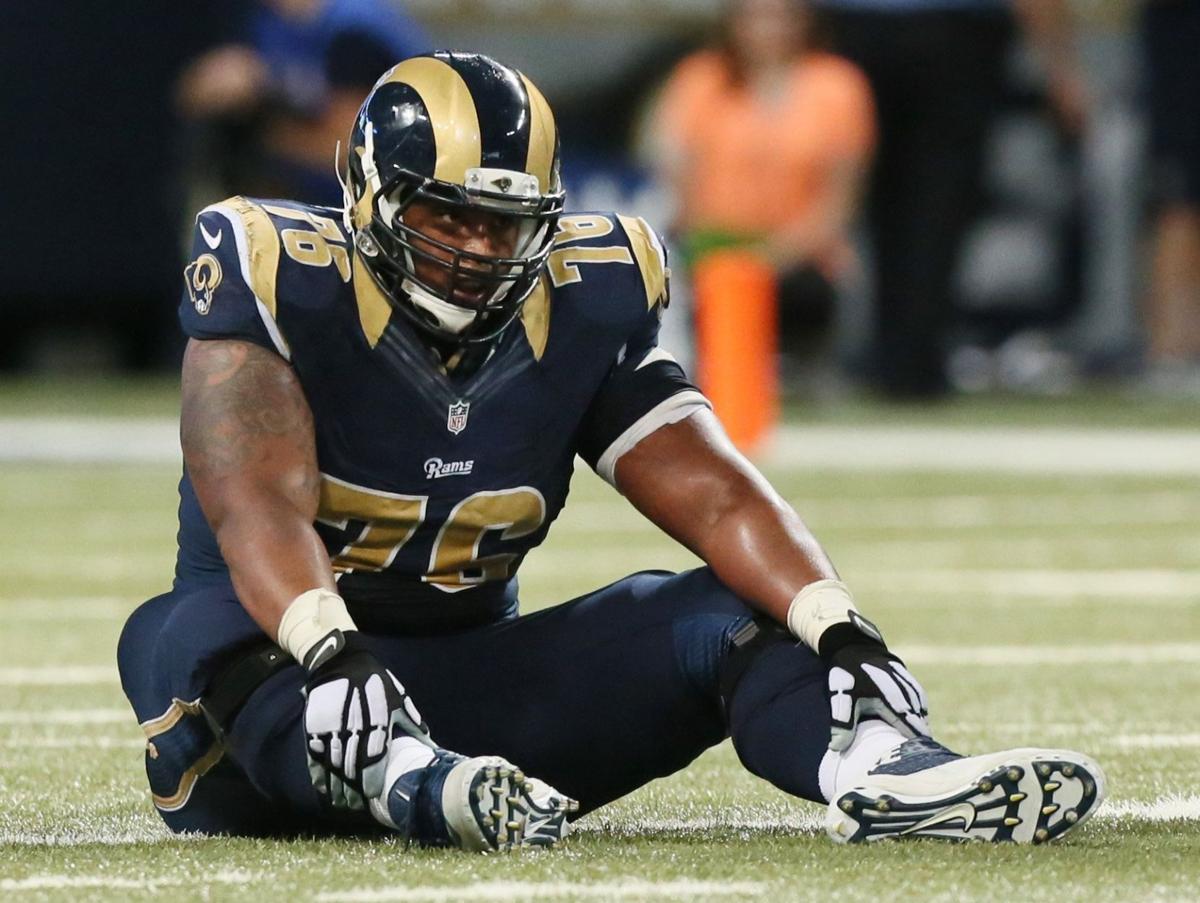 The needling rarely stops in the Rams' locker room, so when Rodger Saffold had surgery last offseason to repair a torn labrum in his left shoulder, he got no shortage of advice from several amateur doctors at Rams Park.
"Some of the wise guys around the locker room, they told me that once one shoulder goes, the other is bound to go," Saffold said. "I guess I'll just have to live with that."
The mere sight of his right arm in a sling earlier this week, following surgery to repair a torn labrum in that shoulder, showed the medical advice he received from his teammates was, uh, sound.
"I'm actually doing pretty good right now," Saffold said, little more than a week removed from the latest operation. "Right now, it's kind of like the easiest step, just icing (the shoulder) — those types of things."
Saffold's sixth NFL season ended abruptly during the first quarter of the Rams' game Oct. 11 at Green Bay. He was trying to prevent Packers defensive end Datone Jones from splitting the gap between him at right guard and Rob Havenstein at right tackle. The injury occurred upon contact with Jones.
"My arm got twisted up in a weird position, and then it just went," Saffold said, in his first interview following surgery. "It was probably the worst one that I had throughout my career. I knew it was something bad, especially the next day. It just hurt all the way around, where usually I feel pain in just a part of the shoulder."
Saffold played through the discomfort of a similar injury in 2014, wearing a brace throughout the year and dealing with the pain that came with having the left shoulder pop out three or four times over the course of the season.
He seriously thought about trying to keep playing with a brace this year after the right shoulder injury. But Rams medical officials as well as Saffold's personal doctor told him that wasn't a good idea because this was a more significant tear to the labrum.
"They told me that it wouldn't be stable, and if I can't play the entire game there's no point in me risking the comeback," Saffold said. "Because then you've got whoever I'm playing next to (at tackle) switching the guards constantly — over and over again.
"As soon as I would dislocate it, I would be out for the game. Who knows when it could happen? So losing a half, a game, and all that — it's just not worth it."
Dr. Frank Cordasco of the Hospital for Special Surgery in New York performed the operation. He also performed the surgery on Saffold's left shoulder 10 months ago (last Jan. 7).
"He's done a lot of shoulders in the NFL, and they've been perfect," Saffold said. "He hasn't had any other episodes, so I hope to do the same."
Even though the tear was more significant in the right shoulder, Saffold said Cordasco was still able to perform the surgery arthoscopically, which should aid the five-month recovery and rehabilitation process.
The left shoulder, by the way, held up very well this season.
"I didn't have any problems," Saffold said. "I wore no brace. No wraps or anything. It went well throughout the season."
At least the five games-plus that made up his season. And as those amateur doctors in the locker room might point out, he should at least be finished with shoulder operations at this point. He's got none left to fix.
"Exactly," Saffold said, managing a smile. "I plan on being done with this."
This injury is a little tougher to swallow because the team genuinely appears on the verge of turning the corner after 11 consecutive non-winning seasons. The Rams (3-3) can get above .500 in November for the first time since 2006 with a victory over San Francisco in Sunday's noon kickoff at the Edward Jones Dome.
"Absolutely," Saffold said. "That's what made it the toughest. I understand the talent on this team and what they can accomplish. I want to help them to get there as best I can; the only thing is now it's gonna be from the sidelines."
Under Jeff Fisher, Rams coaches encourage injured players who are out for the season or for extended periods — especially the veterans — to help "coach" the team. Even though he's just back from the surgery in New York, Saffold already is doing what he can on that front.
"You never want to see anybody go down," left tackle Greg Robinson said. "But Rodger, he's still in there trying to cheer us on, just pumping us up at practice."
He can help with more nuts-and-bolts stuff as well, such as technique or maybe things he's noticed on tape.
"Of course," Robinson said. "He's been doing that a lot on the sideline at practice. ... He's encouraging guys, like, 'use your feet a little more.' He's basically just like a third set of eyes besides Coach Boo and Andy."
Paul Boudreau and Andy Dickerson are the Rams' offensive line coaches.
"I feel like (Saffold's) gonna be a big help," Robinson said. "A lot of us are still young, and there's a lot of things we haven't seen that he has probably seen."