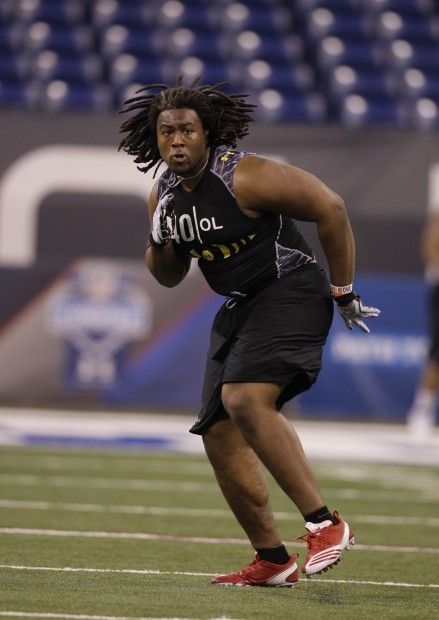 Between all-star games, pro days, the NFL scouting combine, private workouts, and team visits, the pre-draft process has become a full-time grind. Most draft prospects quit school so they can give it their full attention.
But not Lehigh's Will Rackley. After his pre-draft visit to Rams Park last week, Rackley went right back to class.
"I worked too hard for those first three years," Rackley told the Post-Dispatch. "I've got to go ahead and get the degree."
He's on track to get his degree in something called product design.
"It kind of goes hand-in-hand with engineering, where you can design anything from furniture to toys, appliances — even software," Rackley said. "It involves using my creativity, using my hands, and I enjoy it."
Interesting, because NFL scouts enjoy the way Rackley uses his hands to ward off and mangle defenders. Despite playing for a school in the Football Championship Subdivision (formerly Div. I-AA), Rackley has attracted lots of pre-draft attention.
St. Louis marked the last of his three pre-draft visits. Rackley had a good time, bringing food back to his hotel from the catered dinner in the team suite at Rams Park. He even went to Dave & Buster's in the Riverport area after dinner to play video games with some of the other draft prospects in town.
But there have been plenty of NFL eyes on Rackley in the past couple of months. To wit, eight NFL offensive line coaches were at his pro day, and eight others have been at his seven private workouts. (New England, in fact, has been in twice to see him.) So at least half the teams in the NFL have gotten an up-close look at him with their position coaches.
At Lehigh, Rackley made 40 consecutive starts, breaking into the lineup at right guard as a freshman before moving to left tackle. He was an all-Patriot League first-team selection his final three seasons and leaves college with a reputation as one of the best tackles in league history.
At 6-3, 309 pounds, he is an intelligent player with a powerful body. He projects as a guard in the NFL, although some teams have talked to him about playing right tackle as well. He's expected to go no later than the fourth round, possibly in the third round, and some observers think he could even slip into the second round.
"It's real exciting, especially being a small-school kid," Rackley said. "I'm just enjoying the whole thing."
An Army brat, Rackley was born in Athens, Greece. But he played his high school football in Georgia, near Atlanta. Undersized coming out of high school (6-2, 260), he got a nibble from Georgia Tech but otherwise it was just the likes of Colgate, Lafayette, and Lehigh who recruited him heavily. It didn't help that he played in a wing-T offense, and came out of a four-point stance with both hands on the ground. But he flourished at Lehigh and really got noticed by the NFL earlier this offseason with his work at the East-West Shrine game and practices. He looked right at home playing guard against big-school competition, thus emerging as one of the standard bearers for 'small college" football in this year's draft.
"I'm here to prove myself as a player, proving that guys can jump from I-AA to the pros," Rackley said at the combine. "Playing football is playing football; it doesn't matter where you're from. It matters how you play."
With the Rams looking to upgrade their interior line play, Rackley is in the mix as a potential guard selection. He was one of only three offensive linemen brought into Rams Park for last week's visits. The two others were guard/center Jason Kelce of Cincinnati and guard Daniel Kilgore of Appalachian State.
The Rams also have heavily scouted Baylor offensive guard Danny Watkins, the 26-year-old firefighter from Kelowna, British Columbia; Florida State's Rodney Hudson, a four-year starter at left guard in college who projects as a center in the pros; and Nebraska guard and McCluer North High product Keith Williams.
So there are all sorts of guard or guard/center options for the Rams, at just about every level in the draft — including Florida's Mike Pouncey, Wisconsin's John Moffitt, and college tackles who could kick inside in the pros such as TCU's Marcus Cannon and Georgia's Clint Boling.
"So it's a pretty good year for interior offensive linemen," said NFL Network draft analyst Mike Mayock. "You don't necessarily have to get' em in the first round."