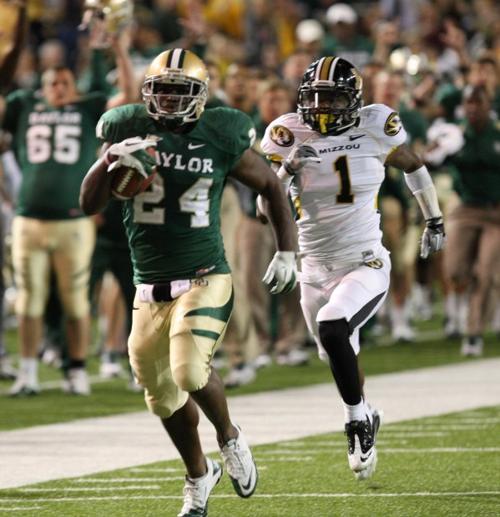 Defensive tackle Kellen Heard bore no ill feelings toward the Buffalo Bills when he learned Friday he had been released.
"I knew it was a normal numbers game," he said. "It was nothing against Buffalo. They gave me a great opportunity and I love the organization for that."
Nonetheless, the suddenly unemployed Heard conceded, "Your career flashes in your face."
He sat in his hotel room, waiting out the next 20 hours or so to see if he'd get claimed by another team.
"I really didn't want to talk to too many people," Heard said. "I just got room service. I really just stayed to myself. No hard feelings to nobody — I didn't have a job."
And if you think that's sad, consider what was transpiring over the same time frame near the New York Jets' practice facility. Following his release by the Jets, rookie running back Terrance Ganaway went to a bar with another released Jet to commiserate.
"I never go out, and I don't drink," Ganaway said. "But we went to the bar and we just watched the (Aug. 30) Philadelphia-Jets game, which was on replay. And the bartender asked us: Were we Jets fans?"
Ouch! The cut dug deeper.
"It was like we're nobodies," Ganaway said. "I was like, 'Man, we're absolutely no one.' It was just a long 24 hours."
When the Jets scored the only touchdown of the game on the replay — their only TD of the preseason, actually — Ganaway didn't even bother to tell the bartender that it was he who caught the 6-yard scoring pass from quarterback Greg McElroy.
"It is what it is," Ganaway said. "I'm not going to be known by everyone, so I wasn't too picky about it."
On Saturday afternoon, the misery ended for Heard and Ganaway when they learned they had been claimed by the Rams.
Ganaway was in his car heading to sign a practice squad contract with the Jets when he decided to check in with his agent on the phone.
"He said, 'Glad you called. You actually just got claimed,' " Ganaway said.
At about the same time, Heard was momentarily confused when his former agent called to say he had been claimed. (Not knowing Heard had changed agents, the Rams had called his former representative with the news.)
Both players arrived Sunday at Rams Park trying to immerse themselves in the playbook as quickly as possible.
Because of injuries at the defensive tackle position, most notably Michael Brockers' high-ankle sprain, Heard might play right away.
"This is a great opportunity for me," Heard said. "I feel right at home. As far as the football team — my teammates — they embraced me right in."
As a bonus, he knows defensive line coach Mike Waufle — they were together in Oakland in 2010 where Heard spent much of the year on the practice squad.
"He taught me probably the most about football since I've been playing," Heard said. "He gets it out to you. He lights the fire. Not saying that you need to be motivated — you're a professional, don't get me wrong. But the way he breaks down the game mentally to you, it makes you — you know — run through that wall."
The Rams don't need his massive frame (6-6, 339) to run through walls. Just stopping the run will do for Heard, who played both defense and offense as a college senior at Memphis.
"I'm more of a powerful dude; more of a run stopper," said Heard, who has a master's degree in sports marketing and whose mother is a train engineer for BNSF (Burlington Northern Sante Fe). "She drives the locomotive, like Choo! Choo!" Heard said.
As for Ganaway, he was a big high school star growing up in Texas, earning all-state honors on offense and defense. In college, he showed the Baylor Bears were about more than simply Robert Griffin III, rushing for 1,547 yards and 21 TDs last season.
Drafted in the sixth round by the Jets, he didn't get a ton of work in preseason play, carrying seven times for 17 yards and catching five passes for 26 yards. Ganaway, 6-0, 239, also got some work at fullback; in fact, that TD catch against Philly came from the fullback position.
"I wish I would've gotten some more reps, but everything works out well for a reason," Ganaway said. "I'm thankful to be here, glad to be here and ready to seize the opportunity."
Ganaway knows of Jeff Fisher's reputation as a run-oriented head coach. But with three running backs already on the roster in Steven Jackson, Isaiah Pead, and Daryl Richardson, the backfield's a little crowded in St. Louis. Not that Ganaway's complaining.
"I won't second-guess (Fisher's) decision about picking me," Ganaway said, laughing.
It sure beats the alternative, namely, sitting on a barstool like a Jets fan.